They said police used excessive force and denied people of their right to free speech.
"We are not anti-law enforcement, but we are against extreme police tactics that can only be explained as a police riot," state Rep. Stacey Newman, D-Richmond Heights, said at a news conference at St. Peters AME Church, 4730 Margaretta Avenue.
"This is not acceptable in our state."
She was flanked behind the podium by two dozen other leaders calling for a thorough review of the incident, as well as others in the region since former St. Louis police Officer Jason Stockley was acquitted of first-degree murder on Sept. 15.
"We need to look at how we are training people who are supposed to protect us," said the Rev. Karen Anderson, pastor of Ward Chapel AME Church in north St. Louis County.
Twenty-two people were arrested Saturday, including an African-American woman whose apprehension by a white police officer was widely publicized. A photo taken by a Post-Dispatch photographer also shows her arrest, with a police officer's hand at her neck. Protesters complained that she was being choked.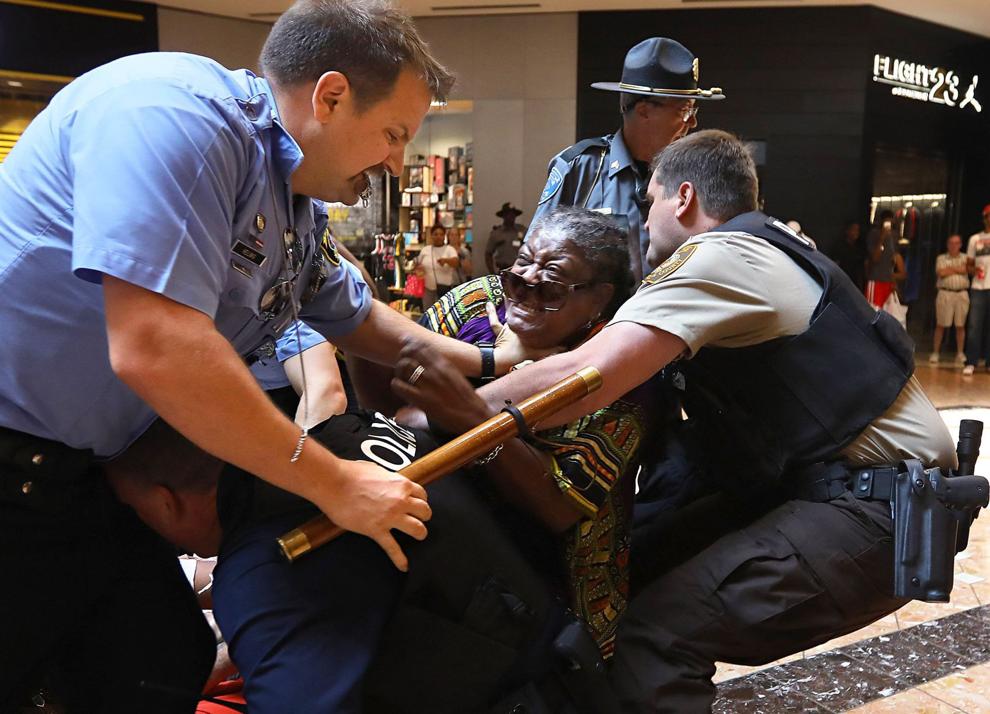 "It almost looked like he had a damn smile!" said St. Louis Alderman John Collins-Muhammad, 21st Ward, hitting the podium hard one time with a clenched fist.
Police say the woman, the Rev. Karla Frye of St. Peters AME Church, jumped on an officer's back as she tried to stop him from making an arrest. Other images taken by the Post-Dispatch show her grabbing an officer from behind as he appears to be trying to arrest someone. Police say the officer was taken to a hospital to be treated for a back injury.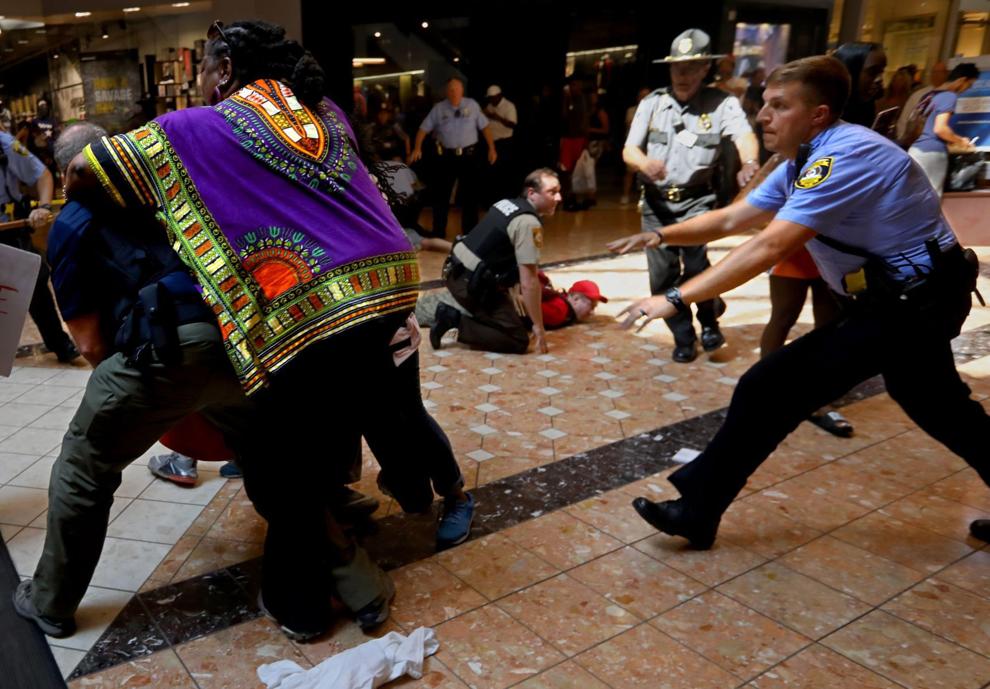 "Defendant resisted her own arrest with physical force," a court document filed in her case says. It says Frye and others "collectively refused police commands to disperse, and reacted to police commands with physical force and violence."
Family and lawyers say Frye was responding to the rough treatment of her 13-year-old grandson by police. The boy was taken into custody but later released to relatives who say he was bruised and hurting from the encounter. His arm was not broken, as had been rumored.
At the news conference Monday, speakers said protesters were denied access to medicine and lawyers while being held in jail at the St. Louis County Justice Center.
"Let's have equity. Let's have fairness," said state Rep. Joe Adams, D-University City. "Let's understand the Constitution of the United States gives us all a right to peacefully protest. We will have to get to the bottom of all this."
St. Louis County Police Chief Jon Belmar said any use of force at the Galleria was documented and would be reviewed.
"The St. Louis County Police Department has used an incredible amount of discretion during these periods of civil unrest," Belmar said in a statement.
"Citizens have been allowed to exercise their First Amendment Rights; however, when those protests descend into criminal activity, law enforcement has no other choice but to intervene," the county chief's statement said.
St. Louis Alderman Megan Green, 15th Ward, vowed to fight any tax increases for police until there are suitable changes and better oversight power.
"Not one more dime goes into this system until we get some accountability, some change, and we get a police department that protects us," she said.
Photos: Protesters march in Brentwood, Clayton after arrests at St. Louis Galleria
Protesters return to St. Louis Galleria mall on Saturday. More than 20 were arrested. Clergy and other protesters also marched in downtown St. Louis on Saturday.