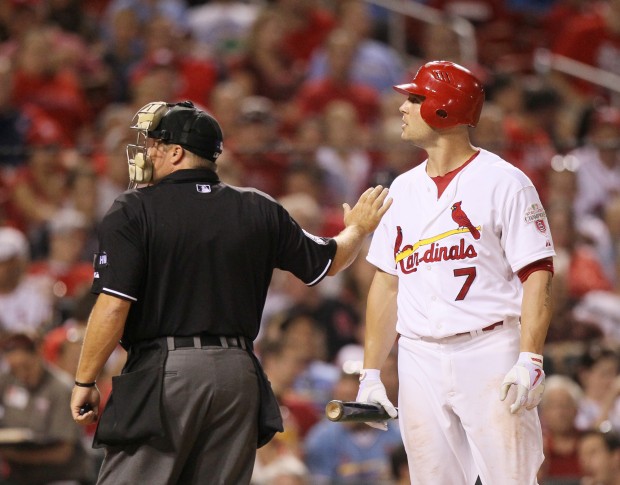 ST. LOUIS • Cardinals' Manager Mike Matheny personally identified a 17-year-old boy as the fan he saw aim a green laser pointer at the opposing team's pitcher during Monday night's game against San Francisco at Busch Stadium, officials said.
The suspect, of Creve Coeur, was booked on suspicion of peace disturbance at an athletic event and was released after posting $150 bail shortly after 1:20 a.m. Tuesday, police Capt. Jerry Leyshock said.
The teen had been in a private suite, owned by Mercy Health, where police encountered resistance while investigating the incident, according to Leyshock. He heads the police stadium detail.
The presence of liquor apparently brought in from outside the stadium may result in action against the box owner, a stadium official said Tuesday. There was no accusation that the boy or any minors had been drinking. Police said most of the occupants of the box were teens.
Police said they would ask the circuit attorney's office today to file formal charges.
The suspect could not be reached for comment.
A spokesperson for Mercy Health issued a statement that said: "We regret that this incident occurred, but because it is a police matter we cannot comment any further at this time. Mercy is conducting its own internal review of this unfortunate incident."
Matheny said Tuesday he had never seen anything like what happened in the bottom of the seventh inning Monday night. Giants' pitcher Shane Loux was winding up to pitch when Matt Holliday saw a laser on Loux's jersey and stepped out of the batter's box. Umpire Marvin Hudson called a timeout. Holliday and Hudson looked around the stadium for a few moments before Hudson resumed play.
"One, Matt being distracted by a 90-mile-an-hour-plus fastball coming at him ... you've got a chance to get a player hurt. And two, it's a crazy world right now," Matheny said. "You start seeing lasers and big crowds. I don't think the kid knew the severity of what he was really doing. But there were a couple things that could have really gone bad there.
"It's not like he did it the one time and said, 'Ooh, that's probably not a good idea.' The whole dugout jumped up trying to find him, and then he kept doing it."
Leyshock and Joe Walsh, director of security and special services for the Cardinals, said there is no way to distinguish a prank from a gunman aiming a laser-equipped firearm. "Then when you go into what's been going on in the country right now, it's totally irresponsible to pretend you've got laser sights on somebody," Walsh said.
Laser incidents at baseball games are rare here, but it happened at least once at the former Busch stadium, Walsh said.
In July 2009, lasers were pointed at then Cardinals' shortstop Julio Lugo and first baseman Albert Pujols in Philadelphia. The game was delayed about five minutes in the seventh inning while security searched for the culprit, but none was found.
On Monday night, Matheny eventually traced the laser to a suite along the first base line. The Cardinals' skipper told reporters Tuesday that he made eye contact with the teen, pointed to him and mouthed the words, "I caught you."
The boy then laughed, waved and pointed the laser on the field again, he said.
"In between innings, I saw (the laser) glance across the ground again," Matheny recalled. "I looked up and I caught the kid. I called security over and pointed him out. I said, 'I caught you,' and he kind of froze up. They went up and took care of it."
As security officers converged on the suite, one of them saw three teenage boys leave and one reach into his sock and throw an object into a trash can, Leyshock said. Officers stopped the three before they could leave the park; a laser pointer was recovered from the trash.
Matheny delayed his post-game press briefing to go to the police holding area where the three teens were held, and he identified the suspect.
Leyshock said he and other officers found additional teens in the suite with an adult he identified as an executive with St. Louis-based Mercy Health systems, whom he characterized as "uncooperative" and "confrontational."
Once the suite occupants left, Cardinals security personnel recovered two bottles of liquor that had been smuggled in against stadium rules, Walsh said.
Alcoholic beverages must be purchased on the premises, and these bottles did not bear concession-area labels, said Cardinals spokesman Ron Watermon.
The Cardinals will discuss the issue with the suite owner, which could face sanctions ranging from revocation of privileges to being charged a comparable price for the confiscated liquor bottles, Walsh said.
"We had young kids acting stupid, but we had adults acting even more boorish," Walsh complained. "They were interfering with what we were doing to stop the problem."
Rick Hummel of the Post-Dispatch contributed to this report.