ST. LOUIS • Voters on Tuesday will decide whether to approve a half-cent sales tax increase to give the city's police officers and firefighters a raise, a measure supporters say is necessary for a competitively paid police department.
But a vocal opposition has argued the raises should wait until the St. Louis Metropolitan Police Department implements some of the reforms that activists have pushed for during protests over the past seven weeks. Others contend that raising the city's existing sales tax rate from 9.2 to 9.7 percent — and higher in special taxing districts — would disproportionately harm the city's poorest residents. It would follow an identical half-cent sales tax increase that voters approved in April for expanded Metrolink service.
Proposition P had a clearer path to approval before a St. Louis Circuit Court judge in September acquitted former St. Louis police Officer Jason Stockley in the 2011 shooting death of Anthony Lamar Smith. Now, some protesters of that verdict are actively lobbying for Prop P's defeat, knocking on doors, organizing phone banks and staging demonstrations against the proposal throughout the city.
Its backers, including St. Louis Mayor Lyda Krewson, say that investing in the police department doesn't mean the city won't pursue police reforms.
"I think we can do both," said 7th Ward Alderman Jack Coatar, who voted for the increase. "I understand the concerns, but you can't deny our police are underpaid, especially looking at the county."
Last week, the St. Louis County Council gave final approval to a pay increase that will average about 30 percent per officer, made possible by an identical sales tax increase county voters approved in April.
If Proposition P doesn't pass on Tuesday, the starting salary gap between city and county officers will be roughly $10,000. If it does pass, there will still be disparity between the departments, but the city police union has negotiated raises of about $6,000 per officer.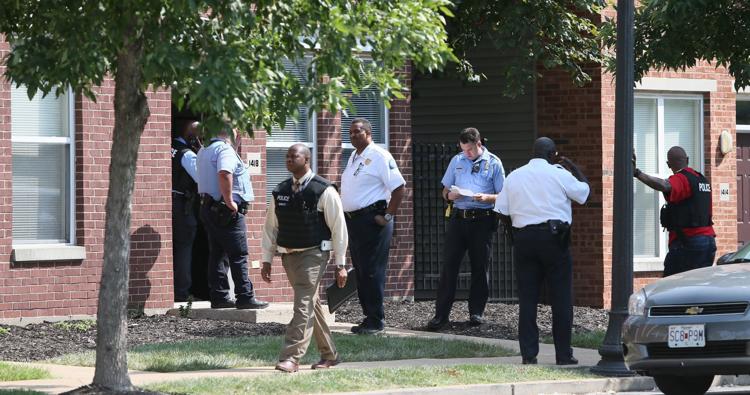 State Rep. Bruce Franks Jr., who has been a fixture at recent protests, says that while no one wants to see good police officers leave, the city could find the money to hire more officers and pay them more without asking taxpayers to sign off on a second half-cent sales tax hike in six months.
"If there were particular officers I could just give a raise to, I would certainly do that," Franks said. "We need an audit to figure out where this money for public safety is going, how it's being spent. And get some of these wasteful dollars back, so maybe we can have a raise, but not on the backs of poor people.
"The fact that we already spend so much of the budget on public safety, and so little on attacking the root cause (of crime) is an issue itself," he added.
But Krewson, while advocating for the plan, says approving the sales tax increase will trigger an increase in the business use tax, bringing in roughly $4 million for the city to spend on crime-prevention initiatives such as after-school programs, mental health services, social workers and the demolition of vacant buildings.
Supporters also maintain that taking steps to recruit and retain good officers for the city's police department will be key to making changes within it.
"We need more police, we need better paid police and better trained police. I think this is the way to make that happen," Coatar said.
Aldermanic election
In another special election in the city Tuesday, three candidates are vying to represent the 2nd Ward on the Board of Aldermen.
The seat was left vacant when Dionne Flowers resigned the position she'd held for 18 years to head the Office of the Register. The Democratic Central Committee has nominated the 2nd Ward's committeewoman, Lisa Middlebrook, to take her place.
If elected, Middlebrook says her top priority will be to improve relations between the ward's residents and the police department and promote economic development.
Bringing in more police patrols to deter crime would encourage more businesses to invest in the area, she said. Middlebrook also points to her experience as a home health care worker, saying she has a strong understanding of the needs of the city's seniors.
"I think I can bring about positive change within the ward and listen to what the residents want as a whole," Middlebrook said.
Jasmine Turnage, who works in the earnings tax department for the St. Louis Collector of Revenue, said she decided to run as an independent after she didn't get the committee's nomination.
"I've been in my community my entire life. I'm very aware of the fabric of the community," she said.
Turnage said she believes the ward has been neglected and needs someone to fight for a better allocation of the city's resources, which would allow the ward to see a stronger police presence and the redevelopment of the downtown area.
"We need attention on all areas and all levels," she said.
Rev. Elston McCowan, the Green Party candidate, said he's the best candidate for the job because of his long history of advocating for people living in the ward.
McCowan is a pastor at the Star of Grace Missionary Baptist Church and the vice president of the St. Louis city chapter of the NAACP, where he chairs the criminal justice and prison committees.
He cites his efforts to deal with food supply issues in north St. Louis by building community gardens, his advocacy for better treatment of prisoners and his experience working as a social worker and a union representative.
"Having a large workload has never bothered me," he said. "The theme of my campaign is strong and effective leadership."