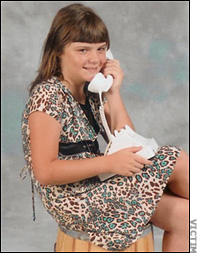 JEFFERSON CITY, Mo. --  The father of a girl who was killed near Jefferson City has been sentenced to more than 19 years in federal prison for illegal possession of firearms.
The U.S. attorney's office says Dale Olten Sr. was sentenced Thursday to a longer term because he had prior felony convictions. He pleaded guilty in February to being a felon in possession of a firearm and to possessing stolen firearms.
Olten was in prison on a state drug conviction when his 9-year-old daughter, Elizabeth, was killed in October 2009 in the small town of St. Martins near Jefferson City.
Alyssa Bustamante, who was 15 at the time, was charged as an adult with first-degree murder in the death of her young neighbor. Bustamante has pleaded not guilty and faces trial next May.