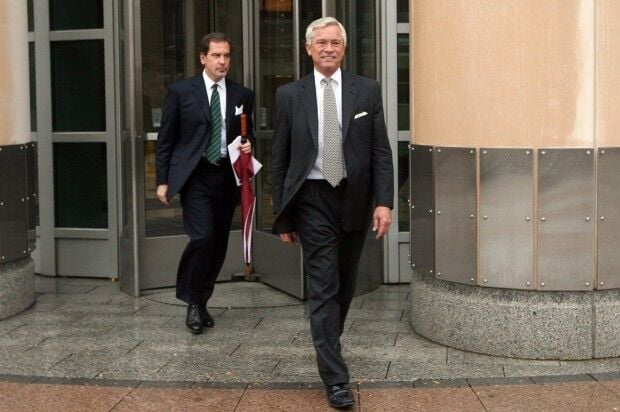 ST. LOUIS • The former owner of a Clayton company that federal prosecutors have accused of orchestrating a pre-arranged funeral scam that could cost as much as $600 million has pleaded guilty to fraud and other charges.
James "Doug" Cassity, 67, of Clayton, who bought National Prearranged Services Inc. in 1979, pleaded guilty in U.S. District Court here Wednesday afternoon, hours after his son, Brent Cassity, 46, of Clayton, pleaded guilty to a similar set of charges.
Assistant U.S. Attorney Charles Birmingham called National Prearranged Services a "Ponzi-like scheme" and said that for more than 16 years, the company and affiliated insurance companies broke promises to customers and state regulators and used money for the personal enrichment of company officers and others.
National Prearranged Services sold pre-arranged funeral policies, which promised customers that they could prepay for their funerals, preventing their heirs from being burdened by high funeral costs. The money was supposed to be held in trust or in an insurance policy that would cover the eventual funeral costs. Birmingham said National Prearranged Services regularly withdrew millions of dollars from the trust accounts, took unauthorized loans on customers' insurance policies, and used the money to pay the business' expenses. They also lied to regulators about their practices.
Employees of one affiliated insurance company, Lincoln Memorial Life Insurance Company, were told to alter documents to cover up the diversion of money. In one example, a woman identified only by initials paid $10,242 upfront, but Lincoln Memorial employees were told to "white out" that information, and instead she was made to look as if she planned to pay monthly, and her initial deposit was a correspondingly small fraction of the real amount.
In 2007, when Ohio regulators asked the company about their business practices, National Prearranged Services told Lincoln Memorial to remove all the loans on Ohio customer accounts and move them to customers in other states to hide those loans.
The company stopped selling funeral policies in 2008 after Missouri and other states began scrutinizing its business practices, and Texas forced the company's liquidation later that year.
Prosecutors have said that the scam affected up to 150,000 customers who paid up to $10,000. The scheme could eventually cost $450 million to $600 million as customers die and the costs for funerals pile up. The funeral costs will be absorbed by state guarantee associations.
'I'VE TAKEN RESPONSIBILITY'
Doug Cassity pleaded guilty to two counts of wire fraud, one count of bank fraud, one count of mail fraud, one count of money laundering and one count of misappropriation of an insurance premium. Brent Cassity pleaded guilty to mail fraud, wire fraud, money laundering and willfully permitting a felon to exercise significant control over an insurance company. The final charge refers to his father, a convicted felon.
The plea agreements have been sealed, as three co-defendants await trial. U.S. Attorney Richard Callahan declined to comment after the pleas, other than to say that the remaining men are presumed innocent.
Brent Cassity appeared reluctant to take the plea deal, pausing several times when asked by U.S. District Judge Jean Hamilton whether he agreed with what was contained in the plea deal.
Under the same questioning, Doug Cassity equivocated, responding, "I've taken responsibility," when asked if he agreed. Later, he said, "By signing this document, I agree."
After another hedge, Hamilton told him, "Just answer the question.'
Cassity then said, "Yes."
Doug Cassity's deal will earn him 115 months or less in federal prison. Brent Cassity is expected to serve five years or less. Both are scheduled to be sentenced Nov. 7.
Sharon Nekol Province, 69, of Ballwin, pleaded guilty last month to six counts of mail fraud, wire fraud and misappropriation of insurance premiums in a deal that should net her three years or less in prison.
Province was listed as vice president of a series of family trusts and businesses and performed notary work, hired and fired staff and wrote checks and made wire transfers with approval of bosses.
Assistant U.S. Attorney Steven Muchnick said in court at the time of the plea that Province "deliberately closed her eyes to the fraudulent scheme."
The company's former lawyer, Howard A. Wittner, 76, of Chesterfield, former CFO Randall K. Sutton, 67, of Chesterfield, and former investment adviser David R. Wulf, 60, of St. Louis County, still face charges.
They have been offered deals that would mean six years or less, and could face up to life in prison if they go to trial. But the deals expired Wednesday. A Post-Dispatch reporter spotted lawyers for one of those defendants heading up in an elevator to the U.S. Attorney's office just before 4:30 p.m.