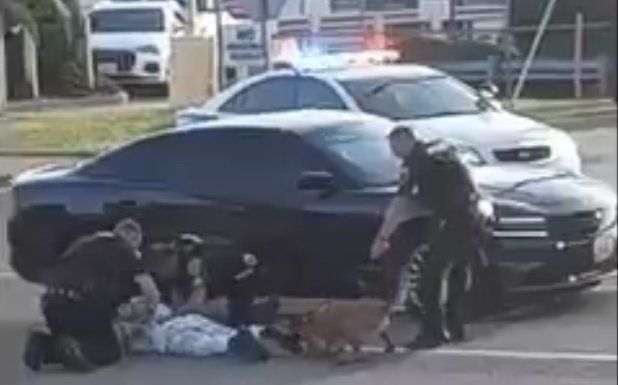 WOODSON TERRACE — The FBI has launched an investigation after a video of a police dog biting a Black man repeatedly during an arrest drew attention and outrage online.
Woodson Terrace police Chief Randy Halstead said in an email his department was "fully cooperating" with federal investigators and the St. Louis County prosecutor's office after they requested information about the arrest, which occurred around 7:15 a.m. Monday in the 4500 block of Woodson Road.
It was unclear what information investigators have requested, but the FBI typically investigates so-called color of law cases, in which government officials are alleged to have committed constitutional violations. This could include allegations of unreasonable or excessive force by police, who are required to use the least force necessary to gain a suspect or arrestee's compliance.
St. Louis County Prosecutor Wesley Bell declined to comment on his office's ongoing investigation, though he vowed to conduct a "thorough review" of the incident. Federal officials also declined to comment.
Police responded to the Woodson Road address Monday morning after receiving a call that a man had broken into a business there.
Police said in a statement the man appeared to be on drugs, threatened officers and announced he was a "sovereign citizen," or someone who believes they are not subject to government laws.
The officers placed the man under arrest, but he refused to comply with commands, police said. They told him if he continued to resist, the dog would be released.
"The suspect continued to resist, causing minor injuries to one of the officers so the K-9 was released and the K-9 gained control of the suspect's foot," police said.
A video of the incident showed the man standing with his hands on the police car before the dog is released. He falls down, then remains on the ground with officers kneeling nearby for several seconds with the dog still biting his leg.
The dog is then pulled off. The man appears to try to stand up, but the dog lunges and resumes biting him until he falls to the ground again, where he appears to be handcuffed.
The man was transported by ambulance to a nearby hospital. He was released from police custody pending charges.
A spokesman for Bell's office said the office has neither charged the man nor declined to prosecute.
The Post-Dispatch is not naming the man because he has not been formally charged with a crime.
Protesters gathered outside the Woodson Terrace Police Department on Friday to demand the firing and prosecution of the three officers involved.
"We were outraged by the vile and despicable behavior of the Woodson Terrace police officers," said activist Zaki Baruti, who compared it to the use of dogs against civil rights protesters in the South in the 1960s.
Another activist, the Rev. Darryl Gray, called the officers' actions "reprehensible and inexcusable."
The Associated Press and Robert Patrick of the Post-Dispatch contributed to this report.