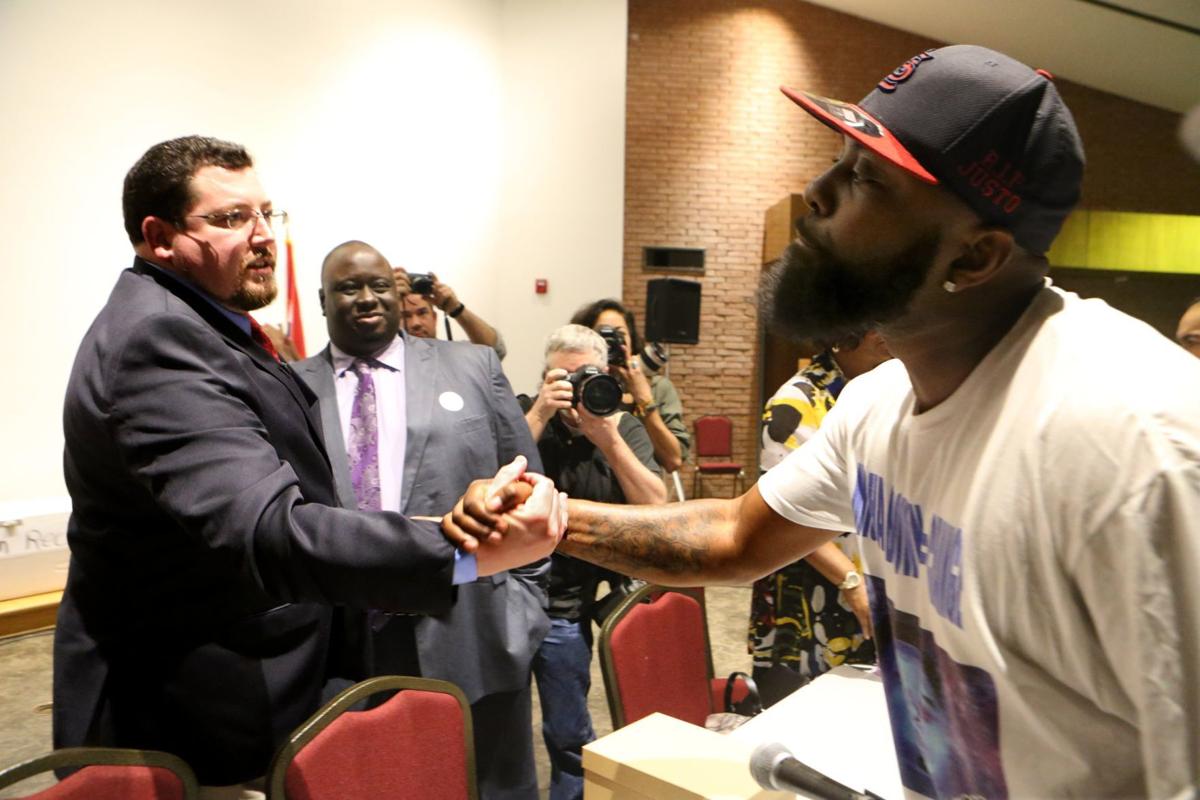 ST. LOUIS • After residents complained in court Tuesday about the pace of changes under the 2016 Ferguson consent decree, a federal judge here said that she understood the frustration but was seeing "a great deal of progress."
The quarterly status hearing Tuesday in U.S. District Court opened with reports from lawyers for the independent monitoring team, the Justice Department and Ferguson, who spoke of meetings and status reports, policy development and training, and a website for the monitor that was "finally" up and running.
Apollo Carey, Ferguson's city attorney, said city staff had finished the "Herculean task" of reviewing 7,900 municipal court cases filed before 2014, and dismissed all but 1,704 for which there was "good cause" to proceed as defined by the consent decree. Carey said the city was having trouble notifying those whose cases had been dismissed, however, as 70 percent of the mailed notices came back marked "return to sender."
Tuesday's hearing was also one of the regular occasions for public comment.
Several Ferguson residents faulted what they called a lack of transparency, accountability and progress.
One member of the residents' and activists' group known as the Ferguson Collaborative, Felicia Pulliam, suggested the city reimburse all those who had their driver's licenses suspended because of actions by the city. Pulliam also said she had concerns about notifying those who had their municipal court cases dismissed, saying people were still anxious about those cases.
Justin Idleburg, who described himself as a "concerned citizen" and "outsider," complained of the pace, and asked, "Why are you all being so lenient on them?"
U.S. District Judge Catherine Perry allowed officials to respond to comments and questions. She directed Idleburg's leniency question to Justice Department lawyers, asking them why they hadn't asked her to hold Ferguson in contempt.
Assistant U.S. Attorney Amy Senier said the department hadn't "felt we were there yet." Senier said lawyers felt that a collaborative process was more likely to lead to long-term reform. She added, "All signs point toward progress."
Perry later said she felt that contempt would be a "drastic remedy."
"I realize this doesn't seem like this is moving very quickly," she said. But she said she was seeing a "great deal of progress."
The consent decree resulted from the protests that followed the 2014 fatal shooting of Michael Brown in Ferguson and a Justice Department investigation that faulted Ferguson's police and municipal court practices.