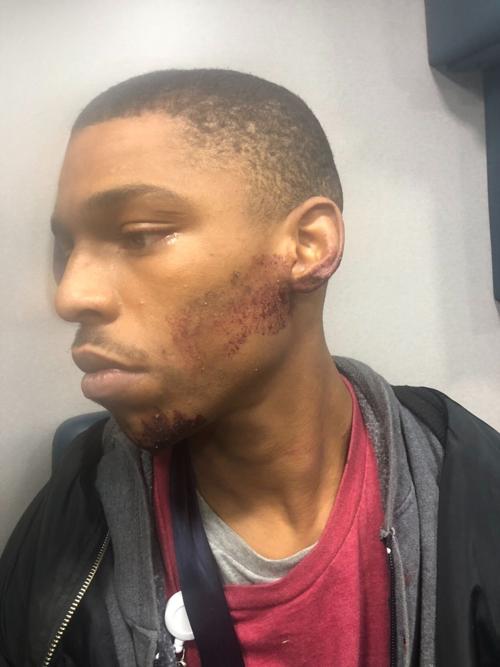 BRECKENRIDGE HILLS — The lawyer for a man who filed a federal lawsuit claiming he was beaten after being handcuffed by a Breckenridge Hills police officer said he is turning the allegations over to the FBI.
Khalil Harbin's lawsuit, filed in U.S. District Court in St. Louis, said he was beaten and choked by Officer Paul Rinck on Nov. 9, 2018, during a traffic stop. Lawyer Javad Khazaeli said he turned over the police report and the lawsuit to the FBI and St. Louis County prosecutors Friday.
Breckenridge Hills officials, including the police chief, did not return messages seeking comment. Rinck could not be reached to respond to the allegations.
The suit said Harbin was replacing his brakes at a friend's house but didn't prime the brake fluid, causing him to later lose control of his vehicle and fail to stop at the intersection of Breckenridge Road and Calvert Avenue. Rinck then pulled him over. Rinck, who is white, was aggressive and rude to Harbin, who is Black, and pulled his gun, the suit said.
Rinck placed Harbin in handcuffs and into the back of his police cruiser, the suit said. Harbin angrily complained, triggering Rinck to remove him from the cruiser, beat him and throw him to the ground, according to the suit. Rinck then choked Harbin and broke his jaw, the suit alleged. Rinck also jumped on Harbin's back, all while a sergeant watched and did not stop the officer, according to the suit.
Rinck falsified a police report to justify his actions, the suit said.
The suit also contends that Breckenridge Hills police arrest people for nonviolent offenses nearly four times as often as police in neighboring Woodson Terrace, as well as in St. Louis and St. Louis County, and has a "pattern and practice of employing police officers who abuse citizens."
Harbin, of St. Louis, still faces five pending municipal charges stemming from the incident, including resisting arrest, reckless driving and excessive acceleration.
Khazaeli said, "This officer's explanation defies logic. It's clear from his own words in the police report that he took our handcuffed client out of the back of a police car to punish him by beating him up when he couldn't defend himself. The fact that a sergeant was on the scene makes this even more egregious."
Shake off your afternoon slump with the oft-shared and offbeat news of the day, hand-brewed by our online news editor, Mandy St. Amand.