ST. LOUIS — Federal prosecutors said Wednesday that they would go to a grand jury sometime in the next month to seek new charges related to the beating of an undercover St. Louis police officer in 2017.
Assistant U.S. Attorney Jennifer Winfield told U.S. District Judge Catherine Perry that prosecutors would seek an indictment of others either before Thanksgiving or in early December.
Winfield's comments came during a hearing Wednesday in the case against Dustin Boone, 36, and Christopher Myers, 28. Both have pleaded not guilty and were scheduled to go to trial Dec. 2. The possibility of new indictments has delayed that, likely until the first months of 2020. Two other officers, Randy Hays, 32, and Bailey Colletta, 26, have pleaded guilty.
Boone and Myers both told Perry that they had rejected plea offers from prosecutors that would have let them plead guilty to one count of deprivation of rights under color of law. In return, prosecutors would have agreed to dismiss any other charges. 
After the hearing, Scott Rosenblum, one of the lawyers representing Myers, said that prosecutors would probably be seeking the indictment of two unnamed officers mentioned in Hays' guilty plea last week.
Prosecutors declined to comment, as did Boone's lawyer, Patrick Kilgore. Rosenblum said any new charges would not "change anything for us."
"We're confident in our position at trial," he continued.
Hays admitted that Officer Luther Hall, who was working protest duty undercover, was not committing a crime at the time officers encountered him, and admitted that there was no probable cause for his arrest. He also admitted that officers used "physical force that was both unnecessary and unreasonable," according to the guilty plea.
Hays said he saw "Officer A" kick Hall in the face while Hall was lying on the ground, complying with officers' commands. Hays struck Hall three to five times with a riot baton and shoved him to the ground, and that Hall was not a threat to officers and that there was no probable cause to arrest him. Hays also admitted that he, Boone, "Officer A" and other officers used unreasonable force against Hall, injuring him.
Hays' plea also says that Myers later told a supervisor the day after that he had destroyed Hall's cell phone, which recorded part of the encounter, and "Officer B" admitted destroying Hall's camera.
Hays also admitted sending a text message to Boone after finding out about Hall, reading in part, "if it was a protester it wouldn't be a problem at all."
Colletta pleaded guilty in September and admitted lying to both the FBI and a federal grand jury. Although she knew about Hall's beating and the resulting FBI investigation, she told an FBI agent that she didn't know who Hall was and didn't come into contact with him on the night of his arrest. She also made a series of false and misleading statements to a grand jury, including that Hall was "brought to the ground very gently" and that it was a "textbook arrest."
Under recommended federal sentencing guidelines, Hays could face seven to nine years in prison. Colletta faces at least 30 months in prison. Both agreed to give up their state license to be police officers.
The penalties for Hays are more severe because Hays was in uniform and acting as an officer at the time and used a dangerous weapon, his plea says. It's also enhanced because Hall was physically restrained at the time and was permanently injured.
Hall has said he was beaten "like Rodney King." He suffered injuries including a jaw injury that made it hard to eat, a tailbone injury and herniated discs in his neck that have required surgery, authorities have said. Some of those injuries are permanent
Hays and the others were on their way to Washington Avenue at the time of Hall's beating. Later that night, police used a controversial "kettle" technique on Washington Avenue to arrest protesters, bystanders, journalists and local residents. Some of those arrested have accused officers of beating and pepper-spraying them when they were on the ground, complying with officers' demands.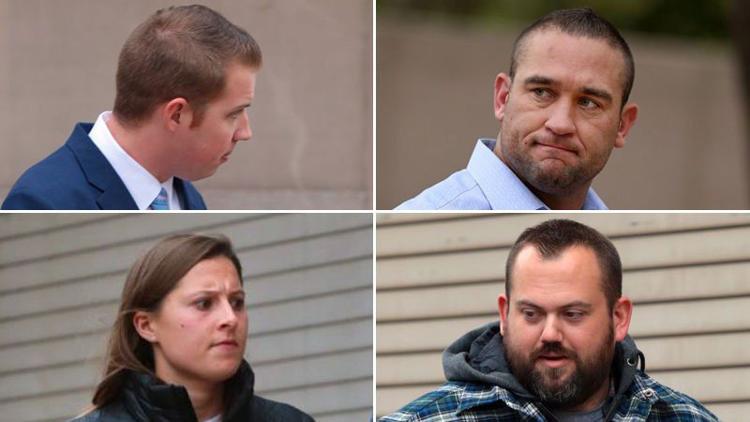 Shake off your afternoon slump with the oft-shared and offbeat news of the day, hand-brewed by our online news editor, Mandy St. Amand.