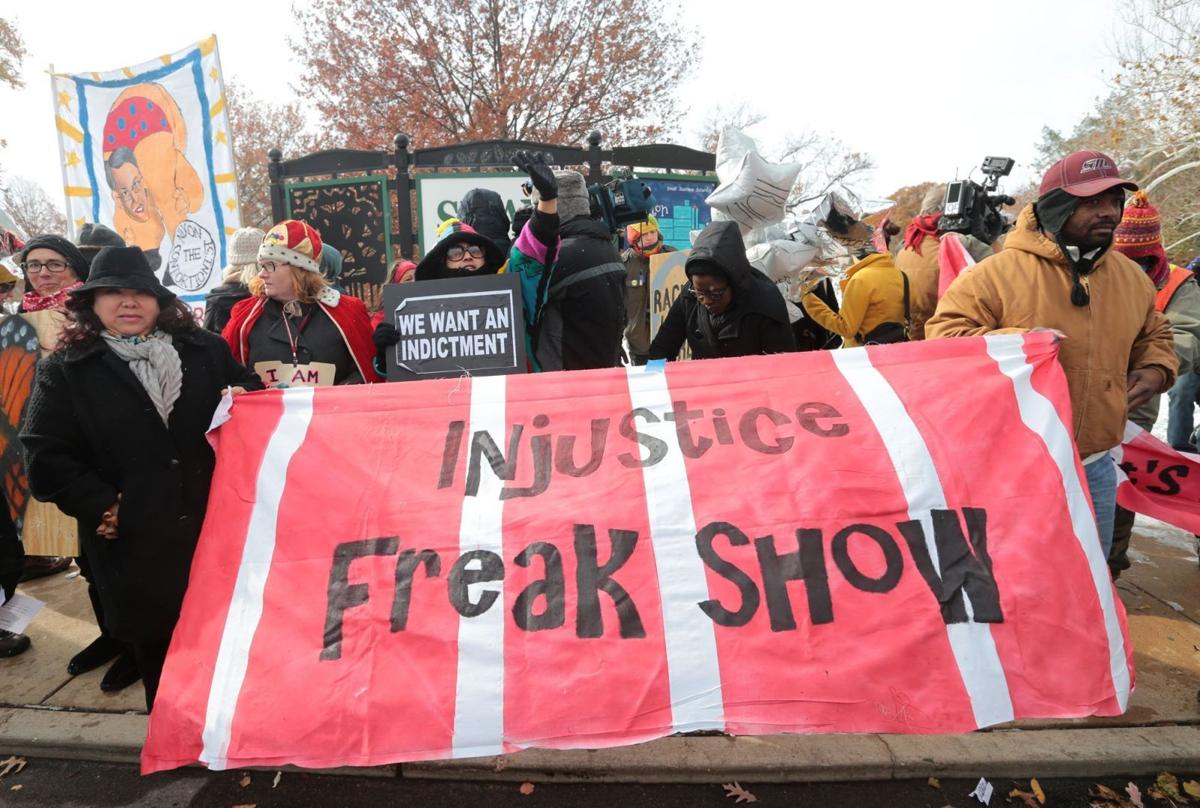 UPDATED at 3 p.m. with organizer detailing the message protesters hoped to deliver.
CLAYTON   •    Approximately 100 Ferguson activists braved frigid temperatures for a second consecutive day by disrupting  lunch-hour traffic in downtown Clayton for about 60 minutes Monday.
The protesters, surrounded by reporters and news crews, united from two staging areas — Shaw Park and the Forsyth MetroLink station — to circle the Clayton business district once before ending the demonstration in front of the St. Louis County Justice Center.
The route resulted in blocked traffic at several intersections. Clayton Police, backed by officers from Hazelwood, Richmond Heights and other departments, did not attempt to clear the blockages.
Elizabeth Vega, a demonstration organizer, said marchers hoped to send a signal that the vast majority of Ferguson activists are committed to non-violent, peaceful protest.
To drive home their message, the march was led by white activists who warned passers-by that "the protesters are coming! the protesters are coming!"
"We wanted to mock people with a fear of protest," Vega said. "The tension right now is palpable and if we can't laugh then we'll cry." 
Office workers and others making their way along Clayton sidewalks for the most part watched the demonstrations impassively.
In a nod to the weather, the activists at one point chanted "Brrr, it's cold out here. Must be oppression in the atmosphere."
Monday's protest came during heightened speculation about when a St. Louis County grand jury will deliver a decision on the fate of Darren Wilson, the Ferguson Police officer involved in the Aug. 9 shooting death of unarmed teen Michael Brown.
Activists on Sunday briefly shut down a section of the Delmar Loop — another indication that protests following the grand jury outcome may not be limited to Ferguson, the Shaw neighborhood and other earlier protest sites.
Reports surfacing on social media Monday said three major corporations could become possible protest targets — Anheuser Busch, the Boeing Company and Emerson Electric.
Protesters chanted "101 days and still no justice" at the conclusion of the Monday demonstration.