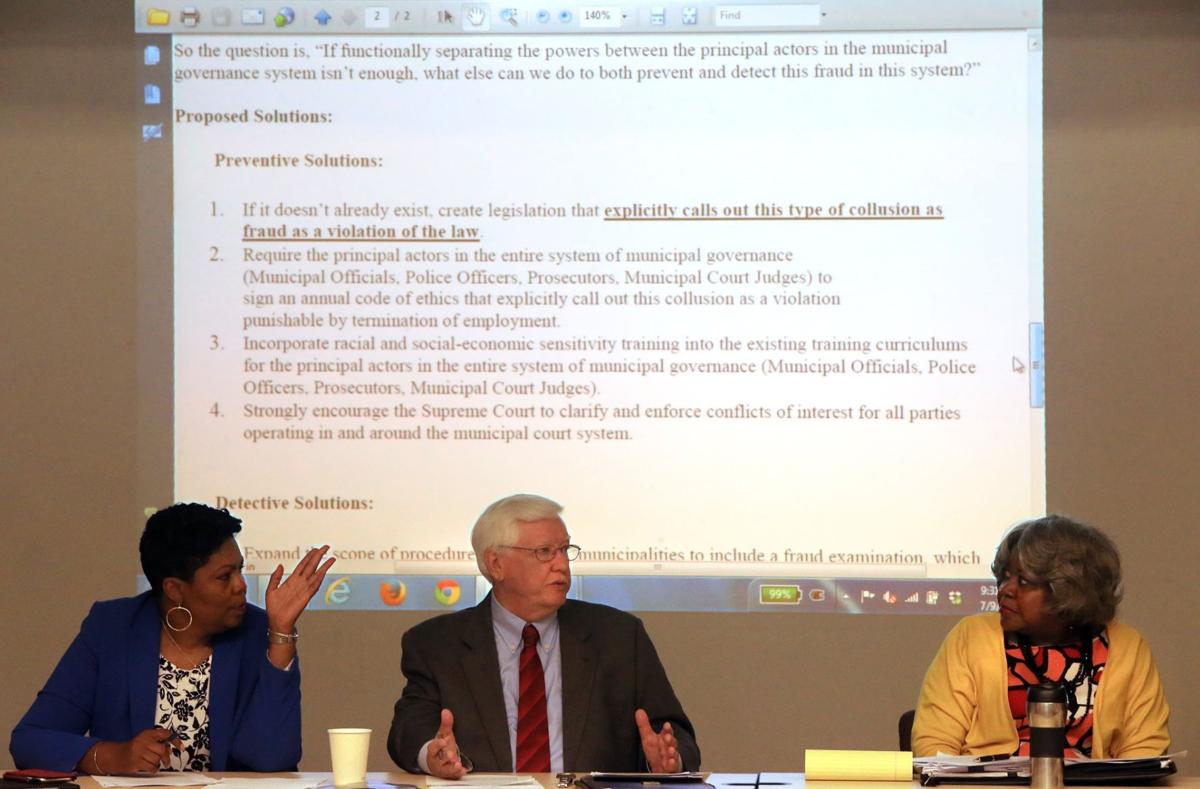 FERGUSON • In a marathon meeting Monday night, the Ferguson Commission approved almost 150 "calls to action," which will be part of a report sent to Gov. Jay Nixon when the commission's work is finished in September.
Among the measures backed by the commission were recommendations for municipal court reform. One measure said that the Missouri Supreme Court should supervise local courts, and that they be consolidated to "an appropriate number."
"We also gather this week with recognition of the successes that have been made," said the Rev. Starsky Wilson, commission co-chairman. "The bill is an important step in addressing the systemic injustices that have occurred in our municipal courts."
After the remarks and a few presentations at the meeting held at the Emerson Family YMCA, the commission dived in to the proposals.
The commission's "calls to action" were divided into five categories: racial equity and reconciliation; citizen-law enforcement relations; municipal courts and governance; child well-being and education equity; and economic inequity and opportunity.
All of the calls to action survived the scrutiny of the commission, but that was because the measures had gone through spirited debate in the preliminary phase, commissioners said.
From here, the commission will decide which of the 148 calls to action, as well as those that were previously approved, will be presented to the governor as "signature priorities." To make the cut, commissioners will decide which are the most "transformative, urgent and unflinching."
There were few sources of contention among the commissioners, besides changes to the wording of some measures.
But there was debate toward the end of the meeting. Among the proposed calls to action was one to raise the minimum wage in Missouri from its current $7.65 to $15, gradually, over seven years.
Commissioner Felicia Pulliam said that the gradual increase was proposed after much discussion in the economic inequity and opportunity working group. To gain a consensus in the working group, she said, it became necessary to call for a gradual increase.
Commissioner the Rev. Traci Blackmon said the gradual increase to $15 wouldn't do any good for minimum-wage workers if it didn't take effect for seven years. She wanted to recommend a $15 minimum wage without the gradual increase.
"I simply am going and sticking with the call to be unflinching in our recommendations and to recommend, on behalf of this community, what justice looks like," Blackmon said. "And justice looks like $15 an hour."
Blackmon proposed an amendment to that end, and it passed, but not unanimously: Scott Negwer, Kevin Ahlbrand and Commission Co-Chair Rich McClure voted no.
There were many more calls to action. Among them:
• Municipal court prosecutors and judges wouldn't be able to "double dip," meaning that they wouldn't be able to represent both defendants and serve as prosecutors in different municipalities. Judges also couldn't serve more than one role.

• Minors who face criminal charges would have access to public defenders.

• The Missouri attorney general would serve as a special prosecutor in police use-of-force incidents that result in death or injury. Similarly, the Missouri Highway Patrol would lead use-of-force investigations.

• One recommendation would create a youth-discounted MetroLink pass so young people could have increased access to opportunities.

• The commission called for increased access to health care by expanding Medicaid and enrolling more people in the Affordable Care Act Marketplace.
Commissioners also called for having a comprehensive transit plan and encouraging mixed-use development near light rail stations.
The calls to action are wide-ranging and are meant to address the underlying societal issues exposed by the unrest in Ferguson last year, commissioners say. The complete list of calls to action proposed Monday can be found at stlpositivechange.org.