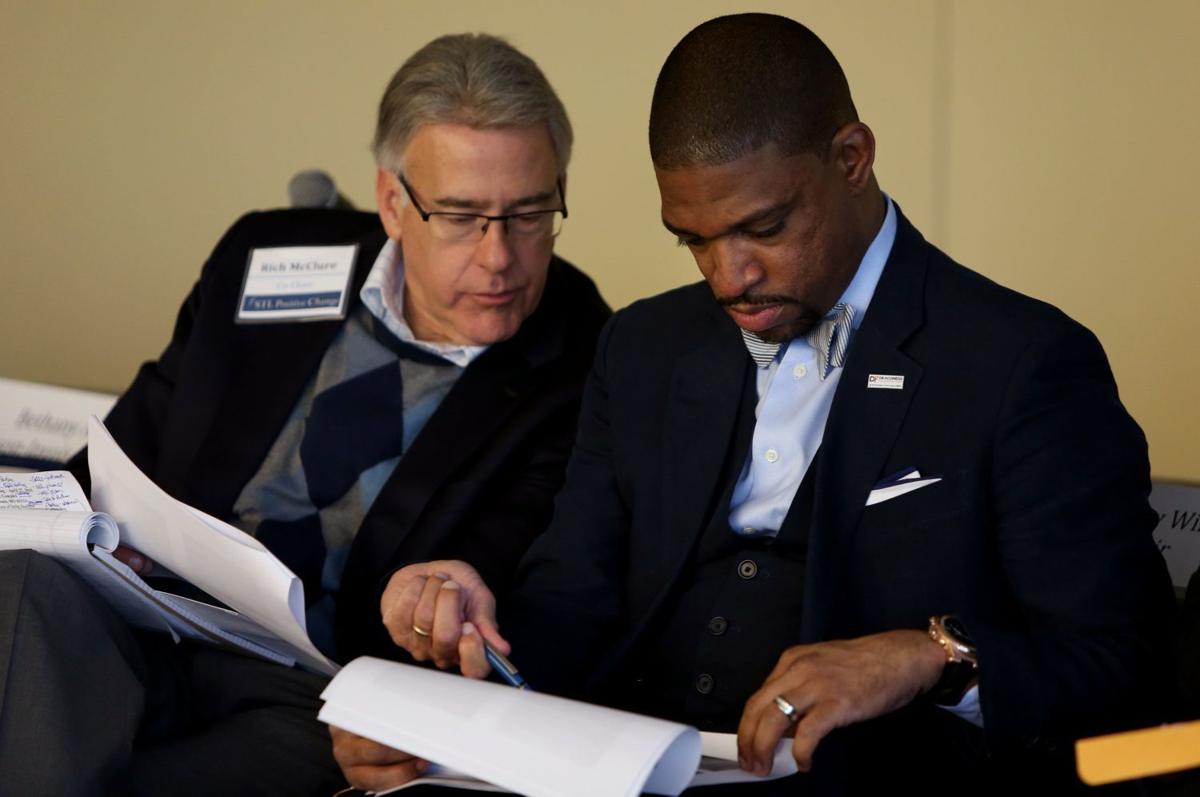 ST. LOUIS COUNTY • The Ferguson Commission is working toward a proposal that would completely overhaul St. Louis County's municipal court system, consolidating operations and eliminating most current practices that have been labeled abusive.
A bill awaiting the governor's signature already proposes significant reforms statewide. The Ferguson Commission's proposal would go even further for the 81 municipal courts in St. Louis County.
Most significant under the proposal, the county's municipal courts would be directly supervised by the Missouri Supreme Court, through the circuit court, and they would be consolidated to "an appropriate number" for the "efficient administration of justice."
The proposal does not say what that number should be, but commission members have made it clear they think 81 is way too many.
"This is what you do to administrate justice fairly," said Rich McClure, a co-chairman of the Ferguson Commission, who had asked the working group to rework a previous proposal so that it incorporated consolidation.
He had said the previous version was not "transformational" enough.
A consolidation plan would inevitably draw heavy resistance from municipalities. And that opposition could reveal itself as early as the working group's next meeting, because several key members who represent municipalities were missing from the discussion Tuesday.
One of them, Frank Vatterott, said he doesn't believe the Missouri Supreme Court has the statutory authority to force consolidation.
"The Supreme Court can tell you how to run your court but they can't tell you to consolidate or close your court," he said, in a phone interview with the Post-Dispatch after the meeting.
Vatterott, the judge in Overland, declined to say whether he thought it was a good or bad idea, though, citing a need to remain neutral because he is also leading a committee of judges that is pursuing internal reforms.
T.R. Carr, one of the leaders of the working group and a former mayor of Hazelwood, was also absent but has voiced the same concern at previous meetings. Also absent were Hazelwood's city manager, Matthew Zimmerman, and Kevin O'Keefe, a partner at the Curtis Heinz municipal law firm that represents more than 20 St. Louis County cities.
Other major changes in the proposal include:
• Municipal courts would not be able to jail people on minor, nonviolent offenses, nor could they issue arrest warrants to people who fail to appear in court on those charges.
• Municipalities could hold someone only for four hours on a nonviolent ordinance violation out of another court.
• Some 490,000 existing warrants that have been issued in St. Louis County for failing to appear in municipal court would be erased. These warrants are a common cause for arrest and detention of individuals on minor traffic violations.
• The municipal courts would treat minor ordinance violations as civil violations, using civil debt collection systems to recoup fines and fees that are owed.
• Juveniles charged with violations that could result in jail time would be assigned an attorney.
The bill awaiting the governor's signature eliminates "failure to appear" as a separate charge that brings additional fines, but still allows municipalities to issue arrest warrants to people who fail to show in court.
While individuals would have a hearing before a judge within 48 hours to determine whether they can be released, defendants with tickets in multiple jurisdictions could still ostensibly spend days in jail as they wait for each municipality to act in turn.
St. Louis University law professor Brendan Roediger, a member of the working group, said after the meeting that he is hopeful the remaining members will agree with the work that was done.
"I think consolidation of the municipal courts is at the core" of reform, he said. Without it, he said, "the system falls apart because there are so many moving pieces, and nobody can fully monitor" 81 courts.
The Ferguson Commission plans to send a full report to the governor this fall. Its work comes as the Missouri Supreme Court convenes its own task force for reform of the municipal courts.