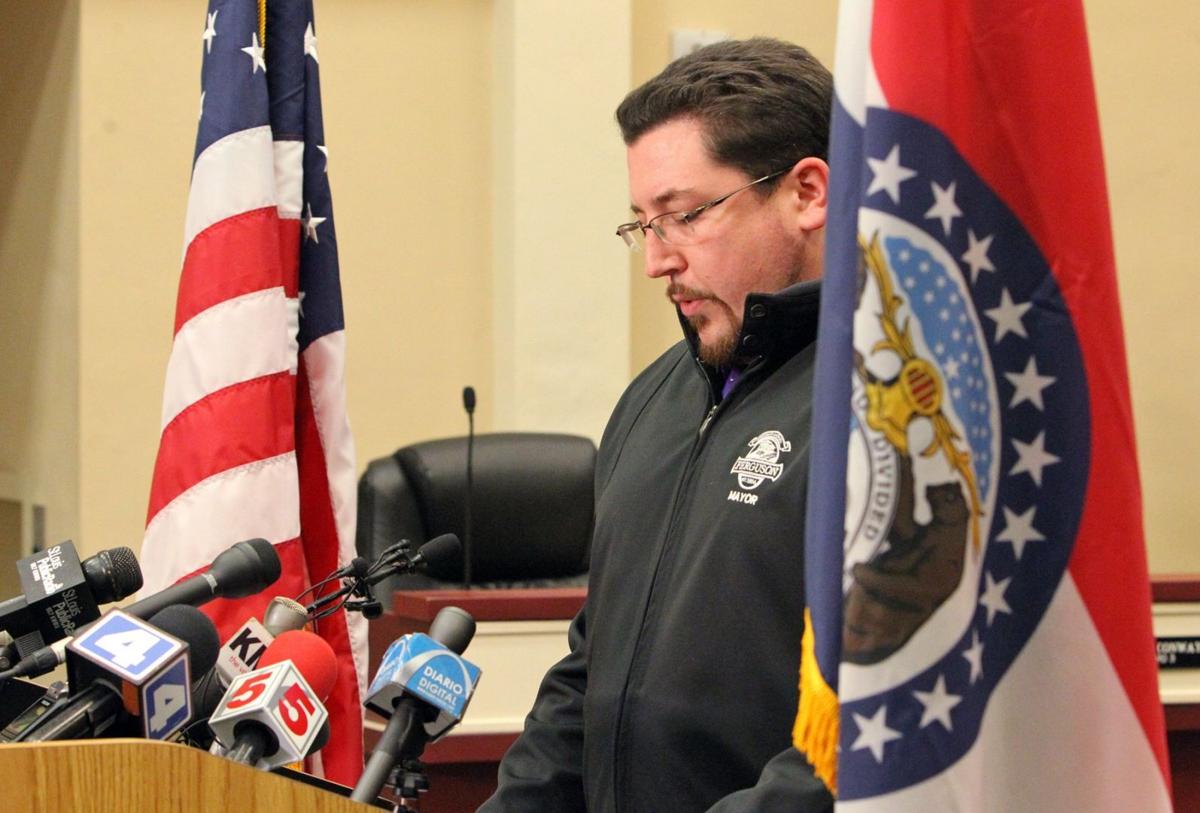 FERGUSON • For the past few months, a series of protests have targeted the homes of politicians, and Mayor James Knowles III figured his turn was coming soon, especially after Friday, when five residents filed an affidavit to remove him from office.
And sure enough, about 6:45 a.m. Monday, roughly 10 protesters were outside his house, playing music along with sound bites of his own comments through a bullhorn.
Knowles said he had warned his wife that if the protesters showed up at his door, he was going to open it, and so he did.
"They were clearly not expecting that," he said.
With his chin-strap beard and glasses, Knowles has served as the public face of a city at the center of a national debate about race relations for the past seven months, ever since then-Ferguson police Officer Darren Wilson shot 18-year-old Michael Brown.
Now that five city employees have lost their jobs in the aftermath of a blistering Department of Justice report on the city's police department and municipal court, the calls for Knowles' head have grown increasingly loud.
Knowles said that there had been moments when he questioned whether he should leave, but that ultimately, the city needed stability.
"Walking away right now is just not the way I roll," he said.
But the mayor, 35, may not have a choice.
Five residents notified city hall that they had formed a committee to gather signatures to force a recall election, the first step in a removal process outlined in the city's charter. It appears the group would have 60 days to gather roughly 1,800 signatures, about 15 percent of the number of people who were eligible to vote in the last mayoral election.
Nick Kasoff, one of the signees, said Knowles had repeatedly embarrassed the city with tone-deaf statements, including one about a week after Brown's shooting, when Knowles told a reporter that the city did not have a racial divide.
"It's like he's pulling random things out of thin air and making Ferguson look ridiculous," Kasoff said.
The DOJ report found that the city used its police department as a "collection agency," to ticket residents and generate revenue through fines and court fees. It criticized Knowles for trying to have a ticket dismissed for someone he knew through volunteer work.
"It (the police and court system) has abused people in a way that finally caught national attention because of Michael Brown," said Kasoff, who ran against Knowles for a city council seat in 2009. "James Knowles was the one who made the policies that formed that government."
But Knowles, who is a weak mayor without veto power, noted that his role was mostly ceremonial and said one of the most frustrating parts of speaking for the city was that people assumed he has more power than he actually does.
According to an email obtained by the Post-Dispatch, Knowles had advocated in October for dismissing Ron Brockmeyer, the city's former municipal court judge.
The email, addressed to the rest of the City Council, details how DOJ representatives and residents brought concerns about Brockmeyer that "overshadowed even concerns about the Police Department."
It goes on to describe Brockmeyer's taking cellphone calls during trials and his "blatant disregard for due process."
"I'm tired of hearing about him," Knowles wrote. "I didn't want him reappointed last time anyway because of issues that I've heard over the years."
In an interview, Knowles declined to say why the council did not remove Brockmeyer before the he stepped down last week. But Knowles did say it was an example of his limited power.
City Manager John Shaw and Police Chief Tom Jackson have also resigned in the aftermath of the DOJ's report.
Kasoff said he believes that a majority of residents want the mayor out of office and that the protests would likely stop if he were to leave.
"The city of Ferguson is two-thirds African-American," he said. "There's probably not a single African-American in Ferguson who doesn't know somebody who is impacted by the abuse."
Knowles said the recall effort concerns him, if only because having to re-run for office would be a distraction.
"In the end, if the actual will of the citizens is to remove me, I do think it is ill-conceived," Knowles said. "But it is what it is."