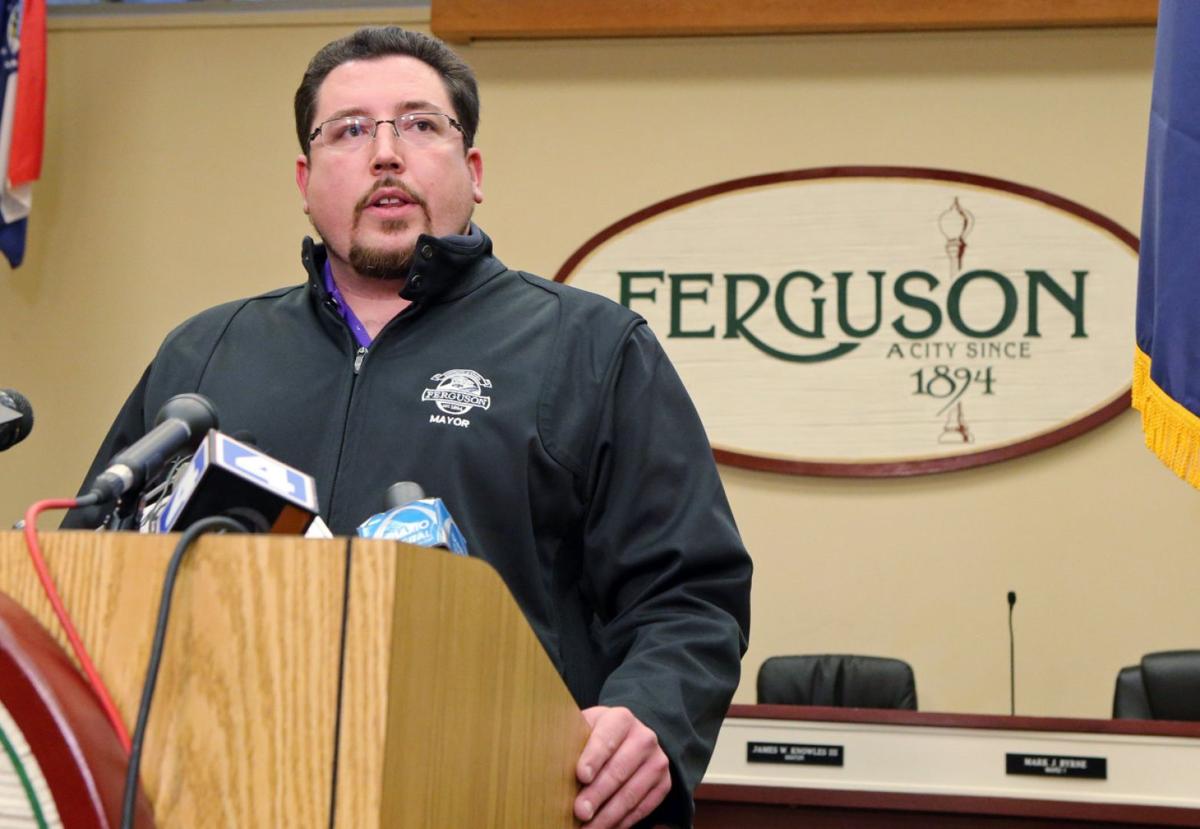 FERGUSON • The mayor of this embattled city said Friday that it would take some time to determine whether a Department of Justice report issued Wednesday, which highlighted a pattern of abuses by the city's police and courts, fairly represented the facts.
But Mayor James Knowles III said the city wanted to make whatever changes it could to convince the U.S. government that "these sorts of things don't happen in the city of Ferguson."
One of the first such changes came late this week with the city accepting the resignations of two employees, and firing a third, who used city email to send or receive racist jokes.
Still, Knowles said in an interview Friday in the city council chambers that city officials had a lot of work ahead examining the findings of the scathing, 102-page report.
"There are stories that have been told in that report … that are very concerning, and those things have to be addressed," Knowles said. "What they've shown is that it has happened. Now, how often has that happened? I don't know. Their assertion is it happens regularly. Based on what? I'm not sure yet.
"Do they have a statistic that tells me that they've examined every arrest that we've made for the past four years and that half, or all, or 10 percent, or 5 percent are unconstitutional or without cause? They do not have that. They have not examined at that level that I know of at this point."
Knowles said he and other city officials would be "going through and examining those issues to make sure that there are not conclusions being based on anecdotal evidence." He emphasized, though, that any civil rights violations were "unacceptable, and you need to write that down."
The report stated there was probable cause to believe the police and court routinely violate people's civil rights. But, Knowles said, "that's not proof." He added that "there is probably another side to all of these stories."
The report criticized Ferguson's police and court systems for operating "not with the primary goal of administering justice or protecting the rights of the accused, but of maximizing revenue." It said Judge Ronald J. Brockmeyer helped set escalating fines and used harsh tactics to secure collections while fixing tickets for friends and family in Ferguson and elsewhere.
Asked Friday whether Brockmeyer should remain as judge, Knowles said that was "something we have to look at," although he said he didn't think Brockmeyer could be removed in the middle of an appointed term without filing a complaint with the Commission on Retirement, Removal and Discipline.
City Manager John Shaw was another figure criticized in the report for pushing police again and again to increase the money they were raising for the city through traffic enforcement. Asked whether his job was on the line, Knowles said he wasn't going to talk about potential staffing changes.
"There is a tremendous amount of things he's been able to do for this community," Knowles said.
As for Ferguson police Chief Tom Jackson, Knowles said he wasn't making a quick decision. "He still has a tremendous number of people in this community who support him."
Knowles took issue with Department of Justice findings that police disproportionately stop black drivers. He said he believes Ferguson's businesses are daytime destinations for African-Americans, unfairly skewing the chances that a driver being pulled over will be black.
Knowles said he hoped the city could come to an agreement with the Justice Department as to "what is an effective public policy solution."
In Washington on Friday, U.S. Attorney General Eric Holder said he was prepared to dismantle the Ferguson Police Department if that's what it would take to reform policing there.
"I was shocked towards the end by the numbers that we saw and the breadth of the practices that we uncovered," Holder said. "The notion that you would use a law enforcement agency or law enforcement generally to generate revenue, and then the callous way in which that was done and the impact that it had on the lives of the ordinary citizens of that municipality, was just appalling. Appalling. And that is not something that we're going to tolerate."
Knowles said disbanding the police department was not the "wholesale change" that Holder called for. "Disbanding is just giving up," he said.
One suggestion has been that St. Louis County Police take over policing in Ferguson. But, Knowles said St. Louis County police pull over more black drivers than Ferguson police relative to the population of their patrol areas. "So, would you suggest, or St. Louis County, or anyone else, suggest that change would be better?"
"We need to have officers engaged in the community and in the schools so there is less of a divide or … disparity between policing and the community."
While the civil rights investigators portrayed a culture of rudeness and intolerance among Ferguson police officers, Knowles said he had never witnessed that. "When I'm looking … they're actually pretty considerate to the individuals they deal with. Now, when I'm not there, I have no idea."
At least three Ferguson employees are now ex-employees. Two veteran police commanders resigned and a city court clerk was fired over racist emails cited this week in the Justice Department report.
Capt. Rick Henke and Sgt. William Mudd resigned Thursday, sources confirmed Friday. Also Friday, city spokesman Jeff Small said Court Clerk Mary Ann Twitty was fired Wednesday.
Based on the report, the ACLU of Missouri filed a motion Friday asking a federal judge to hold the city of Ferguson in contempt. It alleges that police continued to violate First Amendment rights of the press and protesters despite an earlier court order affirming the public's rights to record officers at protests.
Friday's motion cites the Justice Department's account of arrests and police orders made the night of Feb. 9, the six-month anniversary of the killing of Michael Brown by then-Ferguson police Officer Darren Wilson, that interfered with recording.
In Jefferson City on Friday, Gov. Jay Nixon told lawyers at a Missouri Bar meeting that he was convinced Ferguson's municipal court was not alone in "operating to raise revenue rather than to serve justice – and often doing so on the backs of those who are least able to pay."
He said he supported proposed legislation to reduce the amount of profit a municipality can take by issuing traffic tickets.