Missouri Highway Patrol Capt. Ronald S. Johnson said he sees no need for a police presence at the protests in Ferguson tonight.
"If something happens and if we have to come down here, we will," Johnson said. "But if it's like it is now and like it was last night, there's really no need for us to come down."
Johnson said three police vehicles were damaged Thursday night after someone threw rocks at them. He also said that one officer had a minor injury, presumably from being grazed by a rock. He declined to elaborate.
"I know a lot of people … wanted me to get up on TV and talk about these (as if they) are major incidents because some rocks were thrown or we had to go to a call," Johnson said. "I'm not going to get up here and talk about small things and take away from what 99 percent of the people are doing."
Earlier Friday the mood seemed a bit more tense at the QuikTrip that has become ground zero of protests, with murmurings about the release of a video that appears to show Michael Brown taking cigars from a convenience store and shoving a clerk.
It started to sprinkle at one point, dampening down the protests a bit.
Later, the Rev. Jesse Jackson showed up before an appearance at a Ferguson church. At 6:30 p.m. Jackson walked arm-in-arm with about 50 people down West Florissant Avenue, toward the apartment complex where Brown was killed.
Jackson urged the crowd to continue protesting but to avoid violence."You can reshape an iron while it's hot, but don't destroy yourself in the process. Don't self-destruct," Jackson said.
At the Ferguson church, Wellspring Church on South Florissant, Jackson said the events in Ferguson illustrate why people need to vote. "Voters have the power to elect mayors who appoint police chiefs," he said.
U.S. Rep Emanuel Cleaver, D-Kansas City, was also at the church and had harsh criticism of Ferguson Police Chief Tom Jackson. "There is not a thimble's worth of trust that anyone can place in the chief of police of Ferguson," he said.
Earlier in the day, lawyers for Michael Brown's family appealed for calm tonight despite the release of the store video.
They again called the release of the video an effort to damage Brown's reputation. But Daryl P. Parks, one of the lawyers, said of the man in the store video, "It appears to be him."
Parks also said he "wouldn't say" if it was a robbery. He and Anthony Gray, another lawyer for the family, discussed the release of the video during a news conference shortly before 4p.m. today. They said the family is pleading with protesters not to resort to violence tonight because of the video.
"This family wants the public to know they want nothing tonight but law and order, just like last night, to remember Mike Brown," said Parks, a lawyer from Florida.
Parks said the family was pleased with the federal investigation and that justice is moving forward.
Anthony Gray, a local attorney for the family, said no one ever said Brown "was a perfect kid." He warned protesters that, in viewing the video,"You may see images or depictions that don't paint him in the most complimentary light."
But he urged them, "Don't take the bait from anybody who is trying to character-assassinate Mike. Don't take that and begin to riot, don't take that and begin to loot. The family has made this clear."
- Tim O'Neil, Koran Addo, Steve Giegerich, Ken Leiser 5:50 p.m.
An evening of calm before storms
For much of night, Ferguson was home to the biggest party in the city as thousands come out to celebrate their unity and rally for Michael Brown. This set of pictures celebrates the calm of the evening.
Federal agents will be canvassing Ferguson for information about shooting
The Federal Bureau of Investigation announced Friday that it is working on a federal civil rights investigation by sending FBI agents to interview witnesses at the scene of the shooting of Michael Brown.
The agents are working with attorneys with the Justice Department's Civil Rights Division and the U.S. Attorney's office, and have already conducted several interviews, they announced.
"Over the next several days, teams of FBI agents will be canvassing the neighborhood where the shooting took place to identify any individuals who may have information related to the shooting and have not yet come forward," a statement said. "We ask for the public's cooperation and patience, and again urge anyone with information related to the shooting to contact the FBI."
The FBI can be reached at 1-800-225-5324, option 4.
- Valerie Schremp Hahn, 7:30 p.m.
Ferguson officer realized during encounter that Michael Brown might be suspect in robbery, chief says
The officer who shot Ferguson teen Michael Brown stopped Brown and another teen because they were walking in the street, not because of a robbery a few minutes earlier, Ferguson Police Chief Tom Jackson said Friday afternoon.
Jackson said the officer was aware cigars had been taken in the robbery of a store nearby, but did not know when he encountered Brown and Dorian Johnson that they might be suspects. He stopped them because they were walking in the street, Jackson said.
But Jackson told the Post-Dispatch that the officer, Darren Wilson, saw cigars in Brown's hand and realized he might be the robber.
Jackson also addressed concerns about his release of information about the robbery at the same time he released the name of the officer at a press conference Friday morning.
Jackson said he released the security video from the liquor store because news organizations had been requesting it under the Freedom of Information Act.
Asked by reporters why he released the tape, he said, "Because I had to. Too many people put in (freedom of information) requests for it."
Told of the family's angry reaction to the release, he said, "First, my heart goes out to the family. I can't imagine what they are going through. We have given you everything that we have now… There is nothing else we have got." 
Jackson said Wilson, 28, worked as a police officer in neighboring Jennings for two years before joining Ferguson about four years ago. He described Wilson as "a gentle, quiet man" and "a distinguished officer."
Jennings closed its police department in late 2011 in the wake of a federal probe into the theft of grant money, and turned public safety over to St. Louis County Police.
For Wilson, Jackson said, the shooting "is absolutely devastating. He never intended for any of this to happen."
- Kim Bell, Joel Currier, Jeremy Kohler 
Dooley seeks special prosecutor in Ferguson case
St. Louis County Executive Charlie Dooley will lead an effort to appoint a special prosecutor to handle the case involving an officer who shot unarmed teenager Michael Brown.
Dooley spoke with Missouri Attorney General Chris Koster today and asked the process to remove St. Louis County Prosecutor Bob McCulloch from the case. Tension has mounted over the county's handling of the situation. McCulloch fought back on Thursday, criticizing a state effort that replaced county police handling protests in Ferguson.
"The county executive believes Bob McCulloch is biased and shouldn't handle this case," said Pat Washington, Dooley's spokeswoman.
The process isn't easy. Dooley doesn't have the power to remove McCulloch. Washington said he must obtain signatures and petition a judge for the removal. 
Attorney General Chris Koster said Friday that he had received a request from Dooley to assume responsibility for the Ferguson case. But, Koster said, "state law provides no authority for the attorney general or the governor to remove or transfer a criminal case from an elected county prosecutor."
By law, a court can appoint a special prosecutor when the county prosecutor is related to the defendant or has another conflict of interest, such as by having represented someone involved in the case.
A prosecutor also can ask the state for help handling the case. The governor then could appoint the attorney general to provide investigative and prosecutorial assistance. But the local prosecutor would retain decision-making authority over the case, Koster said.
Dooley and McCulloch have been at odds. McCulloch pulled his support for Dooley's re-election effort last year and campaigned heavily for his opponent, Steve Stenger. For most of this summer, Stenger ran television ads prominently featuring McCulloch criticizing Dooley's leadership and alleging corruption in the county.
- Nick Pistor and Virginia Young, 2:45 p.m. 
Michael Brown a suspect in robbery of cigars from store shortly before he was killed by police; officer named
A police report released Friday by Ferguson police identifies Michael Brown as a suspect in a robbery at a convenience store a short time before he was fatally shot by a police officer.
Ferguson authorities have identified Darren Wilson as the police officer who shot and killed the unarmed teenager last Saturday. Ferguson Chief Tom Jackson released the officer's name Friday morning. Brown, 18, was shot multiple times Saturday afternoon in the 2900 block of Canfield Drive.
Wilson, who suffered facial injuries into the attack, has been an officer for six years and has had no disciplinary action taken against him in the past, Jackson said.
Documents Jackson released in response to Sunshine Law requests name Brown as a suspect in the robbery of a store in which cigars were taken. 
That news unleased fresh outrage from protesters at the QuikTrip where the chief made the announcement. The chief was hustled away from the area and did not answer questions, launching a whole new round of protest along West Florissant Avenue.
The attorney for Brown's family said police are trying to assassinate the victim's character by saying he committed a robbery that day.
The attorney, Benjamin Crump, says Brown's parents are "incensed" by what he calls "the old game of smoke and mirrors." He says the family was blind-sided by Friday's announcement.
Crump says "it's bad enough they assassinated him, and now they're trying to assassinate his character."
Another attorney for the family, Anthony Gray, said Brown was killed while "displaying a universal sign of surrender" with his hands up.
"We don't care what happened before that point," Gray said. "It's irrelevant... Why did you shoot this unarmed teenager who had his hands in the air, period?"
He said the release could lead to more trouble and distrust.
"If this reaction gets very intense, I'm going to blame the people who released this information," Gray said. "You can't blame the community."
The lead state law enforcement officer in charge of security in Ferguson said he "would have liked to have been consulted" this morning regarding the release of information implicating Brown in the robbery.
Missouri Highway Patrol Capt. Ronald S. Johnson spoke during a press conference with Gov. Jay Nixon at the command control center at the Northland Shopping Center on West Florissant Avenue. Nixon also said he did not know the robbery information was going to be released this morning.
Johnson and Nixon said they had not seen the video still footage or the police documents regarding that robbery and planned to do so today. Johnson said once he had reviewed them, he planned to go to the QuikTrip area of protest and begin discussing it with protesters.
"Today I will meet with the chief of Ferguson and talk about how that (information) was released," he said. "This afternoon I will walk back down to the QuikTrip and explain to the people there what I saw was in the packet and explain what was unclear."
Johnson addressed the concern that the release of the information could further inflame protesters.
"This inner anger – we have to make sure we don't burn our own house," he said. "That does not prove a point. That does not solve issues. That only hurts our community."
The name and address of the store police say was robbed are redacted from the documents, but the store is Ferguson Market and Liquor on West Florissant Avenue.
Also named as a suspect in the robbery is Dorian Johnson, 22, a man who has said he was with Brown when he was shot.
The document release includes surveillance images of the robbery, showing an employee being attacked.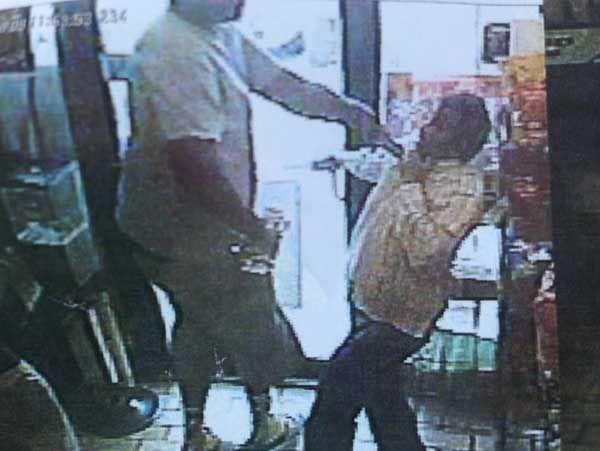 An unidentified employee had just come out of the restroom and come to the counter when she observed Brown telling a clerk he wanted several boxes of cigars, the reports say. The name of two employees have been redacted from the report:
"As (redacted) was placing the boxes on the counter, Brown grabbed a box of Swisher Sweets cigars and handed them to Johnson who was standing behind Brown. (Redacted) witnessed (redacted) tell Brown that he had to pay for those cigars first. That is when Brown reached across the counter and grabbed numerous packs of Swisher Sweets and turned to leave the store. (Redacted) then calls '911.' Meanwhile (redacted) comes out from behind the counter and attempts to stop Brown from leaving. According to (redacted),(redacted) was trying to lock the door until Brown returned the merchandise to him. That is when Brown grabbed (redacted) by the shirt and forcefully pushed him back in to a display rack. (Redacted) backed away and Brown and Johnson exited the store with the cigars."
The lawyer for Johnson, who was walking with Michael Brown when Wilson fatally shot Brown, said Johnson told authorities about the cigar theft earlier this week.
"He told them about the cigarillos and that Big Mike took cigarillos," said the lawyer, former St. Louis Mayor Freeman Bosley Jr.
He decried the timing of the release of the robbery information. 
"It was Ferguson grabbing at straws," Bosley said. "Their whole press conference was a disaster and unprofessional. At the end of the day this is about whether the officer used excessive force to kill Michael Brown."
Asked whether Dorian Johnson will be charged, Ferguson Police Chief Tom Jackson said today, "No. We determined he didn't steal anything or use force."
County officers were stationed across the street from Ferguson Market and Liquor Friday morning. Owners of the store declined to speak to a reporter, but said police took surveillance video from the store. 
Inside the store, a clerk declined comment. The cigars of the brand stolen were behind the counter, selling for two packs for 99 cents. Another employee said they had asked police not to put the store's name in the police report.
In his press conference, Jackson did not say Brown was a suspect in the robbery and did not say how that information connects to the Brown shooting investigation. The documents he released do name Brown and Johnson as suspects.
He said he had been in touch with a contact for Brown's family before releasing the information.
Some citizens attended the press conference and were upset Jackson spoke about a robbery. Chants of "No justice, no peace," broke out from some.
"I am incensed," said Laura Keys, 50, of St. Louis. "I can't believe this is the tactic they are using, bringing up a robbery to make the victim look like he was the person who created this whole mess. Where's the footage?"
Anthony Shahid, an activist, said Jackson's announcement was irresponsible. He said Thursday night was calm, but, "You stir it back up this morning."
Johnson told reporters outside QuikTrip he was hoping to arrange a meeting between Shaheed, protesters and the Ferguson police chief to find out why the chief chose to release the security footage of the nearby convenience store robbery at the same time he released the name of the officer who shot Brown.
Jay Williams, 45, of Florissant said the announcement was "B.S."
"They brought it up to justify the cop's actions."
William Whittaker, 57, of Jennings blamed McCulloch for the release of the information at the press conference to discredit Brown, and called for McCulloch's impeachment.
"It's not OK for anyone to steal, but there's a way to arrest someone without killing them," Whittaker said.
Joy Williams, of Patterson Missionary Baptist Church, shook her head after the news conference as she carried a protest sign.
"He was not a police officer," she said of Wilson. "A real police officer does not perform in that manner. (Brown)was executed. There's a way to do everything and that was not the way."
Williams said she came to the news conference and protest to show her support for those who have been killed by police.
"I'm here for all kids of all color and creed," she said as protesters voiced their concerns. "Children that have been executed in this country."
A Post-Dispatch reporter spoke to Andy Patel, who has owned the Ferguson Market and Liquors for about five years, on Wednesday. Patel at that time denied being the victim of a robbery from his store. His daughter, Priyanka Patel, 27, also denied it, though she said she had heard rumors of a shoplifting incident.
The store had put wooden boards in front of its windows by Wednesday, saying it was taking precautions against possible looting. The store had not been looted during the protests.
"A lot of people are scared to be out here," Priyanka Patel said of doing business after Sunday night's looting. "We're hoping to get back to normal, back to the way it was."
Jay Kanzler, an attorney for Ferguson Market, told reporters that the owners "hope people understand they have nothing to do with the investigation. They want to remain part of the community, just like everyone else."
He said the market's owners will comply with a court subpoena seeking a copy of the video. Ferguson police had obtained a copy earlier.
Kanzler said a customer, not a store employee, summoned police during the alleged robbery.
JACKSON DISCUSSES TIMELINE BEFORE SHOOTING
Jackson described events before the shooting on Saturday, saying Wilson was at a sick call from 11:48 a.m. to about noon. An ambulance was also at that scene.
At 11:51 a.m. a 911 caller reported a strong-arm robbery at a convenience store, Jackson said. He did not name the store. A brief description went out a minute later.
A different officer went to the convenience store and a more detailed description went out a short time later. The robbery suspect was said to be heading toward the QuikTrip in Ferguson.
Wilson left the sick call and encountered Michael Brown at 12:01 p.m.  In a follow-up interview, Jackson said he did not believe Wilson knew Brown might be connected to the robbery. He said Wilson stopped Brown and Johnson because they were walking in the street.
Sometime between then and 12:04 p.m., when a second officer arrived at the scene, Brown was fatally shot by Wilson on Canfield.
A supervisor arrived at 12:05 p.m., and the ambulance that had been at the nearby sick call came to the scene "immediately following the shooting," to "assess Michael Brown," Jackson said.
Jackson said further information about the actual shooting would have to come from St. Louis County Prosecutor Bob McCulloch, who has declined to release information now. Jackson left the press conference without taking questions.
Brown, a 2014 graduate of Normandy High School, was reportedly due to start classes at Vatterott College on Monday. His mother, Lesley McSpadden, said her son was walking to his grandmother's when he was gunned down.
Brown's death prompted almost immediate protests in Ferguson, including Sunday night demonstrations that led to rioting and looting. Protesters looted and then set fire to a QuikTrip store and vandalized others in the area near where Brown was killed.
Demonstrations and protests escalated, reaching a climax on Wednesday night when St. Louis County officers in full riot gear responded with tear gas, rubber bullets and armored vehicles. About a dozen people were arrested, including two national reporters and a St. Louis alderman.
That led to Thursday's change in direction — when Nixon put the Missouri Highway Patrol in charge of the security in Ferguson and removed St. Louis County police.
The change was dramatic and immediate, as Thursday night's police presence lacked gas masks, smoke bombs and military gear. Capt. Johnson, the patrol officer put in charge, walked and talked with protesters, exchanging hugs and answering questions.
"Last night was a great night," Johnson said in a Friday morning press conference. "There were no calls for service, we did not deploy tear gas, we did not have any roadblocks, we did not make any arrests..."
Nixon repeatedly alluded to Johnson's tone and handling of the situation near Ferguson, and said that will continue.
"I think there are going to be some moments of angst between now and the finish line of that process," Nixon said. He urged people use their energy for solutions and not outbursts.
On Friday, Johnson described a conversation he had with his daughter Thursday night when she asked if he was scared.
She said, 'Dad, I want you to remember when Jesus walked with Peter. When Peter got scared Jesus picked him up and said, 'Have faith.'
"He's going to pick us up and pick this community up."
Nixon said the investigation isn't changed by the information about the robbery.
"Nothing should deter figuring out how and why Michael Brown was killed," Nixon said. "There are a lot of steps between now and when justice is served. And there are going to be a lot of bounces along the way."
Thursday night, McCulloch blasted Nixon's decision to remove the St. Louis County Police Department as the lead agency overseeing security in Florissant. Patricia Washington, a chief aid to County Executive Charlie Dooley, said Friday morning Dooley was highly disappointed with McCulloch. 
I think it's unfortunate that Mr. McCulloch would insert himself in that manner," Washington said, arguing that establishing stability in the protest area should be a top priority of everyone.
"It should not be a turf war," Washington said.
St. Louis Mayor Francis Slay also criticized McCulloch for his comments yesterday.
Just after 10:50 a.m. Slay tweeted "For the record. I believe that the county prosecutor's remarks were ill-timed and wrong."
- Kim Bell, Joel Currier,  Tim O'Neil, Nicholas J.C. Pistor, Elisa Crouch, Jessica Bock, Steve Giegerich, and Denise Hollinshed
St. Louis County, city police officers' groups blast Dotson, Nixon
The unions for city and county police officers criticized leaders who've questioned police response in Ferguson.
The St. Louis Police Officers Association on Friday blasted city Police Chief Sam Dotson's comments to the Post-Dispatch saying he did not support St. Louis County Police's Department's tactics in Ferguson. Dotson said he stopped sending officers to help county police after Monday night he didn't want to "put officers in situations that I would not do myself."
The union, which represents the majority of city officers, said it supported county officers while saying tactical decisions should be made behind-the-scenes, not in the media or made "by politicians and police administrators sitting in the comfort of their offices at a safe distance from the unprecedented violence and chaos."
The union also said Dotson's decision to withdraw officers from Ferguson put county police, state troopers, Ferguson police and other agencies "in harm's way."
Dotson could not be reached for comment Friday.
Meanwhile, the St. Louis County Police Association criticized Gov. Jay Nixon for stripping control of the Ferguson protests from the department, saying the decision was "motivated by local and national political pressure."
In the statement, the union highlighted incidents from overnight in which a pedestrian was struck by a vehicle, an officer was hit by a brick, a woman shot, a McDonalds broken into, and that several patrol cars were damaged.
Nixon's "decision not only did not improve public safety but put officers' lives in danger," the statement said.
Association president Gabe Crocker also took a swipe at Dotson, saying he "spit in the face of St. Louis County police officers and all first responders that have worked so hard over the past few days."
The Missouri Highway Patrol would not provide details on the incidents Friday after several requests for information from the Post-Dispatch.
A DIFFERENT DARREN WILSON
St. Louis police Sgt. Darren Wilson, president of the Ethical Society of Police which represents many black St. Louis city officers, posted a message to his Facebook page Friday morning to assure people he is not the same officer named in the fatal shooting of Michael Brown.
"The first thing we would like to assure the world is that this is a horrific coincidence," Wilson wrote. "May I assure the world that (the shooter) is not the President of the Ethical Society of Police's Sergeant Darren R. Wilson ... an 18 year veteran of the St. Louis Police Department."
CAPT. JOHNSON SPOKE TO STUDENTS AT HIS ALMA MATER BEFORE ASSIGNMENT
Before he stood in front of the nation as the new man in charge of police response to unrest in Ferguson, Capt. Johnson went to the kids. 
Johnson spoke Thursday morning to students at his alma mater, Riverview Gardens High School. With him was Missouri Attorney General Chris Koster. The shooting scene in the east part of Ferguson is within the Riverview Gardens School District. The district has students who are related to Brown. 
Students, including some who have taken part in the protests, led the discussion with Johnson and Koster. Students in Riverview Gardens schools began the new year on Monday and have been in class all week. Another district that borders the shooting scene, Ferguson-Florissant, was supposed to start the new year on Thursday, but has postponed class until Monday.
Gregory Moore, a senior, said the week has left him feeling unsafe, he said Friday in an interview. He and other students talked with Johnson and Koster about why Brown's death was furthering distrust of police.
"Especially being around the same age, I felt that if he could be a target, I could be a target," Moore said. He said he was treated roughly by an officer who handcuffed him and threw him into the back of a squad car once for loitering.
On Thursday, the students talked about their constitutional right to gather. One student said an officer called them animals. Another told them he still has a tear gas canister in his backyard. 
They asked Johnson why a body would remain in the street, and whether police are trained to wound instead of kill. Johnson answered them, and told them he understood why they were asking. He, too, was disturbed by what he was seeing from police. He wanted change.