ST. LOUIS • The portion of a federal lawsuit that claims St. Louis County police beat and falsely arrested Ferguson protesters and committed other constitutional violations should be tossed out of court because the plaintiffs' claims are contradicted by videos and their own depositions, lawyers for police said Friday.
The arrests were among hundreds that occurred during the height of the protests that followed the fatal shooting Aug. 9 of Michael Brown, 18, by then-Ferguson Officer Darren Wilson.
In the motion for summary judgment, lawyers for St. Louis County say that several defendants had no contact with county officers or were legally arrested without unreasonable force. Others, they say, falsely described their arrests and then either admitted those falsehoods in depositions or were contradicted by video evidence.
Malik Shabazz, one of the lawyers representing the protesters, said in an email Saturday that "We stand behind all claims currently filed against all Defendants in this important case." Shabazz said his responses to the police motions will be filed starting May 20.
The St. Louis County lawyers could not be reached for comment Saturday.
Peter Dunne, a lawyer representing Ferguson, Jackson and current and former officers in Ferguson and Maryland Heights, wrote in an emailed response to questions, "Very little of what's been alleged is supported by the evidence." Dunne and colleagues made a similar motion for summary judgment last month.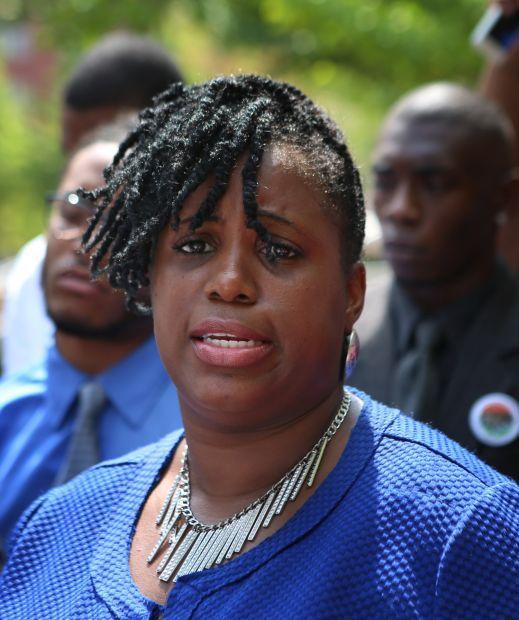 At a press conference announcing the original suit, Tracey White, then 38, said that she and her 17-year-old son were arrested at the Ferguson McDonald's after attending a "Peace and Love Rally."
White said that rifle-toting police rushed into the building and arrested the pair, throwing her to the ground. She compared it at the time to "something out of a movie. It was so horrifying."
In a Sept. 29 deposition, however, White was confronted with video taken by a St. Charles County paramedic's camera, that showed her being arrested at least a block away by St. Charles County SWAT officers.
White and her son were arrested without force, and only after they refused to leave the street, Friday's motion says.
White said during the deposition that she had not read various versions of the lawsuit before they were filed. She could not be reached for comment Saturday.
Dwayne A. Matthews Jr. claimed a "gruesome" beating by police and said that police had tried to drown him for several seconds, picked him up and slammed him into the pavement, took turns punching him and scraping his face on the pavement, then pepper-sprayed him, the motion says.
Videos and testimony by officers show that he walked into a cloud of tear gas and smoke and toward police, and continued after being hit with bean-bag rounds. Matthews fell into a culvert and hit his head, the filing says. Another video captures him being lifted out of the culvert and turned over to St. Charles County SWAT officers with no beating, the filing says. He could not be reached for comment.
Because the St. Louis County officers did not commit "constitutional torts or state torts and are entitled to summary judgment" and are also entitled by official immunity, Belmar and the county should also be dismissed from the suit, the filing says.