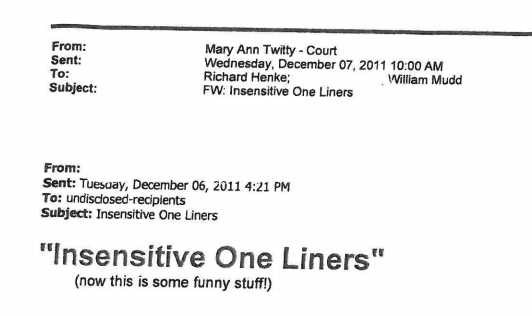 FERGUSON • The set of racist emails that sent three Ferguson employees packing were released to the public on Friday.
The content of the emails was described in a March 7 report from the Justice Department that found pervasive discrimination in Ferguson's police and court operations.
That week, Ferguson police Capt. Rick Henke and Sgt. William Mudd resigned and Court Clerk Mary Ann Twitty was fired over the emails. They did not receive severance packages.
Until now, it was not known who sent which emails and whether there were recipients beyond those three individuals.
Based on what the city released Friday, it appears most of the emails were sent from Twitty to the officers. Mudd did send one email to Twitty that made cracks about welfare recipients being unemployed, unable to speak English, lazy and having no "clue who their daddies are."
Names are redacted in at least a half dozen places, however. City Clerk Megan Asikainen explained in an email that non-city employees are not being named because they have a right to privacy.
She also said the emails ordinarily would not be considered public records because "they do not relate to public business and are not created and retained on behalf of the city. However, the city recognizes that the emails may now constitute public records only insofar as they have been made relevant to the city by the DOJ."