FERGUSON • St. Louis County Prosecutor Robert P. McCulloch released unedited footage Monday from the Ferguson Market to try to settle questions raised by what he called a "pretty pathetic attempt at a video production" that led to a protest outside the Ferguson Market on Sunday.
McCulloch said the footage shown in the independent film "Stranger Fruit" was known to police and investigators when they looked into the police shooting death of Michael Brown in 2014. But it was deemed "not relevant or admissible" to the grand jury weighing charges against the officer, and therefore not released to the public.
'Unedited' Ferguson video of Michael Brown in store released
Surveillance video showing Michael Brown in a Ferguson, Missouri, convenience store in the early hours of the day he was fatally shot by a police officer was heavily edited by a documentary film crew, a prosecutor said Monday. St. Louis County Prosecuting Attorney Robert McCulloch dismissed the footage from the documentary "Stranger Fruit" during a news conference and released different 'unedited' views. The filmmakers and others say the video suggests Brown, a black 18-year-old, didn't rob Ferguson Market & Liquor before white Ferguson officer Darren Wilson shot him on a neighborhood street in August 2014.
The film's creator and narrator, Jason Pollock, and Brown's mother, Lezley McSpadden, allege that the video shows Brown trading a store clerk marijuana for Cigarillos about 11 hours before he was shot and killed by Ferguson Officer Darren Wilson. Pollock and Brown's mother claim that disproves the police notion that Brown was robbing the store shortly before he was killed.
McCulloch said the footage Pollock used had been altered, and the complete version shows Brown "attempting to barter" with store employees, who refused the package put on the counter. Brown returned the merchandise to the counter and took back the small package before leaving the store, McCulloch said. The footage then shows an employee putting the Cigarillos back on the shelves after Brown leaves, McCulloch said.
"It's not as though (this footage) was hidden away somewhere, as this fellow with his video project was trying to say," McCulloch said. "Even his pathetic video shows the police report where he got the information. It's all there, and it's been there since 2014. It's all available and not edited.
"This is a clear attempt to distort this and turn it into something it isn't … There was no transaction, but there certainly was an attempt to barter for these goods, but the store employees had no involvement in that, and when he left, they put everything where it belonged … It's very clear there was no transaction between Mr. Brown and the store employees and to suggest he's coming back to get what he bartered for is just stupid."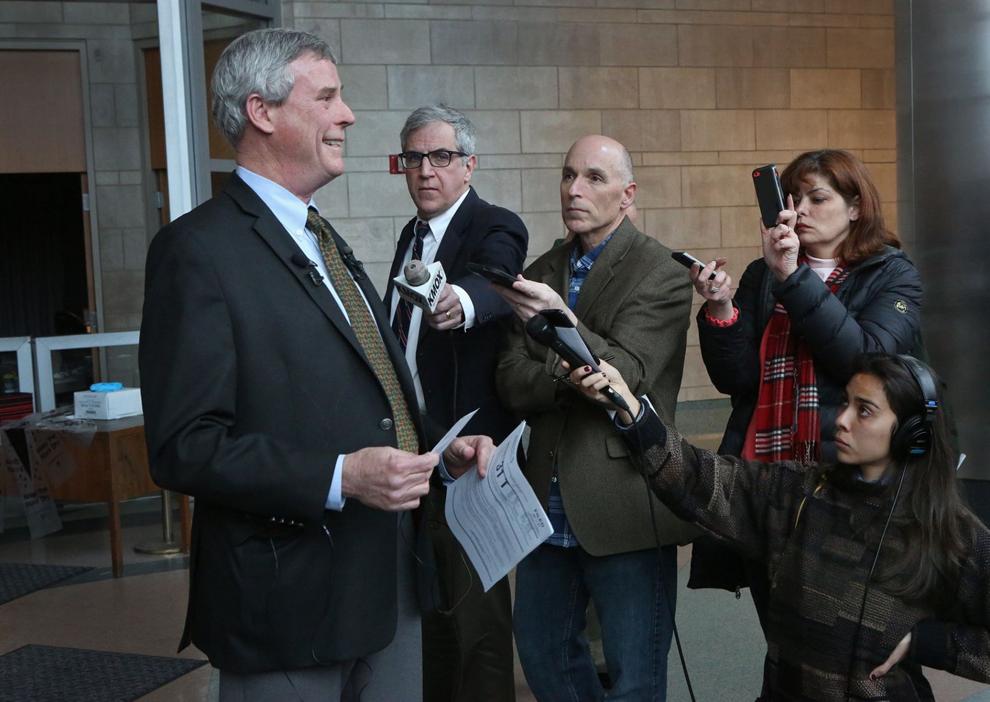 In an interview with the Associated Press, Pollock said there was no deceptive editing done for his film.
"He's trying to make it seem like I did something that I didn't," Pollock said of McCulloch. "He's a master at deception, I'll give him that, and he tricked the world for a long time, but he can't trick us now. Because anybody who sees that video knows exactly what they see."
About 100 people gathered to protest outside the market Sunday night. Several gunshots were fired nearby shortly before midnight.
A Bellefontaine Neighbors man was charged Monday with trying to light a St. Louis County police car on fire during the protest. And a woman was charged with punching a Ferguson police officer in the face, breaking his nose.
In the first case, police say Henry L. Stokes, 45, of the 1500 block of Haviland Drive, was charged with felony counts of attempting to cause catastrophe and resisting arrest. Bail was set at $25,000.
During the protest, police say Stokes stuffed a napkin in the gas tank opening of a St. Louis County police car and tried to ignite it with a cigarette lighter.
Officers tried to stop him, chased him and arrested him.
In the second case, police say Alecia Rhone, 25, of the 3500 Dehart Place near St. Ann, punched a Ferguson police officer in the face. She was charged with third-degree assault and resisting arrest. Her bail was set at $15,000.
Chief Delrish Moss said the attack on the officer occurred as the officer was trying to arrest a man on the parking lot around 10 p.m.
Moss said despite his injuries, the officer wanted to come back to work.
The encounter with Brown and the store clerks lasted almost four minutes, Kanzler said at a press conference Monday .
"What he did was took 20 seconds and then added this wild story and put it out there and opened up a whole kettle of fish that has been Ferguson that we thought we were starting to get over, that we were starting to heal from, and, as of last night, we took five steps backward," Kanzler said.
Pollock's film alleges that Brown left the bag of Cigarillos with the store clerks during the early morning encounter with the intention of returning later to pick it up. Kanzler questioned why he would have left two cans of soda that he had just taken from the store's refrigerator in the same bag if he planned to come back for it later.
He called the storyline Pollock is promoting, "laughable and preposterous."
"He's out there promoting a false narrative," Kanzler said. "We just want this to end. Even if this were true, it had nothing to do with Michael Brown and that officer. That's documentary marketing 101, it's a way of generating publicity, he wants to stretch his 15 minutes of fame into 30 or 40 minutes."
Allegations of a marijuana deal never surfaced during local and federal investigations.
But Brown's visit to the store and surveillance video were noted in parts of the St. Louis County police report that McCulloch released following the grand jury's decision in November 2014.
The report notes that at 1:13 a.m., a four-door passenger vehicle parked in front of the business, and a man, presumably Brown, entered the store, alone, and walked to the refrigerator section and appeared "to select several items," according to the report.
"He approaches the counter, where he appears to put the items on the counter and have a conversation with the two employees behind the counter. At one point, he pulls an item out of his pocket and tosses it onto the counter. One of the employees picks the item up, examines it and places back on the counter. The individual in the red baseball hat then takes a white plastic bag off of the counter, starts to walk away, returns to the counter, leaves the bag and exits the business," the report states.
Meanwhile, police in Ferguson are preparing for more unrest, Moss said.
"I understand people have frustrations, and I understand people being upset, people have every right to be upset, but one of the things missing here is that a lot has changed since 2014, including a lot of the personnel," Moss said. "This officer who was hurt wasn't here in 2014. I wasn't here in 2014."
A crowd of a few dozen gathered outside the Ferguson Market on Monday evening and urged people not to shop there. They even offered free cigarettes and candy bars to discourage would-be shoppers. One held a sign that said "No justice, no $$."
The protest was monitored by a few Ferguson officers. At one point, the officers ordered the protesters off the store's lot and onto the sidewalk. Aside from some loud exchanges, the protest was peaceful.