Two documentary filmmakers taken into custody on Sept. 17 in a mass arrest in downtown St. Louis have sued the city and three police officers whom they allege assaulted and arrested them because they were journalists.
Drew and Jennifer Burbridge, a married couple from Kansas City, filed a civil rights suit Tuesday in U.S. District Court in St. Louis seeking actual and punitive damages.
They allege that the officers — all "John Does" — violated their First Amendment rights, retaliated against them for engaging in constitutionally protected activity, interfered with their right to record police officers in public places and used excessive force to arrest them.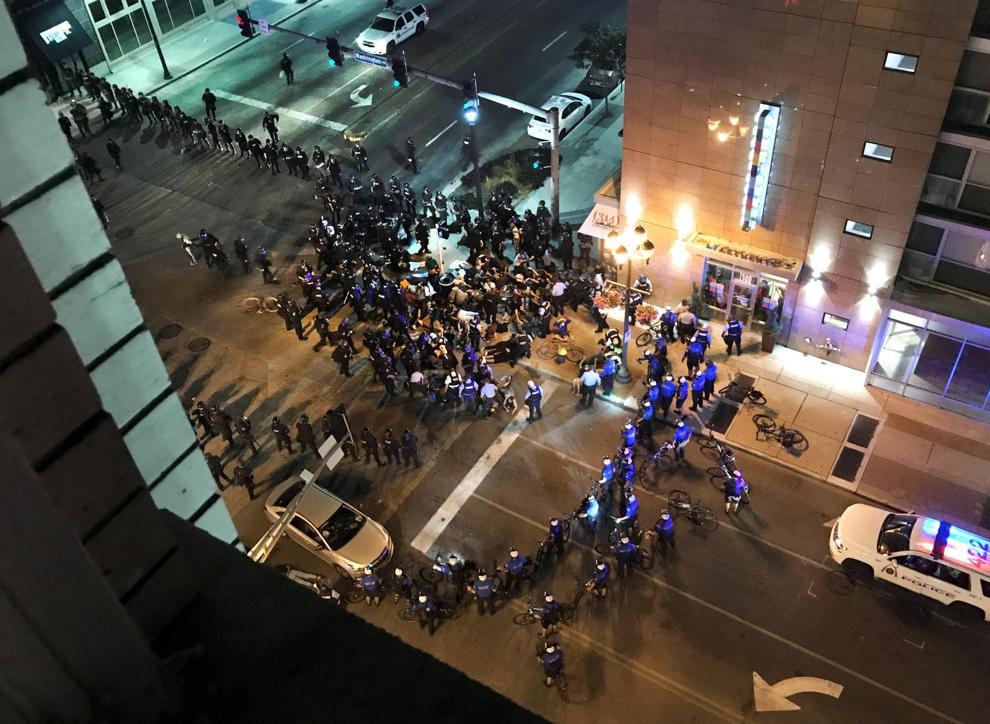 The Burbridges also allege the police violated due-process rights by using a tactic known as kettling, in which police lines on all sides draw in to arrest people at the center. The Burbridges were featured in a Post-Dispatch story on Saturday about the people who were arrested in the kettle.
The lawsuit said when the kettle closed on Drew Burbridge, he asked an officer if he and his wife could exit, explaining that they were part of the media. He was ignored.
Then police officers sprayed chemicals at the people trapped in the center, including the Burbridges, the suit says. Two officers threw Drew Burbridge to the ground face-first, twisted his arms behind his back and repeatedly kicked him in the back while restraining his arms with zip ties. Even after he was restrained, the suit said, three officers struck him all over the body with batons. During the beating, one of the officers asked, "Do you want to take my picture now, (expletive)?"
Burbridge said he lost consciousness from the beating, but came to when an officer lifted his head by the hair and sprayed him in the face with a chemical.
Jennifer Burbridge alleged that an officer asked her, "Did you like that? Come back tomorrow and we can do this again."
In the van on the way to jail, she said, a detainee asked the name of one of the transporting officers. The officer's response: "I'm Father Time."
Drew Burbridge said none of the officers would identify themselves, and they had removed their name tags.
The Burbridges said any dispersal orders issued by the police were "too remote in time and distance" to understand where and when they applied. They said they never heard a dispersal order after arriving about 11 p.m. near Tucker Boulevard and Washington Avenue.
In an interview last week, Drew Burbridge, 32, said he never heard orders to disperse until officers started to advance, banging their batons and chanting, "Move back."
"I turned my camera off and asked if there was anywhere I could go, but I was denied the right to leave," he said. "I didn't want to be a part of this."
Officers ordered him to turn his camera off and get down on the ground, and he complied.
"The only thing I cared about then was putting my arms around my wife," he said. "I just, I just kept saying: 'It's going to be OK.'"
Burbridge said officers then grabbed him by both his arms and dragged him away.
"I just said: 'I am a member of the media, I am not protesting, I am not resisting,'" Burbridge said.