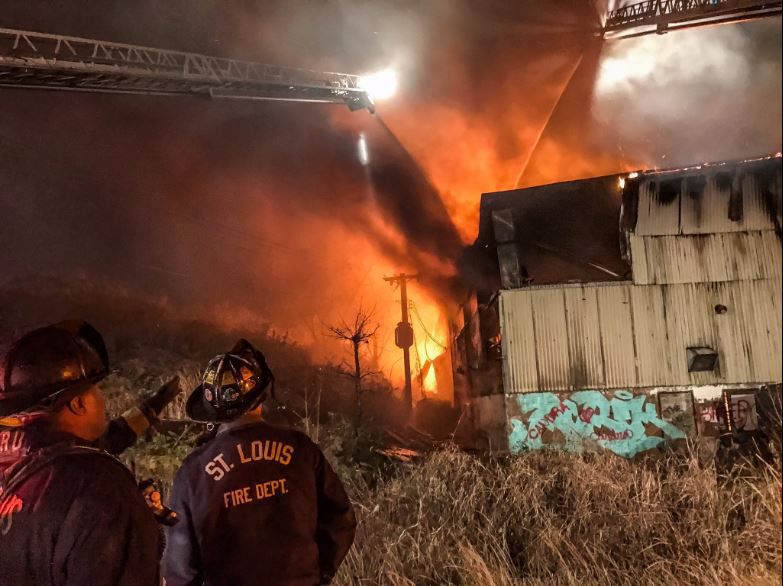 UPDATED at 1:25 a.m. Friday with more details
ST. LOUIS • Several dozen firefighters worked throughout the night battling a warehouse fire Thursday at the Cementland property along the Mississippi River on the north edge of the city.
One firefighter had minor injuries after battling the fire. 
Firefighters were called to the fire about 5:40 p.m. and initially had difficulty getting water to the warehouse, which sits on private property at the sprawling 55-acre site of the proposed Cementland playground.
More than 60 firefighters, including those assisting from Riverview, were called to the scene. The heavy fire caused the warehouse roof to collapse. 
Flammable liquids in side the warehouse triggered several small explosions and caused the flames to spread, St. Louis Fire Department Captain Garon Mosby said. 
Falling temperatures and difficulty in getting water to the warehouse posed challenges for firefighters. 
The warehouse was located toward the rear of the cement plant, Mosby said. Firefighters had to roll out thousands of feet of high-pressure firehose from to get water to the warehouse. 
Most of the fire was put out by midnight Friday, but a few flames endured about 6 hours after the fire began. 
At least 16 firefighters were at the scene in the early hours of Friday to battle what remained of the fire. 
Investigators on the scene had no indication of the cause of the fire late Thursday night.