Certificates marking his 25- and 30-year anniversaries with the department also sit atop the table, as does a certificate of appreciation from the Kappa League for his participation in a recent community forum.
It's those books and those experiences Hayden says he will be drawing from as he tackles his main priorities in a city that just ended a year with its highest homicide total in decades and is in the midst of a federal investigation into how recent protests have been handled by police.
In his first sit-down interview since he was appointed last week, Hayden said Wednesday that residents in the most troubled neighborhoods in north St. Louis could expect to see a heavier police presence in the coming months. He also said protest leaders could expect invitations to talk about "what's working and what's not."
He said the soaring homicide and assault numbers were concentrated mostly within a large swath of streets in north St. Louis, and he has a plan to address them.
Hayden most recently served as the major overseeing the city's North Side, and said 67 percent of the city's 205 homicides last year and about half of the violent assaults happened within an area bordered by Goodfellow Boulevard, Vandeventer Avenue, Martin Luther King Drive and West Florissant Avenue.
Hayden said that when he had been a major, he had had a plan to address the area but couldn't implement it.
"I didn't have access to those resources, I had to ask permission," he said. "I didn't have the latitude I have now."
Hayden's plan for the North Side includes flooding the area with all available specialized units.
Hayden said residents there could expect to see search warrants being served on houses they had been calling police about to report drug activity.
They will also see officers building relationships with neighbors, schools and organizations and using those relationships to address the bigger issues driving crime, such as poverty, he said.
"We don't want drug dealers to feel like they can just stand on a corner," he said.
Hayden said his plan to focus on crime in one zone of St. Louis would not reduce the level of service to residents throughout the rest of the city, because current staffing levels would remain in place and resources would be directed to areas that see spikes in crime.
"The areas I'm talking about are not just seeing spikes in crime; crime has been in these areas for a long time," he said.
Thoughts on protests
When protesters came to the city's Fifth District, which was part of Hayden's command, he said, officers formed a "protective bubble" around them. If anyone blocked a street, officers diverted traffic, as they would for any obstruction in a street, he said.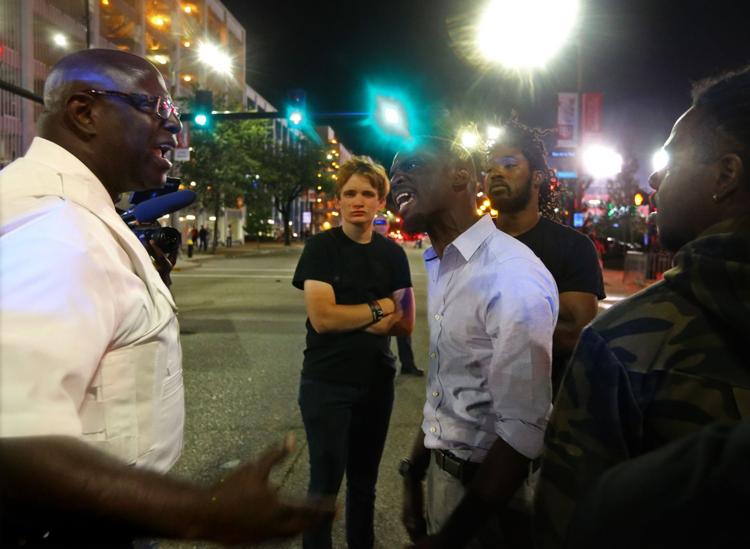 Hayden said he had personally been in heated exchanges with protest leaders but also understood that it was unrealistic to expect them to quietly march.
"I understand that if they just walk down the street, people will ignore them, but there has to be a balance between the rights of protesters and the rights of the citizens who are not protesting," he said.
He was on the streets working during the first night of protests after the judge's decision to acquit the officer, a demonstration that included about 1,000 protesters. Officers were injured by thrown bricks. But, Hayden said, the department successfully dispersed the crowd without mass arrests.
Two nights later, the department used a controversial "kettling" technique to corral a group of about 100 people downtown and arrest them. Earlier, some protesters had broken windows of downtown businesses.
He said he wanted to learn more about the tactics used that night compared with the earlier protest that included bricks thrown at officers.
"We have to respond the strongest when our officers are injured," Hayden said. "But the night that happened, we were satisfied with crowd dispersal. So why kettle (a few nights later)?"
Other priorities
Hayden also said he believed in cooperation between the St. Louis and St. Louis County police departments.
He pointed to the formation about a month ago of a carjacking task force made up of officers from both departments as proof that both departments remain committed to attacking crime regionally.
He said he also was open to discussion about ways to combine resources that have been floated for years, including combining police academies. Hayden noted that he was a member of the last academy class made up of city and county officers, which graduated in June 1987.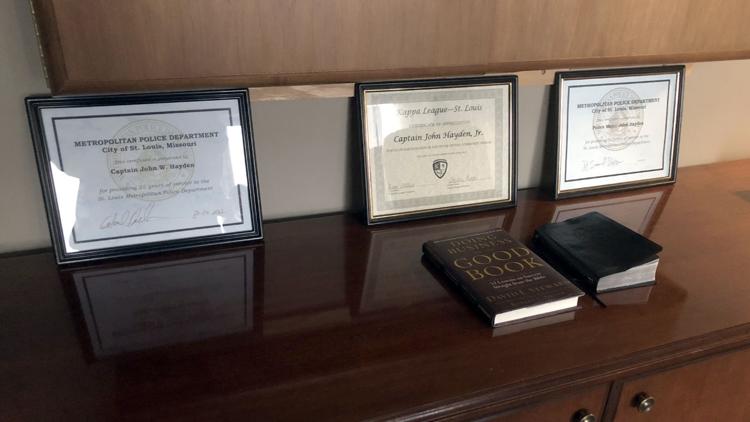 Officers in the city and county also will be getting raises thanks to the passage of sales tax initiatives. Hayden said the city had money budgeted for 1,307 officers but was about 115 shy of that number, he said.
"From my understanding, our attrition has kept up with our hiring rate," he said. "I would really like to encourage people to apply to the metropolitan police department. I believe it's a wonderful place to work."
Hayden's first few days in office have also included a shuffling of the deck among the top brass.
Hayden and Dotson once served as aides together to former Chief Joe Mokwa.
O'Toole made Capt. Mike Deeba the commander of the city's Intelligence Unit and moved Capt. Angela Coonce to Deeba's post supervising the Second District. Hayden has reversed the move. Lt. Col. Jerry Leyshock has been returned to oversee uniformed officers instead of the Bureau of Investigations, which includes specialized units. Maj. Michael Sack now oversees the Bureau of Investigations, while Maj. Mary Warnecke, who was promoted by O'Toole and also assigned to the Bureau of Investigations, now oversees Central Patrol.
Capt. Janice Bockstruck is the acting commander of the North Patrol Division until the position of major left vacant by Hayden's promotion is filled.
Shake off your afternoon slump with the oft-shared and offbeat news of the day, hand-brewed by our online news editor, Mandy St. Amand.