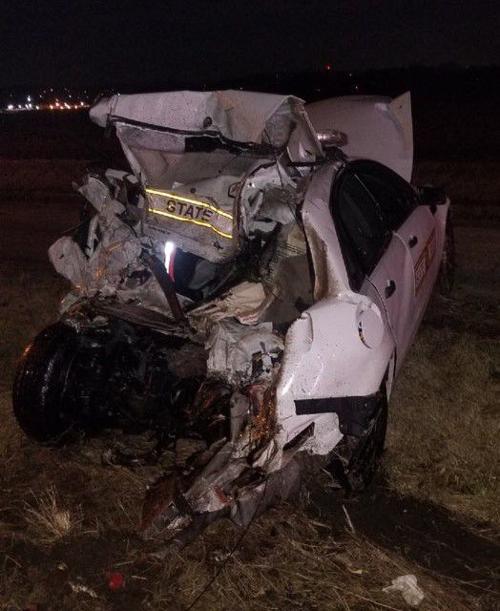 COLLINSVILLE • A trooper with the Illinois State Police was struck by a tractor-trailer and seriously injured late Wednesday as he stood outside his patrol car investigating an earlier crash on Interstate 55.
His patrol car, parked with its flashing lights activated, also was struck. It was demolished by the force of the crash and pushed into a ditch along the highway.
Wednesday's crash marked the 14th time this year that drivers in Illinois have crashed into troopers or stationary squad cars that were flashing emergency lights. Those numbers include a January crash that killed Trooper Christopher Lambert, 34, in suburban Chicago.
The unidentified male trooper hit Wednesday near Collinsville was hospitalized in serious but stable condition, police said. He has been with the Illinois State Police less than two years, said Trooper Josh Korando, a police spokesman with District 11 in Collinsville.
"He was outside his car when he was hit," Korando said. "We don't know what the order was, whether the semi hit him first or his car."
The trooper was hit just before 11 p.m. Wednesday as he stood along northbound I-55 near the 9.4 milepost, near Collinsville and Interstate 255.
The driver of the tractor-trailer was taken from the scene to be interviewed by investigators. Korando said Thursday he had no additional details about the driver. He said he didn't know if the driver had been charged with a crime. He said he didn't know why the trucker hit the trooper. Korando said he didn't know if alcohol or drugs were a contributing factor.
Two other troopers at the scene were uninjured, police say. All three troopers were there to help a motorist who was involved in an earlier crash. That crash, at 10:20 p.m., involved a vehicle that ran off the road and hit a light pole. The pole fell across the traffic lanes and seven more vehicles hit the downed pole before troopers arrived. The first Illinois State Police squad car arrived at 10:39 p.m. to stop traffic and move vehicles around the downed pole. The injured trooper was the third trooper to arrive at the scene, Korando said.
He arrived at 10:42 p.m. and positioned himself farther back from the scene "to slow the approaching vehicles" before they got near the pole, according to a release from state police. "The trooper was on foot, outside of his marked squad car with lights activated," when both he and his car were hit.
Other troopers who have been struck miss work for months at a time healing from serious injuries.
"Enough is enough," Korando said. "We're going to do whatever we can to keep our troopers safe."
He said police can move cars off interstates for a traffic stop, but in this case the trooper was responding to an earlier crash.
"It's dangerous for us to be out there," he said. "He was there to help someone else. And another motorist came by ... I don't know what the situation was. But he struck a trooper who was doing his job."
While the cause of Wednesday's crash is still under investigation, authorities have said the previous crashes involving parked state police cars have involved a number of factors.
In Lambert's death, Cook County prosecutors have indicted Scott Larsen, 61, who authorities say admitted "vaping" the evening before the crash and had a "cannabinoid" substance in his system at the time of the crash. Larsen was charged with reckless homicide of a police officer and with violating the law that requires motorists to slow down and move over for emergency vehicles. If convicted, he faces up to 14 years in prison.
Authorities say the factors for other crashes involving parked police cars can include people driving too fast, being distracted or not being aware of the law that requires them to move over.
Illinois' "Move Over" law requires motorists to slow down and move over when there's a stopped vehicle with flashing or hazard lights. Known as "Scott's Law," it was enacted in 2001. It was named after Lt. Scott Gillen, a Chicago firefighter killed by a drunken driver as Gillen was directing traffic at a crash scene, Korando said.
"The warnings have been going out over and over ... and people still aren't getting the picture," Korando said. "People don't know about it."
To read more about the law, the text of the bill that passed the Illinois General Assembly can be found here.
The Associated Press contributed to this report.
---