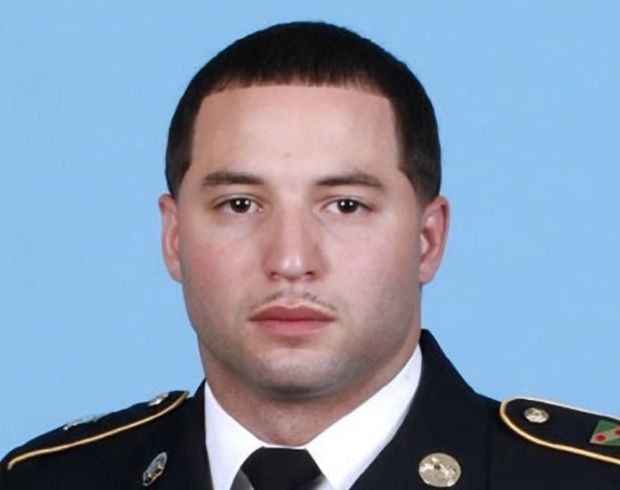 FORT LEONARD WOOD, Mo. • A judge Wednesday found a former drill sergeant guilty on most allegations against him after a three-day court-martial that shined a light on the issue of sexual misconduct in the military.
The military judge in the case recommended a 20-year sentence.
Army Staff Sgt. Angel M. Sanchez, 30, who wore a decorated uniform during the hearings, had already pleaded guilty to disobeying orders by having sex with three female trainees.
"I'm sorry I betrayed your trust, all of you," Sanchez said after the ruling. He apologized to the military, the victims and his family.
"I accept responsibility for my actions, I pray that all of you realize that person who went through that stretch is not actually me," he said.
Sanchez mainly held his composure when he faced the hearing room's audience, which included his victims. He cracked speaking about his family.
"To my daughters, who are not here, your daddy loves you, and I'll see you soon."
Sanchez was found guilty on 18 specifications of three charges. Those include some of the most egregious sexual assault claims against him, such as forcing sexual favors from young trainees.
He was found not guilty of nine specifications, including an allegation that he forced an Army medic to have sex with him at an outpost in Afghanistan.
During sentencing testimony Wednesday, one of the victims told the court she felt "disgusted" by what Sanchez did to her and "I am too scared to look at him."
Another said a superior officer had told her company of trainees on post several months ago not to report allegations of sexual assault. She suggested that the implications of the issue were broader than the Sanchez case.
"I have issues of trusting those who are in charge of me," the woman, now a military police officer, testified, especially after a lieutenant colonel "telling you not to make any more allegations."
On Tuesday, a different witness testified about a similar statement made by the highest ranking noncommissioned officer who oversees the 14th Military Police Brigade on post.
Sanchez was also found guilty of abusive sexual contact involving a fellow drill sergeant. That drill sergeant wept from the stand Wednesday, saying she was going to quit the Army out of guilt for not reporting the crime earlier.
"I was supposed to be that strong female leader they could look up to," she testified about female trainees. "I have decided that I am done. I don't feel that I am the top 10 percent. I don't think I am good enough to do this."
Drill sergeants are supposed to be an example of the best in the Army.
Capt. Tyler Heimann, a prosecutor in the case, homed in on that standard during sentencing, telling the judge that Sanchez instead used his authority role to fulfill "his own pornographic fantasy."
"We can't have this in the Army," Heimann said, asking for a 25-year sentence. "If you sexually assault our junior soldiers, you must go to jail and you must go to jail for a long time … he must now soak up the pain and bear it on himself."
Recent reforms to the military justice system were aimed to encourage better reporting of sexual misconduct, victims rights and accountability of perpetrators. There were an estimated 26,000 incidents of unwanted sexual contact in the military in 2012. Of those, only 3,374 were reported and 238 of those resulted in conviction.
But officials are cautiously optimistic about what they say was a 50 percent jump in the willingness to report sex crimes in the military from 2012 to 2013.
The 20-year sentence recommended by Third Circuit Court Chief Trial Judge Col. Jeffery Nance will now go to Maj. Gen. Leslie Smith, post commander, for approval. Smith can lower the sentence, but not overturn it.
Nance seemed to agree with prosecutors who portrayed Sanchez as an abusive predator who used omnipotent drill sergeant authority to isolate and prey on victims.
"Absolute power corrupts absolutely," Capt. Stephen Altizer, another prosecutor, told the court in closing arguments Wednesday, adding that Sanchez "applied that power over these weak trainees."
Several claims were dismissed since Sanchez was charged in May. Prosecutors had asked the judge to convict Sanchez on all the remaining claims, which involved the sexual assault and harassment of eight women. Apart from a fellow drill sergeant, all of the women were subordinate to Sanchez.
Defense attorney Ernesto Gapasin described his client in closing arguments merely as a "jokester" who went too far, but not a predator.
"Sgt. Sanchez is simply too immature to fulfill his role as a drill sergeant," Gapasin said.
He discredited trainees who had testified that Sanchez forced them to perform oral sex on him.
"Oral sex always exhibits a certain degree of consent," he told the court, adding that "what this case is really about is consent and conjecture."
As a drill sergeant, Sanchez was assigned to E Company, 701st Military Police Battalion, 14th Military Police Brigade.
A fellow drill sergeant with E Company said during his sentencing testimony that the unit has been stigmatized by the case.