UPDATED at 9:30 a.m. with information from two former students and the defense lawyer.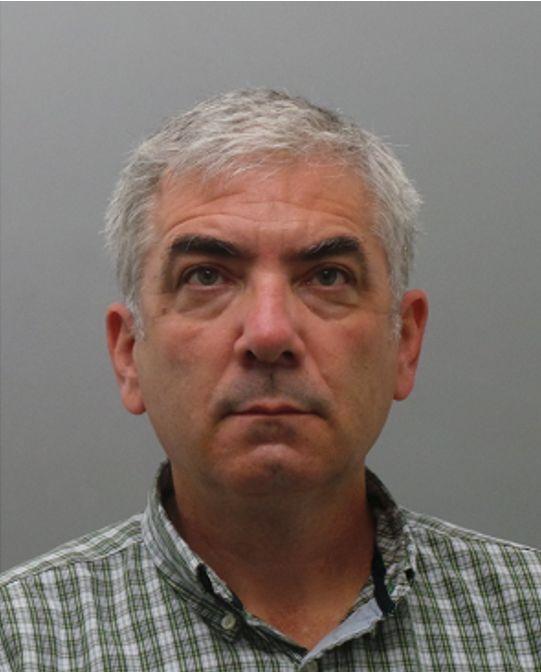 KIRKWOOD — A former Kirkwood High School teacher has been charged with statutory rape and sodomy from an alleged incident with a student in the 1990s.
Christopher J. Stephens, 54, of the 800 block of Warwick Lane in Glendale, was indicted by a grand jury Sept. 16, but the case was sealed until Thursday. He turned himself in Monday and was released on bail Tuesday night, according to his lawyer, Bill Margulis, and jail records. He has been charged with three counts of statutory sodomy and two counts of statutory rape, both in the second degree, for allegations dating from September 1997 to January 1998.
The indictment says Stephens engaged in sex acts with a girl with the initials K.P. at his office, in the school's prop room and at his house.
Pappageorge said she started as a freshman at Kirkwood High at the age of 12, after skipping two grades. She said Stephens began grooming her then. She thought she was in love with Stephens, and their relationship turned sexual during her sophomore year.
Stephens abruptly left in 1998, when she was 15, amid rumors that he had a relationship with a student, she said.
Pappageorge told the Post-Dispatch that she contacted Stephens' employer in 2018, and spoke to police in 2019.
Although Pappageorge said Thursday that the news of the charges was "emotionally difficult," she said, "I was very happy to hear that he's been charged. It's been a really long time coming."
She and two other former students alleging abuse by Stephens agreed to allow their names to be used publicly.
Margulis said, "My client adamantly denies the allegations and maintains his innocence and looks forward to his day in court." The lawyer said Stephens will plead not guilty Friday. In a motion filed Monday to reduce Stephens' $100,000 cash bail, Margulis said Stephens has lived at the same Glendale home for 27 years, has no criminal history and does not pose a flight risk.
Margulis said Stephens also denies the allegations by the other two women, Jill Wilson and Kate Hurster.
Stephens worked at the high school from 1991 to 1998, a now-deleted online CV said.
Wilson, a 1996 Kirkwood graduate, told the Post-Dispatch last month that she'd also been sexually abused by Stephens at his house, in the school and elsewhere.
Wilson said Stephens kissed her and two other students on the mouth after Wilson's final show during her senior year.
After graduating, Wilson worked in the school box office, and saw Stephens developing sexualized relationships with other students. "When it happened to me, I thought it was all my fault," she said. When it started with others, she said it made her mad. She found love letters with students, confronted Stephens, and reported his conduct to school officials.
Hurster was one of the other students who said she was kissed on the lips by Stephens.
The 1999 graduate said in one play, "I Hate Hamlet," Stephens suggested a high school boy playing Hurster's boyfriend should "ravage me," and demonstrated, Hurster said.
Wilson made the same accusation about Stephens during practice.
A few years earlier, Stephens had the students do "A Streetcar Named Desire," which features a rape scene, Hurster said.
"I hope there is a reckoning not just for this particular individual but for the district itself," Hurster said Thursday. "I suspect his will only be the beginning of this era, of people coming forward," she said.
Wilson, on Facebook, wrote, "This has been a long journey for me. Today is a good day because, personally, I feel I've done all I can do. I feel a sense of closure. Now it's Katie Laura Pappageorge's turn to take the baton. I will be running alongside her every step of the way, but this is her journey."
Moved to community college
Stephens worked for St. Louis Community College from August 1998 until his retirement in May 2019, college officials told the Post-Dispatch. His ending salary, when he taught mass communications, was $84,852.
He began as an adjunct faculty member at St. Louis Community College at Florissant Valley in 1998, became an assistant professor in 2000, an associate professor in 2003 and a full professor in 2007, his résumé said. Last month, a different former Kirkwood High student, Carol Hotze Hermann alleged in a lawsuit that David Shapleigh, a former math teacher and soccer coach, had sexually assaulted her. His lawyer, Matthew Radefeld, said in an email Thursday that, "we are looking forward to vigorously defending against these false allegations and to conducting discovery in this matter.
Joel Currier of the Post-Dispatch contributed to this report.
Shake off your afternoon slump with the oft-shared and offbeat news of the day, hand-brewed by our online news editor, Mandy St. Amand.