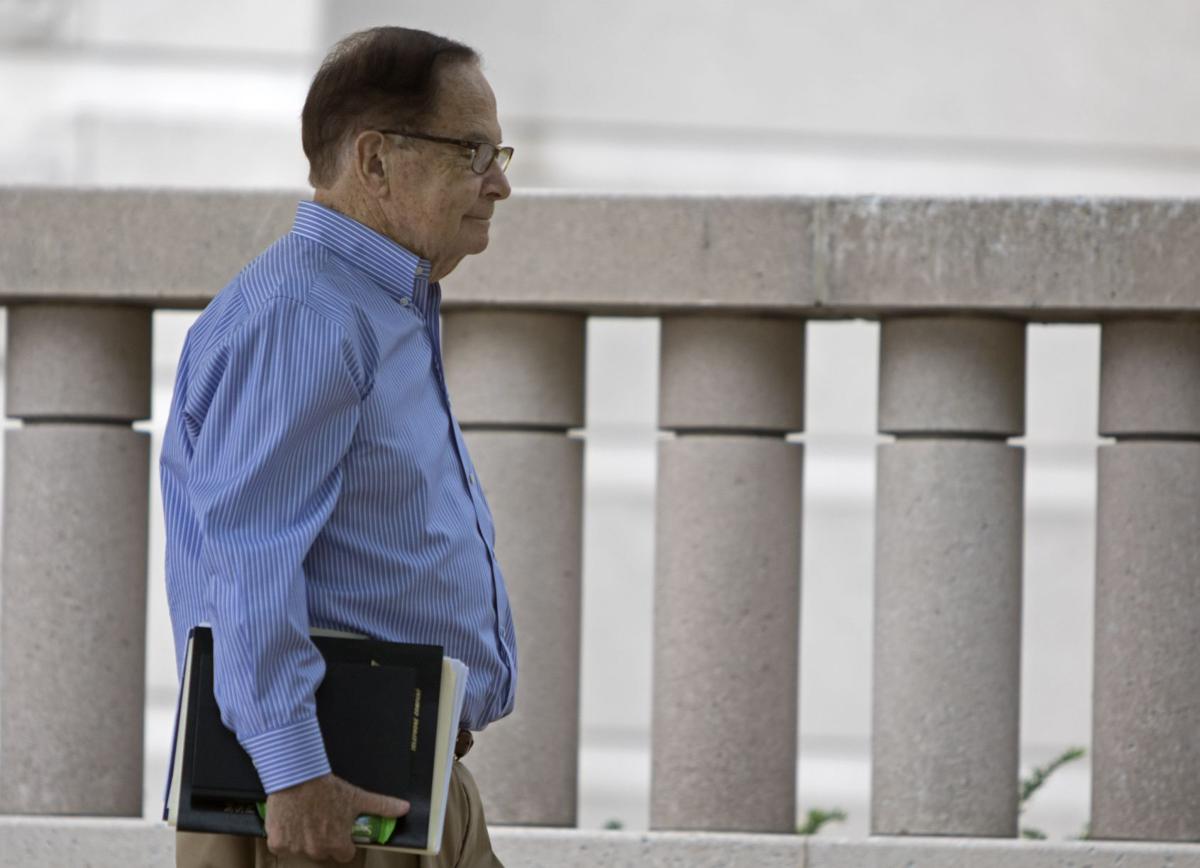 ST. LOUIS — Harry Hamm, the former longtime KMOX-AM radio broadcaster and entertainment editor, was sentenced Monday to five years and eight months in federal prison on child pornography charges.
Hamm, 79, of Chesterfield, was immediately taken into custody by deputy U.S. marshals.
He pleaded guilty in U.S. District Court in February to two counts of possession of child porn and one count of access with intent to view child porn and admitted that the FBI found child porn on his two iPhones and his personal laptop in 2018. He'd also searched for child porn on his work iPad and laptop and viewed child porn on the iPad.
Hamm told U.S. District Judge Stephen Clark that he took "full responsibility" for his actions. He also raised a series of heart and other medical issues, part of a defense effort to keep him out of jail until he's assigned to a federal prison. That effort failed.
The recommended sentencing guidelines for the crime are 57 to 71 months in prison. Assistant U.S. Attorney Robert Livergood asked for 71, citing the trauma to the victims who appeared in the porn and pending St. Louis County charges of second-degree statutory sodomy, incest and possession of child pornography. He also pointed out that Hamm never mentioned any victims in his own statement.
Hamm has pleaded not guilty to the St. Louis County charges.
His lawyer, Nanci McCarthy, asked for a sentence below the guidelines in court and in court filings, mentioning Hamm's years of charitable works, his medical conditions and the number of images involved in the case, which at 57 is "fairly low" for an average child porn case. She said the crime occurred a few months after Hamm had cardiac surgery that involved cardiopulmonary bypass, which triggered postperfusion syndrome. Some scientists link that procedure, and the syndrome, to cognitive impairment.
McCarthy said Hamm experienced moodiness, memory loss and dizziness.
Hamm said he did not remember the incident that is the subject of the county charges, according to lawyers Monday, but they involve allegations of sexual contact with a 16-year-old.
"You've done a lot of good in your life," Clark told Hamm, adding, "when it comes to crimes like this, the accused must pay their debts to society."
Hamm started his broadcasting career with KMOX in 1975 with entertainment reviews on a program hosted by Jack Carney. He was a regular on "Total Information AM Weekend Edition" and covered theater openings and movies until his dismissal after his arrest.