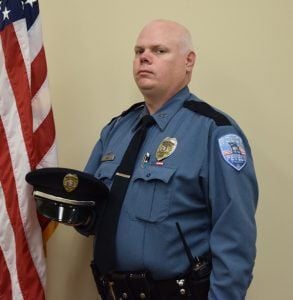 PEVELY • A police officer who was fired last month illegally detained a Texas man and seized his cellphone as he was using it to record the officer making a traffic stop on another vehicle, according to a civil rights lawsuit. 
The encounter, which happened about 12:15 a.m. Jan. 16 between former officer Wayne Casey and Matthew Rankin of Corpus Christi, was also captured on footage from Casey's uniform camera. Rankin obtained the footage and shared it publicly online. 
Rankin was recording Casey from about 200 feet away when Casey saw him, drove over to him and pried his phone out of his hands, repeatedly claiming that it is illegal to film police, according to the lawsuit, filed June 13 in the U.S. District Court of Eastern Missouri. The suit also names the City of Pevely as a defendant. 
"It is illegal in the state of Missouri to film us," Casey said. 
Casey is seen on the video asking for Rankin's identification card and phone and threatening arrest if Rankin refused, according to the suit.
Casey talked over Rankin as he attempted to explain his right to record police in a public space from a distance, the suit says. He grabbed Rankin's left hand and placed his thumb in a "thumb lock" with his right hand to pry Rankin's hand open and get his phone. 
Casey went through the phone's contents and looked up Rankin's identification on the computer in his patrol vehicle, the suit says. 
"You're out here trying to record us and trying to act like you know the laws," Casey said. 
Rankin twice asked Casey if he was being detained, to which Casey responded, "You don't get to ask questions."  
Casey also accused Rankin of interfering with the traffic stop by recording it, claiming he saw a red light flash several times and didn't know if the light came from a weapon or other device. 
"I don't know you, I don't know what you're doing over here," he said. 
Casey handed Rankin's phone back to him and threatened to arrest him if he started recording again. 
"If you start recording us again and interfering with my stop, I'm going to come over here and I'm going to seize your phone and I'm going to arrest you for interfering once again with my stop," he said. 
Officials with the City of Pevely did not immediately respond Tuesday to requests for comment. 
Casey was fired from the department last month after he was seen on video sitting at a desk in the booking area as another officer shoved and choked a prisoner.
The officer, Robert "Ryan" Watson, was also fired and is facing a misdemeanor charge in connection with the alleged assault. Casey had worked for the department for about one year. 
The Pevely police department has about 14 officers in a town of about 5,500 people.
Read the lawsuit filed by Rankin: