ST. LOUIS — A federal judge on Friday sentenced the former CEO of the St. Louis Economic Development Partnership, Sheila Sweeney, to three years of probation and fined her $20,000 for her role in Steve Stenger's pay-to-play scandal.
As part of her plea, Sweeney admitted knowing about and failing to report Stenger's schemes to use county resources to reward his donors while he was the St. Louis County executive.
"I am profoundly sorry for my actions and my inactions," Sweeney said in court on Friday.
Sweeney, who pleaded guilty in May to misprision of a felony, faced a sentence of between four and 10 months in prison. About a dozen of her friends and family looked on, some dabbing their eyes.
Asking for probation, Sweeney's lawyers cited her family circumstances, her lack of prior crimes and charitable work over the years. Sweeney, 62, is the primary caretaker of her 79-year-old husband, who is in poor health, her sentencing memo says. She has also cared for her father and uncle, both suffering from cancer.
Sweeney volunteered for or served as an officer for the United Way; the Center for Women in Transition, a reentry program for women being released from jail; a nonprofit organization preparing housing for low- and moderate-income home buyers; and the Society for the Blind & Visually Impaired, her 17-page filing says.
Stenger is most culpable, they said, and cooked up the scheme. Sweeney should have resisted his demands to reward donors, but Stenger was "a powerful and intimidating force" who threatened retribution against those who did not go along with his wishes, they wrote.
Sweeney's attorney, Justin Gelfand, said he had gotten to know her in recent months and said there was "not a chance in the world" Sweeney would re-offend, calling her a "wonderful person who made a terrible mistake."
Sweeney, in a statement punctuated by tears, said she is a lifelong St. Louisan who wanted to improve the region and was excited to serve as CEO of the Partnership.
"I believe I did some good work for our region," she said.
She said she made a "horrible mistake in judgment" but that she would "learn from it" and focus her energy on "improving my community."
"I will do everything I can to make this right," she said.
Assistant U.S. Attorney Hal Goldsmith, in his own filing, said Sweeney took steps "to actively conceal Stenger's scheme from the authorities and from the public." She was also "specifically and directly involved" in Stenger's scheme to reward donor John Rallo with a sham consulting contract from the St. Louis County Port Authority and the sale of two properties in Wellston to Rallo and his partners for millions of dollars less than the county spent to prepare them for sale.
Sweeney was hired by the Partnership in 2015 after what the board of directors said was a national search that they paid $56,000 to a consulting firm to conduct. But Sweeney was really installed at the request of Stenger because he could control her. She previously ran a real estate business and was the longtime chair of the Port Authority.
Sweeney managed to increase her total compensation at the Partnership — through means that were never clear — to $500,000 by 2017, with a base salary of $400,000. Denny Coleman, a nationally respected economic development professional who led the Partnership and its predecessor for 25 years before retiring prior to Sweeney's tenure, received total compensation of $321,000 in his last full year.
Sweeney also used Partnership funds to install a private bathroom by her office, and former employees have told the Post-Dispatch the formerly well-run organization was beset by low morale, unprofessional conduct and high turnover after Sweeney was hired.
Though there were "real victims" and Sweeney engaged in "deceit" and a "cover-up" as the head of the region's highest-ranking development authority, Goldsmith said in court that there was "no question" she was subjected to bullying and threats from Stenger "on a regular, constant basis." Some of the "abusive" language Stenger used in conversations that federal investigators intercepted was so foul that he chose not to include it in any of the government's filings, Goldsmith said.
U.S. District Judge Catherine Perry noted Friday that "a large number of letters" were filed in support of Sweeney and said her actions seemed "inconsistent" with the rest of her life. The judge noted that probation was "not unusual" for defendants with similar sentencing guidelines.
"I think you have recognized your role in this," Perry said.
Outside of court, Sweeney did not comment to reporters but Gelfand said they were "very pleased" with the sentence.
"She is a wonderful wonderful person who looks forward to moving on with the rest of her life," he said. "She was in a very, very difficult situation because of Stenger. She's done the best she could to put this behind her."
Stenger was sentenced to 46 months and fined $250,000 last week for three counts of honest services fraud. He'd already paid $130,000 in restitution, representing the sham Port Authority contract awarded to Rallo. Stenger paid the fine Thursday, court records show.
Stenger, a Democrat, admitted a series of schemes to award campaign donors, including Rallo. He also told staff to help a company owned by a different donor win the county's lobbying contract. All the while, he told staff to mislead the Post-Dispatch, which was writing a series of investigative stories about Stenger's actions.
Rallo, 54, and Stenger's former chief of staff, Bill Miller, have also pleaded guilty in the case and await sentencing.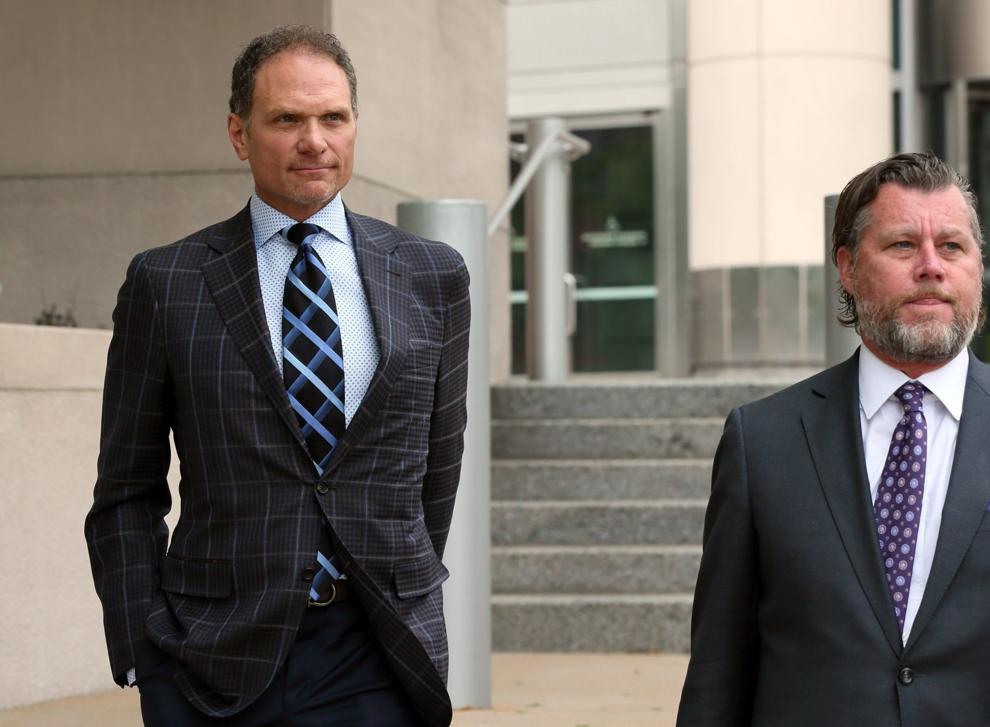 These individuals were involved in some of the transactions outlined in the 44-page indictment.