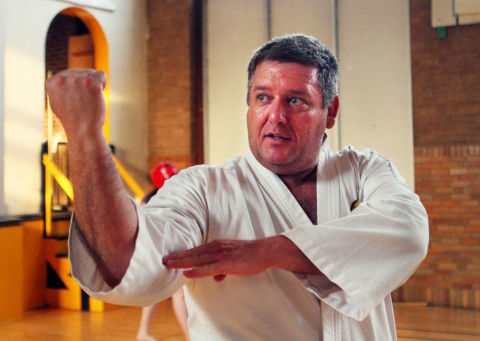 ST. LOUIS — A former pastor was sentenced Friday to 65 years in prison for producing child pornography and other offenses.
U.S. District Court Judge Audrey Fleissig also ordered that Loren Copp, 50, pay $294,000 in restitution to the victims to cover the cost of therapy and other expenses.
Copp was convicted last year of eight counts of child sexual exploitation and enticement for acts involving four victims. He's the former owner of a combination pizza restaurant and martial arts studio on Morganford Road in St. Louis.
Copp groomed two minor females who had been in his custody since 2009, federal prosecutors have said. He sexually abused them and recorded the acts, according to the U.S. Attorney's Office in St. Louis.
Someone raised concerns with state officials in 2013 about Copp's behavior with young girls. After that he left his wife and moved to the restaurant and studio at 4601 Morganford Road.
The location is an old church and a former school to which Copp once had ties. He has a history of failed financial dealings in Southern Illinois and the St. Louis area. He was the subject of a 2011 Post-Dispatch report about his path to become pastor of the now-defunct Southwest Christian Church near Fenton.
A third girl's complaints led to raids and searches in 2015 that found child pornography on computers, according to authorities.
Copp also used a Facebook account to pose as a 13-year-old girl to obtain explicit images from three girls, prosecutors said.
He represented himself at his trial last year and had maintained his innocence.
The charges for which he was convicted included production, attempted production and possession of child pornography, and the use of interstate facilities to persuade or coerce a minor to engage in sexual activity.
Prosecutors had pushed for a 160-year sentence.
One victim provided a statement and the audio was played at Friday's sentencing. Two mothers of victims also spoke.
Fleissig later addressed Copp about the victims.
"What you did was prey on them," she said. "This conduct will haunt them."
Shake off your afternoon slump with the oft-shared and offbeat news of the day, hand-brewed by our online news editor, Mandy St. Amand.