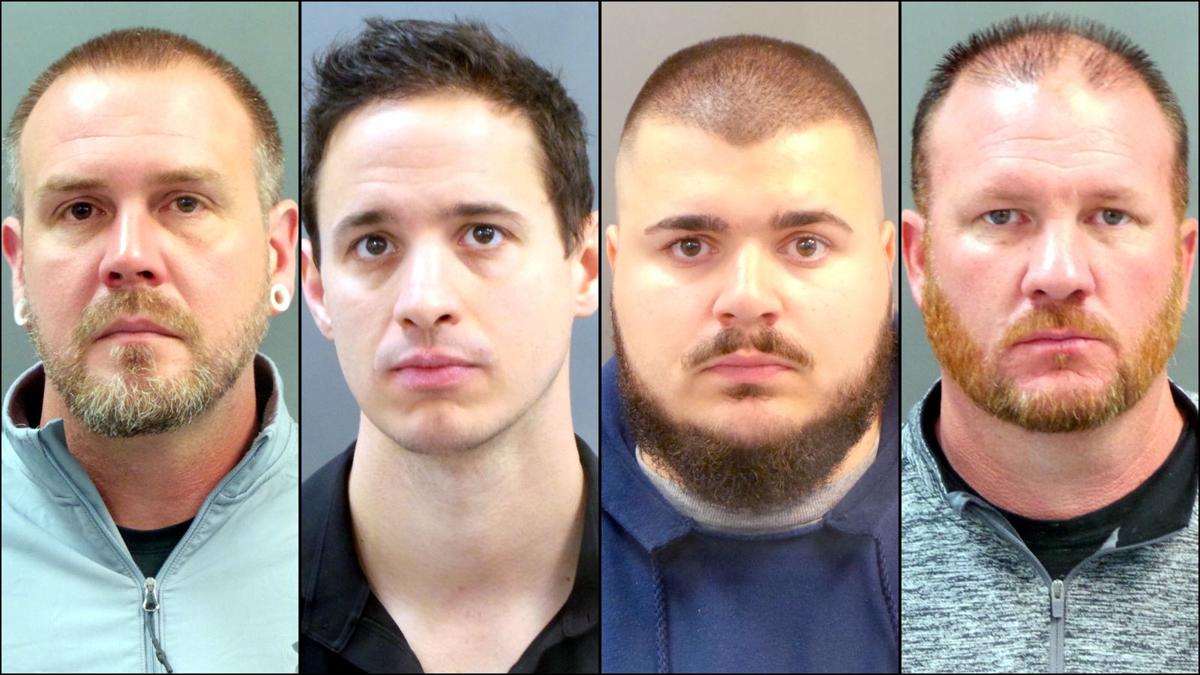 Editor's note:This article originally was posted on April 7, 2017
ST. LOUIS • Four police officers have been charged with crimes after internal affairs investigators say the men forged documents to collect thousands of dollars in overtime pay for work they did not do.
Officers Brian Jost, Michael Langsdorf and Emin Talic were charged Thursday with felony stealing and felony forgery. Daniel O'Brien was charged with felony forgery and misdemeanor stealing. Bail was set at $5,000 for Jost and Talic, and $3,000 for Langsdorf and O'Brien.
The officers turned themselves in Friday and posted bail.
They could face up to seven years in prison for the felony charges and up to a year for the misdemeanor.
Sources say the officers were assigned to work alongside the FBI in a special drug investigation, which began in late 2015. O'Brien joined the operation just three weeks before the probe into their overtime practices began, sources say.
Authorities say the officers submitted paperwork for hours of surveillance duties they did not perform — and were caught with the help of surveillance work.
Jost, Langsdorf and Talic all live on the same street in Arnold, police said. O'Brien lives in Manchester. Internal investigators for the St. Louis police conducted surveillance of the officers at their homes between Feb. 27 and March 17 and discovered each was not working at times they said they were working overtime, according to court documents.
Jost, 39, is accused of submitting overtime requests for more than 15 instances and was paid more than $3,300 for work he did not perform, according to court documents. Langsdorf, 37, submitted claims for about $2,000 of overtime police say he did not work, according to the documents. Talic, 25, submitted claims for overtime he did not work totaling more than $2,500, according to the documents.
Investigators found O'Brien, 33, submitted requests for about $300 worth of overtime he did not work between March 10 and March 17, according to the documents.
In separate statements, Police Chief Sam Dotson and St. Louis Circuit Attorney Kim Gardner said the charges demonstrate their commitment to seeking justice.
"Stealing from the citizens we serve will not be tolerated and is a betrayal to both the community and the men and women of this department who work to uphold our core values — service, integrity, leadership and fair treatment to all," Dotson said in his statement.
Said Gardner: "It is instances like this, when police officers abuse their power and violate the public's trust, that have contributed to the current crisis in police-community relations. ... I hope these charges today send a clear message that those who choose to violate the public's trust will be held accountable to the fullest extent of the law."
The officers' attorney, Brian Millikan, has said his clients deny the allegations, and said there had been "an accounting issue," rather than wrongdoing. He declined to comment further Thursday.
The internal investigation into the officers' overtime habits began Feb. 27 after an anonymous letter alleged that the men were collecting overtime pay for work they did not do. The tipster alleged that the overtime fraud had taken place "for at least 18 months."
The officers were assigned to an FBI task force based in the city's First District, and their overtime requests were purposely ambiguous and seen by fewer supervisors, so as to keep their mission covert, sources said. All of them reported to St. Louis police Maj. Dan Howard.
Large overtime checks
The Post-Dispatch requested the past three years of payroll records for all city employees. Records show that it's common for police officers to earn significant overtime pay. Last year, 520 officers earned at least $10,000 in overtime wages. More than 170 officers made more than $25,000 through overtime.
However, for three of the four officers in question, overtime earnings grew significantly between 2015 and 2016. This year, overtime for those same three officers has accounted for nearly 60 percent of their total pay.
The payroll records show Langsdorf's overtime earnings more than doubled from about $25,000 in 2015 to about $56,000 last year — nearly doubling his salary to about $114,000 in pay. By comparison, the police chief's salary is $127,000.
Jost's overtime pay rose from about $22,000 in 2015 to $39,000 in 2016. Jost was paid a total of about $98,000 in salary and overtime last year.
Talic's overtime pay rose to about $38,000 in 2016 from about $20,000 in 2015. He was paid $81,000 in salary and overtime last year.
O'Brien was not on the team in 2016, a year in which he earned about $19,000 in overtime pay, or about 25 percent of his total earnings of about $75,000. He joined the team in February, and so far this year, he has earned about $9,000 in overtime, or about 41 percent of his total pay.
Jost has been with the department since February 1999. In last three years has served in the intelligence unit, the Second District and, most recently, the First District. Langsdorf has been assigned to the First District for the past three years. He joined the department in November 2001.
Talic has been assigned to the First District for the past three years. He joined the department in June 2013. O'Brien has been assigned to the Third District for the past three years. He has been with the department since March 2006.
Walker Moskop of the Post-Dispatch contributed to this report.