FRANKLIN COUNTY — A Franklin County sex offender caught communicating with a series of boys has been indicted on sex-related charges, the U.S. Attorney's office said Thursday.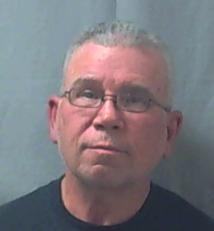 Patrick Estes, 57, was indicted in federal court in St. Louis on July 18 on charges of enticement of a minor, solicitation of child pornography and committing a felony involving a minor while a registered sex offender.
At a July 31 hearing, prosecutors said Estes has a long history of sexually abusing boys. In court filings they cite a conviction in St. Charles County for sodomy, deviate sexual assault and sexual abuse against victims who were 13-15 years old and for which he was sentenced to 10 years in prison. They say he was caught on June 23, 2018, near Interstate 270 and Dorsett Road with a 14-year-old boy. The Crawford County Sheriff's Office is looking into evidence that Estes' messaged a 13-year-old boy online, prosecutors said, and claim Estes admitted communicating online with 15- and 17-year-old boys. Investigators found sexually explicit Facebook and text messages with a 16-year old boy, filings claim, in which Estes sent a picture of an adult male's genitals and asked for a sexually explicit video in return. He later told investigators that he only wanted the boy to come to this house so Estes could warn him about the dangers of meeting someone on the internet, the filings say.
Police in Union are investigating sexual offenses against a 15-year-old boy, the assault of a 17-year old boy and claims Estes was loitering in a public park, prosecutors said.
A judge on Monday ordered Estes held in jail until trial. He is set to plead not guilty to those charges next week.
Estes was released from prison in 1998, Missouri Highway Patrol records show, and lives in a mobile home park in Union.
Prosecutors asked anyone with information, or possible victims, to contact Franklin County Sheriff's Detective Jacob Walk at 636-583-2567 or U.S. Attorney's Office Investigator Donya Jackson at 314-539-2200.