Editor's note: On June 10, 2002, suspected serial killer Maury Troy Travis was found hanged in his jail cell at the St. Louis County Jail. He had been charged in the deaths of two prostitutes; court documents connected him to five other slayings. This article was originally published on June 11, 2002.
Maury Troy Travis, accused of killing two women and linked by court documents to the deaths of five more, was found dead Monday night in his cell at the St. Louis County jail in Clayton, sources said.
Travis was hanged in an apparent suicide. Details were unavailable, but a source said he was found by a guard, who called an ambulance. Travis had been on a suicide watch in the state-of-the-art facility because of the type of crime involved. Joe Lebb, an investigator with the county medical examiner, refused to confirm the death.
Clayton police, in charge of investigating the death, did not return phone calls.
Reached at home late Monday, Herb Bernsen, assistant director of the jail, confirmed Travis had attempted suicide in the jail but did not yet know if he had died. The death was confirmed by other sources later.
Investigators had hoped Travis would answer the haunting question of how many other bodies might be out there, hidden by underbrush along roadsides, yet to be discovered.
"We're looking at any and all possibilities; it's an ongoing investigation, " St. Louis police Capt. Harry Hegger said Monday afternoon after a federal complaint was released in U.S. District Court in East St. Louis, charging Travis with two counts of kidnapping.
The complaint lists six women -- all prostitutes -- who were "tortured and then strangled." It also says Travis wrote a letter to the Post-Dispatch that led to discovery of a seventh body.
Travis, 36, of Ferguson, had yet to be charged with murder, which is usually prosecuted as a state crime. The federal case kept him in custody while prosecutors in at least three jurisdictions -- St. Louis, St. Charles County and St. Clair County -- considered additional charges.
Investigators suspect that Travis may have been responsible for unidentified bodies found in Madison and Monroe counties too.
Federal charges, filed Friday but sealed by a judge until Monday, accuse Travis of "carrying away" Alysa Greenwade from Missouri to Illinois and Betty James from Illinois to Missouri, "for the purposes of assault and sexual gratification." The complaint says Travis "caused" their deaths.
The charges also say that semen was recovered from the bodies of two other victims, Yvonne Crues and Brenda Beasley. Police sources said Monday that DNA from that semen was matched to Travis.
Travis had refused to provide blood or other samples to police. Police sources said detectives got a sample of his DNA from a toothbrush they let him use at his house when he was arrested early Friday morning.
Hegger credited the nightlong work of a DNA specialist in the police laboratory with quickly linking Travis with two of the victims.
Officials also revealed Monday that tires on a 1992 Chevrolet Cavalier used by Travis matched a tread imprint on James' leg, and that the tread of a 2000 Mitsubishi Eclipse he used was similar to a track left near Greenwade's body.
Melinda Jones, a sister of Greenwade, said Monday that her biggest concern was that police "have the right person."
"I do want somebody brought to justice, " she said. "I want to know, 'Why?' I want to know what his motive was."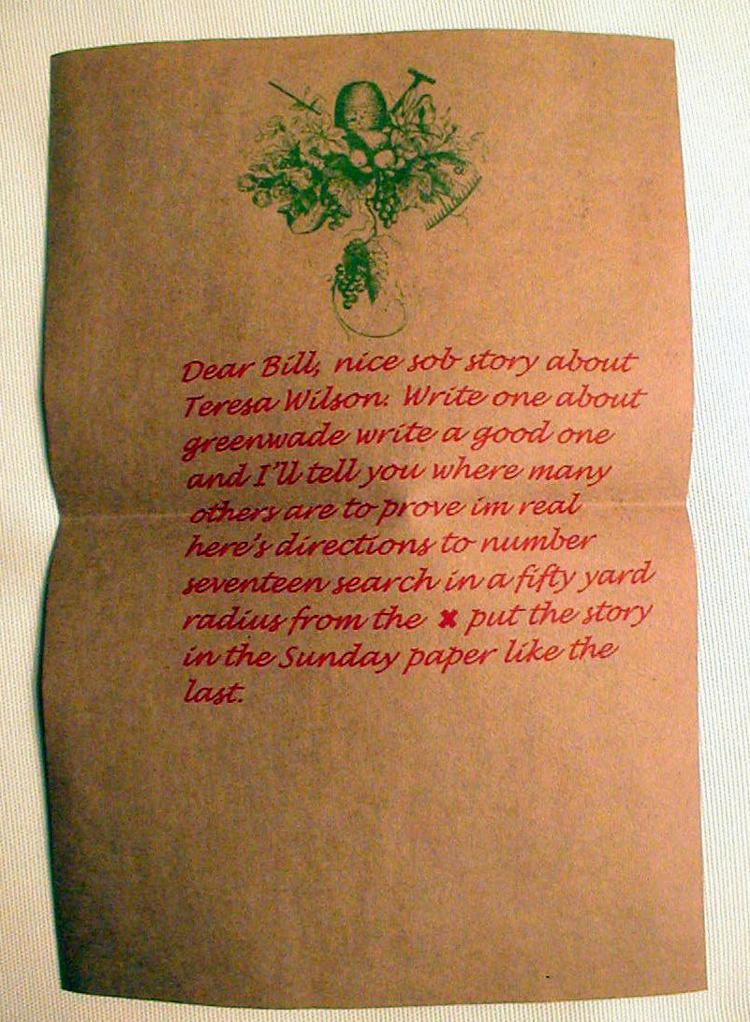 In a letter sent to the Post-Dispatch that ultimately led to Travis' arrest, the author implied that he had at least 17 victims. Hegger declined to guess at a total but said at least two jurisdictions from outside the St. Louis area had become interested in him in connection with unsolved killings.
"There's still a lot of work to be done, " added Hegger, who several months ago formed a multijurisdictional team of detectives to look into the deaths of six prostitutes whose bodies were found on both sides of the Mississippi River.
Detectives realized there were similarities in many of the deaths: All the victims were African-Americans, all were prostitutes with drug habits and all had been dumped along roadways. Some had been strangled and bound with rope.
That list of victims was expanded to nine this year after the remains of three women -- still unidentified -- were found alongside highways in the Metro East area.
A 10th was found May 25 when the letter to the Post-Dispatch led police to a skeleton in the West Alton area of St. Charles County.
"The letter was critical to our case, " Hegger said.
Police determined that a map accompanying the letter had been downloaded from the Expedia.com Web site; investigators with federal subpoenas traced it to Travis' home computer.
Travis was arrested at his home in the 1000 block of Ford Drive on Friday morning. FBI and St. Louis police forensic teams seized numerous items there, including drywall, ligatures and belts spattered with what appeared to be blood, and women's underwear and wigs.
Investigators say they have come to believe the victims were tortured in the home.
St. Louis police Sgt. Tim Sachs, under the tutelage of an FBI profiler, was unable to persuade Travis to cooperate during several hours of questioning, sources said.
Travis, who was in the custody of the U.S. marshals in Missouri, was scheduled to appear in federal court in St. Louis for a hearing Wednesday on having him transferred to Illinois.
An affidavit by FBI agent Melanie Jiminez, contained in the complaint against Travis, alleges that the six victims named in the complaint -- Greenwade, Teresa Wilson, James, Verona Thompson, Crues and Beasley -- were picked up off the streets where they worked.
It also says Travis' father lives in an apartment near the spot where James' body was found, and his father has a house in East St. Louis near the spots where Crues' and Beasley's bodies were found.
Magistrate Judge Clifford Proud sealed the complaint and affidavit from Friday to Monday on Jiminez's claim that disclosure might "jeopardize an ongoing investigation and witnesses who have provided information" to the FBI.
The jail where Travis' body was found was built at a cost of $108 million and opened in February 1999. The facility has an infirmary that includes a "rubber room" for inmates on suicide watch.
---
Possible victims of serial killer
Police charged Maury Travis with the kidnapping and deaths of two women and linked him to the deaths of at least five more.
* Cases in which Travis was charged
** Cases linked to Travis by court documents
*** Other victims that may be connected
VICTIM, AGE: Alysa Greenwade
PLACE: North 60th Street at Caseyville Avenue in Washington Park
METHOD: Strangled, with ligature marks on wrists and ankles.
PLACE: First and St. Clair avenues in East St. Louis
METHOD: Survives but unable to help authorities.
VICTIM, AGE: Teresa Wilson, 36
PLACE: Along Highway 67 near West Alton
METHOD: Autopsy unable to determine the cause of death.
VICTIM, AGE: Betty James, 46
PLACE: Behind the 5700 block of Kennerly Avenue in St. Louis
METHOD: Bound with duct tape, beaten. Cause of death unknown.
VICTIM, AGE: Verona Thompson, 36
PLACE: 16 feet from where Wilson's body had been discovered
METHOD: Cause of death undetermined.
VICTIM, AGE: Yvonne Crues, 50
PLACE: Near 11th Street and St. Clair Avenue in East St. Louis
METHOD: Knees scraped, ligature marks on wrists. Smothered or strangled.
VICTIM, AGE: Brenda Beasley, 33
PLACE: 1500 block of Converse Avenue in East St. Louis
METHOD: Eyes, arms taped. Struck in back of head and suffocated.
Oct. 28 - Police say in a Post-Dispatch story that the deaths may be the work of a serial killer.
---
PLACE: Near mile marker 22 on Interstate 64 in St. Clair County
METHOD: Autopsy was not able to determine a cause of death.
PLACE: Near mile marker 23 on Interstate 70 in Madison County
METHOD: Cause of death has not been determined.
PLACE: Just off Illinois Route 3 in Columbia, in Monroe County
METHOD: Cause of death unknown. Police have tentative identification.
April 3 - Investigators say that they are treating the deaths of the three unidentified women found in the Metro East as if they are connected to the six murders that they believe are the work of a serial killer. The women may have been killed months earlier. In all nine cases, the bodies were dumped, usually along a major thoroughfare.

May 19 - The Post-Dispatch prints a profile of murder victim Teresa Wilson, written by reporter Bill Smith.

May 24 - Smith receives a letter at the Post-Dispatch from someone commenting on the Wilson story and offering to tell where other bodies are located if Smith writes a story about Greenwade. It is accompanied by a map marked with an "X" and instructions to search within a 50-yard radius of the spot.
PLACE: Police find skeleton at the spot marked with the "X"
METHOD: Unknown cause of death. Body may have been there for several months.
June 3 - After determining the map was downloaded over the Internet from Expedia.com, the FBI learns the computer address of the only person seeking a map of that area between publication of the Wilson story and arrival of the letter. It leads to Maury Troy Travis.

June 4 - Authorities put Travis under 24-hour surveillance.

June 7 - The FBI and local police take Travis, 36, in for questioning and serve a search warrant on his home at 1001 Ford Drive in Ferguson. Magistrate Judge Clifford Proud in East St. Louis signs but seals court documents charging Travis with kidnapping and linking him to the deaths of at least seven women.

June 10 - Proud unseals the charges. Later, Travis is found dead in his jail cell.
Shake off your afternoon slump with the oft-shared and offbeat news of the day, hand-brewed by our online news editor, Mandy St. Amand.