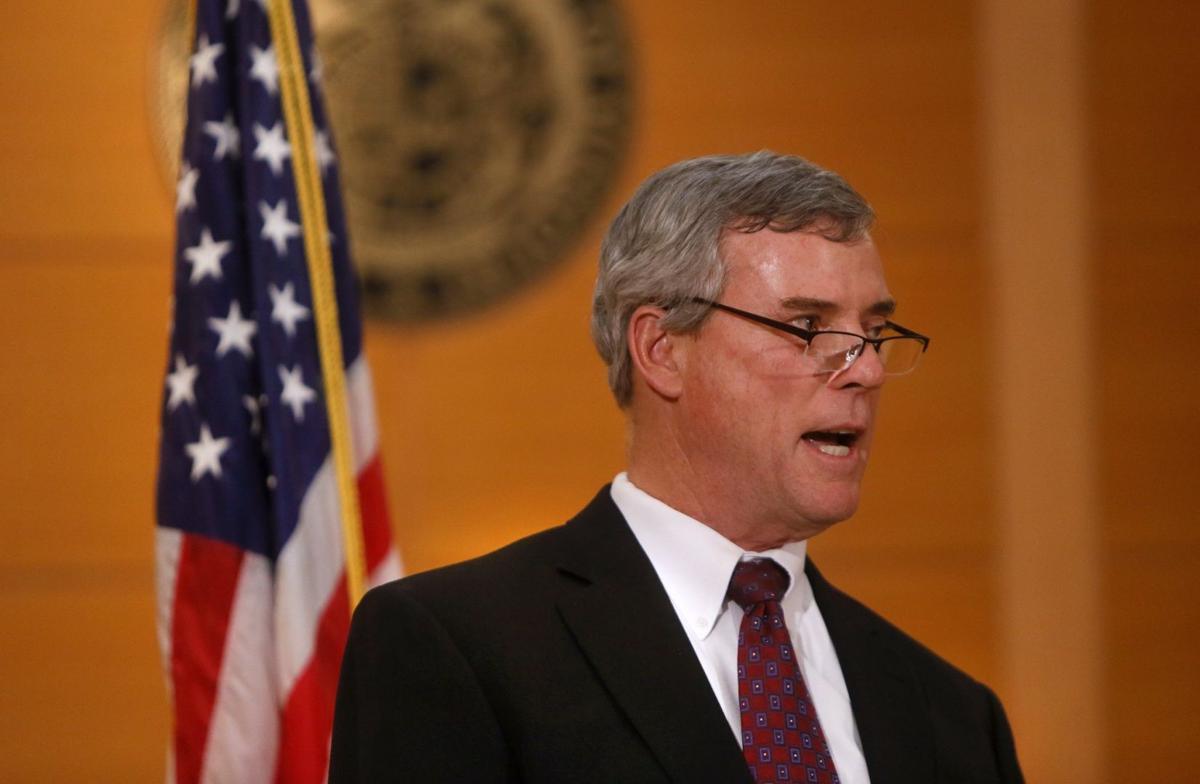 ST. LOUIS • For hundreds of cases, over the course of three months, the process was the same.
A prosecutor would go to the grand jury seeking confirmation on charges that had already been decided. In just a few minutes, a new case would come to life.
But that all changed on Aug. 20, with the State of Missouri v. Darren Wilson.
All of a sudden, the grand jury was thrust into a highly unusual role.
The state suspended its job as prosecutor, claiming no stake in the process. The 12 men and women were flooded with eyewitness testimony — much of it conflicting. Even the physical evidence, later described by St. Louis County Prosecuting Attorney Robert McCulloch as the "solid foundation" by which cases are built, failed to answer key questions.
The three-month process was more akin to a trial, except there was no judge limiting what jurors could hear. And there was no opponent jumping up to object or to provide a counternarrative.
Jurors sometimes heard testimony that bordered on ludicrous. They also heard from witnesses who had already admitted they lied. The murkiness persisted to the end — even when prosecutors tried to instruct on the one thing that should be immutable: the law by which Wilson would be judged.
While McCulloch said the goal was a full airing of the case, critics have said the mountain of unfiltered information subverted the judicial process and made an indictment in the Michael Brown shooting virtually impossible. No wonder the grand jury didn't bring charges, they say. The jurors heard anything and everything, and much of it didn't agree.
Lori Lightfoot, a former federal prosecutor who later investigated use of force for the Chicago police, said the role of prosecutors and investigators is to find out if someone actually did see something, could see it, what their vantage point is.
They do that outside of the grand jury process.
"Giving them all the evidence is simply like opening a door to a warehouse and saying, 'Find a needle in a haystack,' which is absurd and is not done," Lightfoot said.
The effect, she said, is "probably to nullify all of it, to make the grand jury think we don't know whether to make heads or tails of this."
On the first day of testimony on Aug. 20, McCulloch prepared jurors for what was to come:
Every statement made to police, FBI or media would be presented, then the witness who made them would come in to testify.
"By the time everything is finished, you will have heard everything," he said.
McCulloch noted some "are just statements that are floating around on the Internet, and nobody knows who is making that statement." He said the FBI would continue to try to track those witnesses down, noting the investigation was ongoing.
A parade of more than 60 witnesses took the stand in the months that followed.
Among them was a Canfield Green apartment resident who had twice told FBI agents that she had seen Brown die. But she would testify in front of the grand jury only after she was granted immunity by the Department of Justice. She took the stand and said she had lied in a previous statement, simply repeating what her boyfriend said he had seen.
They also heard from a Canfield resident who called in to a podcast show to say that Wilson shot at Brown while fleeing and "unloaded" on Brown in the middle of the street. He admitted to the grand jury that he couldn't see the shooting.
Jurors were also played an Oct. 3 recording of an interview of a close Brown friend being grilled about his previous claims of seeing Brown shot at "point-blank range" while he was pleading, "Please don't shoot." The friend said Wilson then fired more shots into Brown's prone body.
"We are here today to tell you what you are saying you saw isn't forensically possible based on the evidence," a prosecutor said on the tape. When the witness insisted he was telling the truth, the prosecutor ended the interview.
The witness was nonetheless brought before the grand jury on Oct. 16. He revised his version over and over, but continued to insist that Wilson shot Brown point-blank in the head.
On Oct. 23, the jury spent nearly two and a half hours listening to a recorded statement and testimony from a Wilson supporter who had admitted to making racist comments in the past. The woman, who claimed to have ended up in the Canfield Green apartments after a wrong turn, said Brown charged Wilson before the officer shot him. A federal prosecutor told the woman she had doubts about her story.
In front of the grand jury, the woman admitted to having short-term memory problems from a head-on collision that left her with a traumatic brain injury.
In announcing the grand jury's decision to the public, McCulloch said it was physical evidence that helped jurors sort through inconsistent witness statements.
"Physical evidence does not change because of public pressure or personal agenda," he said. "Physical evidence does not look away as events unfold. Nor does it block out or add to memory."
Wilson's lawyer, Neil Bruntrager, said the physical evidence showed whose eyewitness testimony was more believable: his client's.
The blood behind Brown's body shows "he had to turn around and come back. It completely supports that," he said.
The spent shell casings found next to Brown and down the street, closer to the final bloodstain, support Wilson's account that he backed up twice, including as Brown came within 8 to 10 feet.
The forensics don't show whether Brown was charging Wilson, walking toward him or stumbling, Bruntrager admitted, but the blood on the ground 25 feet behind Brown's body shows "he was clearly coming back" and that "throws you squarely into use of force by a police officer."
But jurors still had questions.
For example: Do the bullet tracks through Brown's body shed light on whether he was charging, stumbling forward or bending over? Was he reaching for Wilson's gun in the car, pulling his hand away, or trying to protect himself? Was he shot at from behind?
Autopsies ultimately couldn't determine how far away Wilson was when he shot Brown outside the vehicle, or how Brown's hand was injured.
"Are you able to tell regarding the handle, how the injury occurred?" one of the prosecutors asked the doctor who did the St. Louis County autopsy, identified in the autopsy report as Dr. Gershom Norfleet.
"For instance, whether he was grabbing the gun, shot went off and hurt his hand, or if he was trying to block the weapon or stop him from shooting him, can you give any insight into that?"
"No," Norfleet answered. "I cannot."
Both the federal examiner and forensic pathologist Michael Baden, who performed an autopsy for the Brown family, highlighted a wound Brown suffered from a bullet that entered the back of the forearm, each noting it was possible that the bullet came from behind Brown, but that the arm also could have been bent in a way that the bullet entered while he was facing Wilson.
"And so much of it becomes, which eyewitnesses are better," Baden concedes, "and that's, that doesn't come with medical school."
An investigative grand jury, on its own, is not that unusual. Lightfoot said she's seen it used in controversial cases where the prosecutor wants to reassure the public that there's been a fair evaluation of the facts.
But a grand jury investigation doesn't require prosecutors to present every piece of evidence, particularly if it is not credible, then sit back as the grand jury tries to digest it. In her experience, prosecutors make "a determined effort as to what kind of evidence they are going to present, how it will be presented — and they have a point of view in the grand jury."
"Once you say I'm putting everything in, you can't weed anybody out," she said. "But let's back up and challenge the notion that you're putting everything in. I've never seen a prosecutor say, 'I'm just going to throw everything at the grand jury.'"
Mae Quinn, a Washington University law school professor, agreed. She noted, "In a trial you have a judge serving as traffic cop, determining what is relevant, what is not relevant, what is prejudicial, etc.
"It's a tricky job the prosecutor had to both present the evidence and serve as a quasi-adviser on the law. And that becomes much, much harder when there is this mass of evidence," she said.
Dee Joyce-Hayes, the St. Louis circuit attorney from 1993 to 2000, said she thought McCulloch's decision to present evidence to a grand jury was "perfectly legitimate."
In 1996, she did the same after the fatal shooting of a black teenager by police Officer Eddie Sanchez. She opted against filing charges, taking the case instead to a grand jury, which declined to indict.
Sanchez was running after Garland Carter, a teenager wanted for questioning about a street robbery, when he fired his revolver. The officer insisted that the youth had been armed and that he recovered a weapon; some witnesses claimed the officer planted the gun after removing it from the trunk of his vehicle. Carter was shot in the back of the neck and the left buttock, raising questions about whether he posed a threat.
She said once they were under oath, some of the witnesses confessed they didn't see what they had initially reported.
Joyce-Hayes, who now lives in Virginia, disputed suggestions that McCulloch created a fog by putting conflicting evidence in front of the grand jury.
"He didn't create the fog; there was a fog."
If McCulloch had relied on the initial evidence suggesting Brown had his hands up, and filed criminal charges, the case might not have held up, she said.
Brown family lawyer Anthony Gray countered that prosecutors are in "total control" and their presentation of the evidence can "key" jurors in on certain facts. "How it's presented, not necessarily what is presented, means everything," he said.
Gray said if prosecutors were presenting two sides of an issue, named salt and pepper, combine them, and say, "Now separate the salt from the pepper. That just about guarantees no indictment.
"It's called information overload."
On Nov. 21, the final day of testimony, prosecutors turned to jurors' ultimate responsibility: applying the law.
Assistant Prosecuting Attorney Kathi Alizadeh told them to take a copy of the use-of-force law that was provided to them at the start of the grand jury process and fold it in half.
"What we have discovered, and (sic) we have been going along with this, doing our own research, is that the statute in Missouri does not comply with the case law."
Of the portion that does not conform, she said, "Ignore it totally."
What prosecutors had belatedly realized was that Missouri's law for use of force is not consistent with a U.S. Supreme Court case, Tennessee vs. Garner, that says that an officer using deadly force against a fleeing felon must have probable cause that the felon poses a significant risk of harm to the officer or the community.
Missouri law says an officer can use deadly force only if it is needed to make the arrest of someone who has committed or attempted to commit a felony.
When jurors started asking more technical questions, Alizadeh told them just to disregard the statute.
"We don't want to get into a law class," chimed in Sheila Whirley, the second prosecutor on the case.
That bothered Quinn. She said the jurors had spent months applying the wrong legal standard to evidence. If it had happened during a jury trial, she said, the opposing lawyer would have asked for a mistrial.
"Even with the effort to correct, it seems clear there remained confusion," she said. "That's the problem with folding an entire trial's worth of information into a grand jury proceeding without having the judge there to serve the role of ruling on the law."
But Bruntrager, Wilson's lawyer, countered that it's a moot point, based on the evidence.
"The evidence is not that he shot a fleeing felon," Bruntrager said. "The evidence given by Wilson is that he shot a person ... who turned and ran back at him."