JEFFERSON CITY — Embattled St. Louis Circuit Attorney Kimberly M. Gardner sent two of her top aides to the Missouri Capitol to argue Monday against a Republican plan to shift violent crime cases to a special prosecutor appointed by the governor.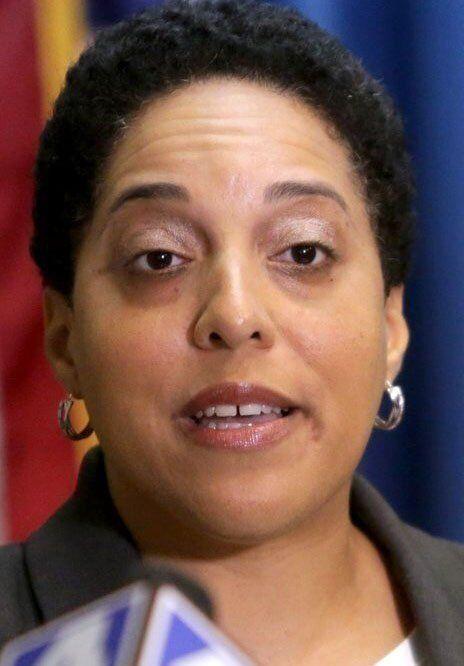 Gardner's aides, at a hearing of the House Crime Prevention and Public Safety Committee, defended their boss' work — and suggested the state had some responsibility for the city's crime problem.
"We're doing the best we can," said Chris Hinckley, chief warrant officer for the circuit attorney's office. "You throw guns all over the place and then you ask us why crime has increased? And you try to connect it to the prosecutor?"
Redditt Hudson, a former St. Louis police officer who works as a diversion specialist for Gardner, said a special prosecutor also would be a rebuke to city residents.
"The inescapable reality of this legislation is that it disenfranchises the thousands of voters in St. Louis that have now twice voted overwhelmingly to elect Kimberly Gardner as their circuit attorney," Hudson said.
Roberts' legislation would grant Gov. Mike Parson the authority to appoint a special prosecutor to handle seven types of violent crime in St. Louis, ranging from first-degree murder to second-degree robbery and vehicle hijacking.
The fact Gardner didn't appear at the hearing to answer questions irritated at least one lawmaker.
"I suppose we shouldn't be surprised that she's failed to appear and do her job," said Rep. Alex Riley, R-Springfield. "That seems to be her M.O."
Hinckley said the circuit attorney's office had a backlog of about 3,000 cases and that "there are no violent crimes" on the list.
"The bill seems to assume that the backlog is a backlog of violent crimes," Hinckley said. "We've kept violent crimes at the top."
(Jane Dueker, lobbyist for the St. Louis Police Officers Association, provided a reporter with a longer list of cases, some of them violent. But Hinckley said after the hearing "that's not my list.")
He said turnover in the office "occurred early on" during Gardner's tenure "a lot more because I think that the people just wanted to move on."
He said during the early days of Gardner's time in office, turnover was more "abrupt" but was now more of a "natural" turnover.
"The reasons why are more as the result of reality and for the most part everybody that leaves has gone on to a new job that pays" at least twice as much, Hinckley said.
Hinckley also addressed the office's "exclusion list" of officers who are barred from seeking criminal charges in the city.
He said when he came into office, he knew of certain officers who had pleaded the Fifth Amendment or had lied "and done other things that certainly impacted their credibility, meaning that I felt very uncomfortable having them sign on a probable cause statement to swear that everything that happened in that crime occurred and that that person's word was therefore going to take away the liberty of somebody else."
Knowing there were "a number of people" whose credibility was "in serious doubt," Hinckley said he contacted the police "because in traditional law enforcement the police work with the prosecutor to identify those people."
"I had a discussion with another colonel and we began to create a list of the names and the reasons, and this was all confidential," Hinckley said. "We shared it with him and then there was a little hubbub," he said. "All of a sudden it made the news when we didn't want it to. We just wanted to work with the police but the police made it news.
"It's remained confidential so I don't share the names with anybody," Hinckley said, adding there is a process by which an officer can be removed from the list.
The committee didn't vote on the legislation Monday.