ST. LOUIS — Kennedi Powell and her neighborhood friends had just swarmed her father's car for a piece of pizza Sunday evening when a white car drove past, and someone inside it opened fire.
One round struck the 3-year-old in the chest, and another hit her 6-year-old neighbor, Oriel Smith.
Kennedi died. Oriel remains in critical condition, police said.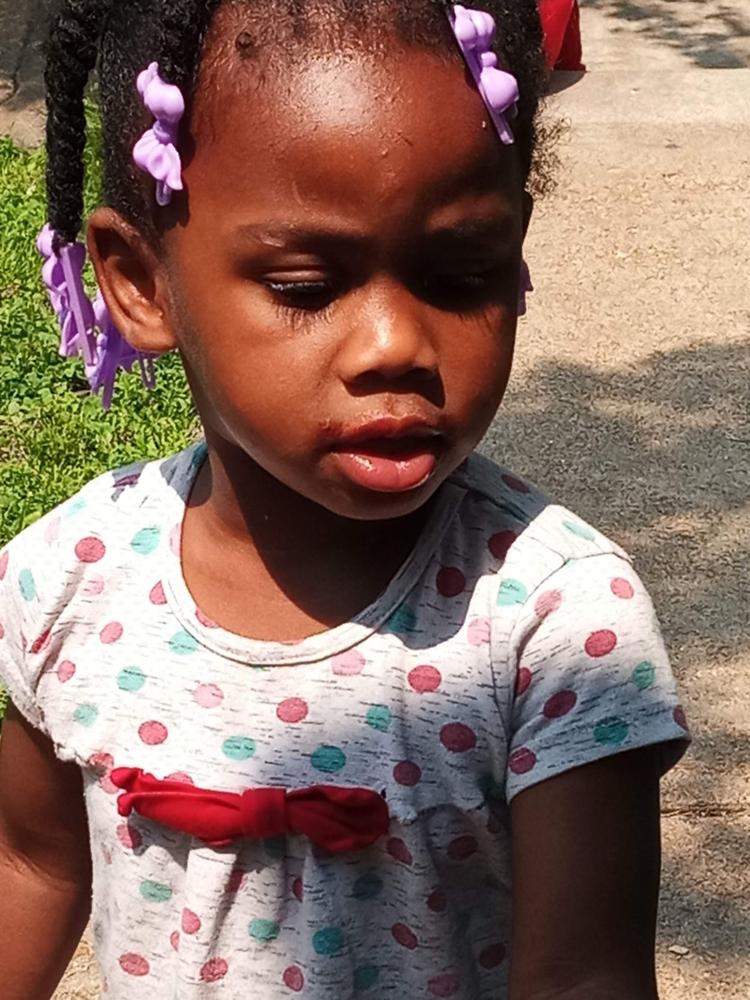 None of the other four children, ages 4, 6 and to 8, was injured during the shooting at 8:30 p.m. Sunday in the 4600 block of Michigan Avenue, police said. Nor was Kennedi's mother, father or his friend, all 28, who were near the car where the children were eating.
Oriel's grandmother, Pearl Hoskin, said she was sitting on her front porch across the street when she heard the gunshots.
"He had to see them out there," she said of the shooter. "They were just playing and eating pizza."
The murder brings the city's homicide total to 80 so far this year, which is six more killings than this time last year.
Crime is down slightly in the Mount Pleasant neighborhood, according to police statistics. As of Sunday, aggravated assaults with a gun in the Mount Pleasant neighborhood were down 38% so far this year compared to last, police said.
But neighbors said shootings have seemed more frequent in recent weeks.
Sunday night, Kennedi's mother, father and his friend had just returned from getting pizza, said Kennedi's grandmother, Tracy Wafford. Kennedi's mother was sitting inside a red sedan while the men handed out pizza to the children.
Hoskin, while watching the children play in the empty lot next to her home, saw a white Nissan with tinted windows approach.
Then she heard four or five shots. She thought they were firecrackers because they sparked as they hit the ground.
Kennedi's father's friend, a nurse, tried to do CPR on Kennedi, but she never regained consciousness, Wafford said. It felt like a long time before police and an ambulance arrived, she said, so the nurse then tried to take the little girl to the hospital in his truck. But one of the tires had been shot out.
Hoskin watched as Kennedi's father carried his daughter to the truck. Her arms dangled lifelessly.
"I can't imagine the pain he must be in," she said on Monday.
Wafford said she can't shake the image of her granddaughter's bloodied body on the sidewalk in front of her home of 22 years.
"Every time I look out that window, that's all I can see is her laying there," she said.
Kennedi's father, Devation Powell, put the red juice he bought his daughter that night among the first pieces of a memorial that had begun to form just feet from where Kennedi fell. He declined to be interviewed and spent most of Monday morning hugging family and friends who came by his mother's house to comfort the family.
"She was my 11th grand-baby," Wafford said. "She was so sweet and so playful."
Hoskin watched the gathering from her porch, getting updates about the condition of her granddaughter on her cellphone. "They say she's going to be all right," Hoskin said, putting the phone in her lap and wiping away tears.
Neighbor Gail Kennard, 62, stood with both women Monday. She, too, saw a sedan with tinted windows speeding away.
"He had to see those babies out there playing," Kennard said. "He doesn't need to be out here on St. Louis streets. He has no regard for life."
Kennard said she had recently moved to the neighborhood, hoping it would be safer than where she previously lived. She didn't say where she used to live.
"This should be in the 'H zone,'" Kennard said, referring to neighborhoods where most of the city's homicides and violent crime occur.
Violence has struck the 4600 block of Michigan Avenue before. In July 2018, Lionel White, 27, was found dead of gunshot wounds in the front yard of a home just feet from Wafford's home. He had been shot about a block away, ran and collapsed near her home. White was Powell's friend, Wafford said.
Police are asking anyone with information about Sunday's shooting to call CrimeStoppers at 866-371-8477.
Editor's note: This story has been updated to reflect the correct spelling of Kennedi Powell's first name.