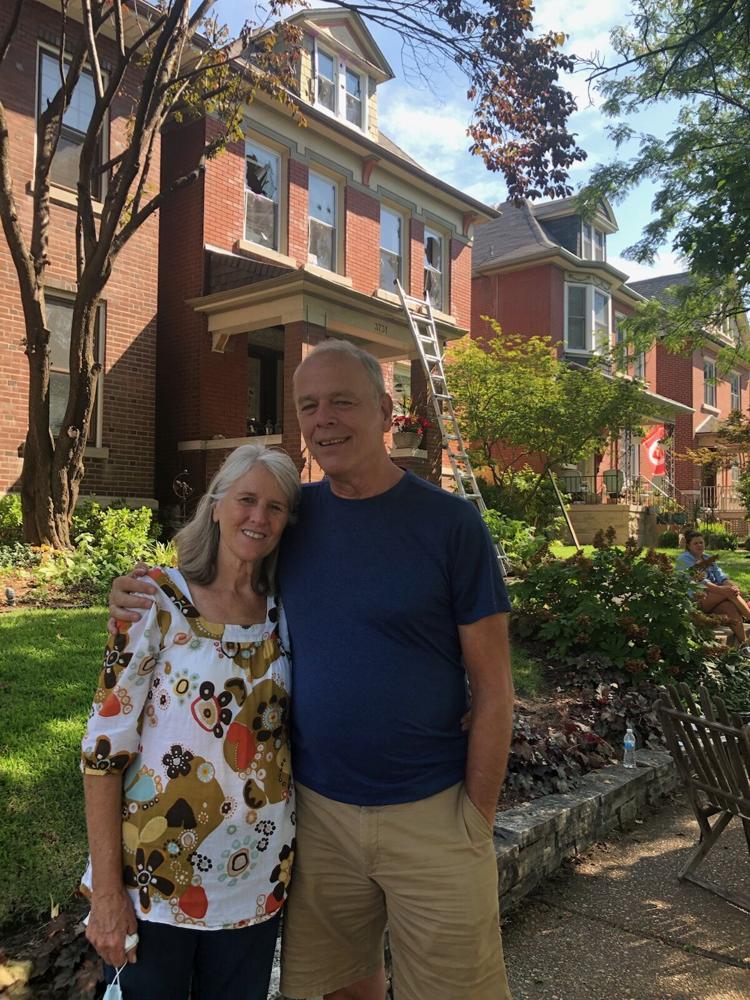 ST. LOUIS — A police officer shot in the head as a man barricaded himself inside a home on Saturday died Sunday at a local hospital, police confirmed.
Tamarris L. Bohannon, 29, had been with the department for nearly four years.
A second officer who was shot in the leg has been released from the hospital, police said.
The officers were shot when responding to a shooting call in the Tower Grove South neighborhood at around 6 p.m. A man barricaded himself inside a home in the 3700 block of Hartford Street and fired at police.
Multiple streets were closed to vehicles and pedestrians. Residents were warned to stay inside their homes and SWAT officers swarmed the neighborhood. Police also put SUVs and officers armed with rifles around the residence where the suspect had retreated.
After hours of negotiations with the gunman, police arrested the suspect early Sunday morning.
Bohannon is survived by his wife, Alexis, and three children. Bohannon, who was raised in St. Louis, was "affectionately known" by his District Two squad as "Bo," according to a statement from his family.
"The loss of this great man is felt deeply within the St. Louis community and we ask for your prayers and support in the days ahead," says the statement, published by the police department's Twitter account.
'I saw he had a gun'
Tower Grove South homeowners Steve and Mimi Haag are grateful to be alive after the gunman barged into their home Saturday evening, shot two St. Louis police officers through a window and barricaded himself inside their house for nearly 12 hours overnight.
"God protected us," said Steve Haag, who was in his home in the 3700 block of Hartford Street with his wife, Mimi, just before 6 p.m. Saturday waiting for a friend to join them for dinner.
The couple was plunged into the violent series of events when a transient man who frequents the neighborhood told Mimi he had been shot and asked her to call 911. As she spoke to dispatchers, her husband saw another man come to their front door, let himself in and refuse to leave.
"I saw then he had a gun," said Steve Haag. "He was very calm standing there with it in his hand and he just says to Mimi: 'Ma'am you need to get off the phone.'"
The couple quickly walked out of their backdoor and into an alley and soon saw police officers arrive.
Steve Haag said he was standing about a block away from his home when the man shot responding St. Louis police officers as they approached the house. He said he heard a loud pop and saw one officer motionless on the sidewalk with a gunshot wound.
When another officer ran to give the injured officer aid, he was also shot in the leg, according to Haag and St. Louis police.
The first injured officer, Bohannon, later succumbed to his injuries.
The other officer was released from a hospital, police said Sunday. He is 30 and has been with the department for less than a year.
Steve Haag said it appears the gunman shot the officers from a second-story window in their home.
Haag said the man was about 6 feet, 2 inches tall, dressed normally and had a mohawk hairstyle. He barricaded himself in the house in a standoff with dozens of police officers until officers were able to take him into custody around 5:30 a.m. Sunday.
Officers fired no shots during the standoff. Police said the suspect is a 43-year-old white man who was taken to a hospital for evaluation before his release to police custody. He has not yet been publicly identified.
During the standoff, multiple streets were closed, residents on Hartford were warned to shelter inside and SWAT officers swarmed the neighborhood. Police also put SUVs and officers armed with rifles around the residence where the suspect had retreated.
At about 11 p.m., police called out: "Come on, son, you have a wife and kid," and "You gotta come out."
The department deployed tear gas canisters into the home, police said.
Steve and Mimi Haag went back inside their home to grab a few items despite lingering tear gas inside Sunday morning. Several windows were also broken from tear gar canisters shot inside by police. The gunman pulled out drawers and left blood stains in the home,  Steve Haag said.
Police Chief John Hayden told reporters Saturday that police had not found another shooting victim besides the two police officers anywhere around the scene. The department did not immediately respond to questions from the Post-Dispatch about the man who told the Haags he had been shot.
The officers were "trying to do their job, that's all they're trying to do and they're suffering under gunfire," the chief said. Hayden said the incidents are part of a surge in violence this summer and asked residents to pray for the officers.
"We're trying to cope through a very trying summer and it's very difficult," Hayden said. "It's very difficult."
Chief Hayden said the shootings mark the seventh and eighth St. Louis police officers shot in in the city since June 1.
Then on July 26, a man driving by a gas station fired at officers and riddled a police car with bullet holes at the Crown Mart gas station at 1515 North 13th Street. One officer suffered a shrapnel wound to the elbow.
On Aug. 2, police arrested a 14-year-old boy who investigators said shot an off-duty St. Louis police officer who was working a security detail downtown.
The officer was shot in the arm near Convention Plaza and North 10th Street, and was expected to make a full recovery.
In addition to the officers who have been shot, on July 20 an off-duty St. Louis officer exchanged shots with a teenager who tried to carjack him. The officer was working a secondary job as security for Kutis funeral home in the 2900 block of Gravois Avenue.
Steve Haag, the homeowner who escaped shortly before the officers were shot Saturday, said their actions call attention to the sacrifices police officers make. He added that he hopes the city will support the department.
"I come from a law enforcement family," he said. "And I know these officers were here to protect us … I am so grateful for what they did."