St. LOUIS — Missouri Gov. Mike Parson on Friday appointed Gabe Gore, a civil attorney with deep civic connections here, to rebuild a city prosecutor's office in disarray following the abrupt resignation of Circuit Attorney Kimberly M. Gardner earlier this week.
Gore, 54, has been a partner at the high-powered and politically connected Dowd Bennett law firm for years, served on the Ferguson Commission following protests over the 2014 death of Michael Brown and worked as an assistant U.S. attorney prosecutor in the 1990s.
"We believe Mr. Gore is a qualified and experienced leader our great city of St. Louis needs for this new day and this historical opportunity for change," Parson said at a St. Louis courthouse Friday.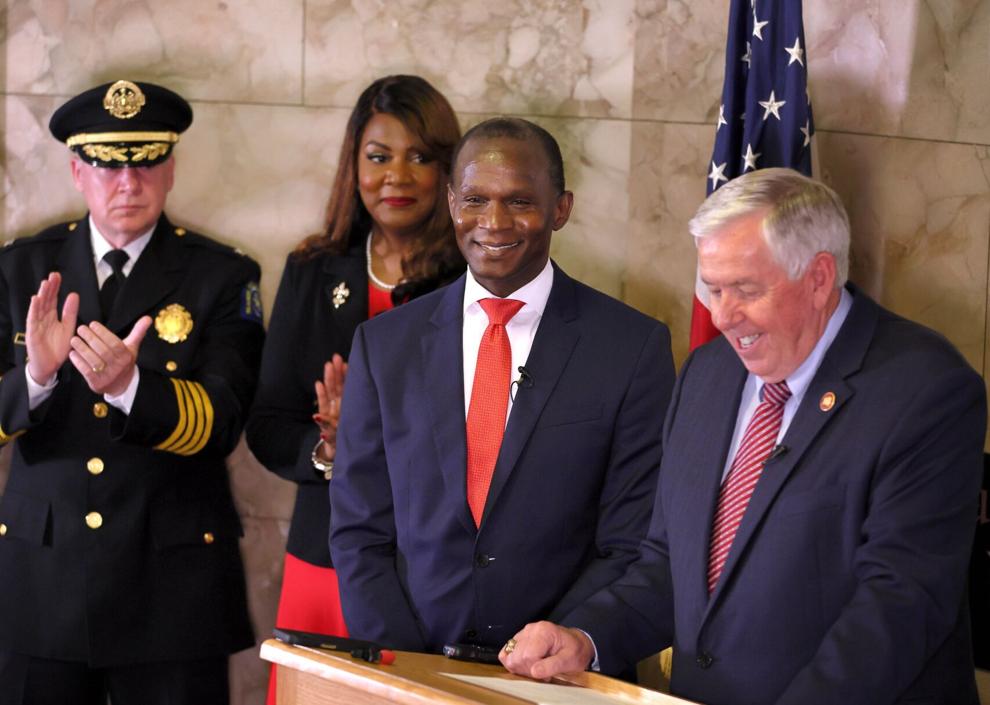 Gore's appointment comes at the end of a chaotic week in the city courts. Gardner abruptly resigned on Tuesday, about two weeks earlier than expected, leaving the office without a permanent leader. Parson tapped his general counsel to serve as an interim circuit attorney until he could appoint a replacement and asked Missouri Attorney General Andrew Bailey's office for help handling cases.
Gore will take over an office that has roughly a third of the staff attorneys as when Gardner took office in 2017 with a fraction of the experience. He will grapple with cases that have been repeatedly delayed due to understaffing, a backlog that still hasn't been cleared since the COVID-19 pandemic, and thousands of charges submitted by police that haven't yet been reviewed.
Gore pledged to focus on growing a dedicated staff while fostering relationships with the community and regional leaders.
"Working together, I am confident that we can build a prosecutor's office here that is one of the highest performing in the country," he said.
Leaders throughout the region, including business groups, law enforcement and both Democratic and Republican politicians, applauded Parson's choice.
Gore did not divulge his political affiliation on Friday but has donated almost exclusively to committees supporting Democrats in the past two decades. He was also identified as a Democrat when he was appointed to the board for his alma mater, Missouri State University. Parson said Gore would return "seriousness" to the office and bring back "law and order."
Gore's last day at Dowd Bennett will be next Friday, and he will be sworn in as circuit attorney the following week. He will serve out the remainder of Gardner's term, which ends Jan. 1, 2025, but he said he has not decided if he will run for reelection.
"That is not something I'm focused on right now," he said.
Mayor Tishaura O. Jones, a longtime ally of Gardner who in recent months said Gardner needed to do some "soul-searching" to decide if she wanted to be circuit attorney, said Gore has her support.
"If he decides to run, I would absolutely (vote for him)," she said. "I've known Gabe for a long time."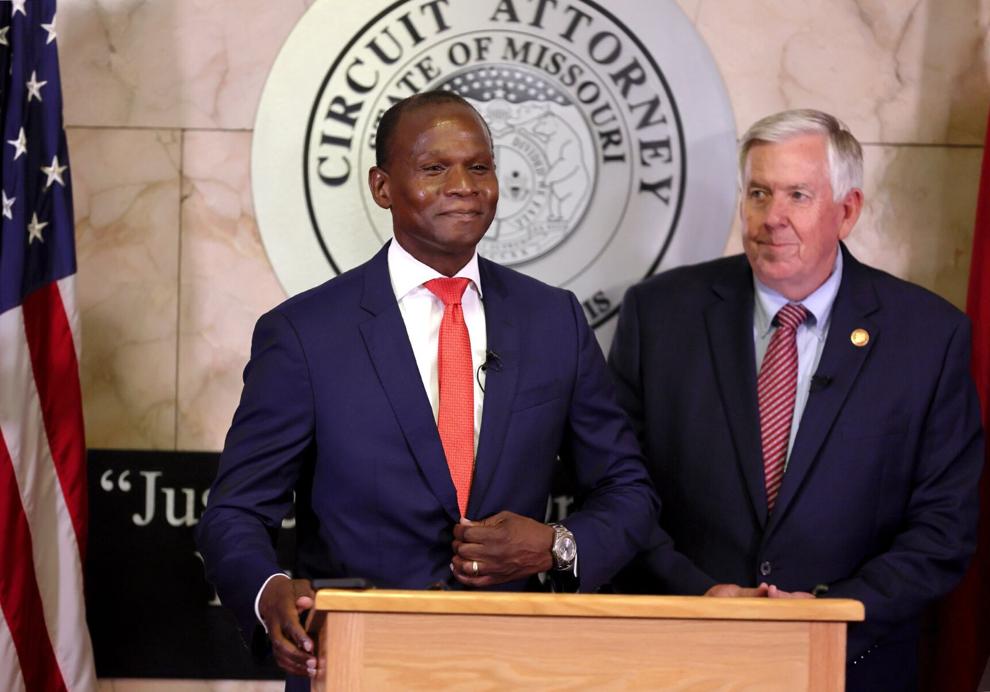 Gore grew up in Detroit before moving to St. Louis at 14. He graduated from what is now Missouri State in 1991 where he was a track and cross-country athlete and got his law degree from the University of Chicago in 1994. He had future President Barack Obama as a professor, according to an article on Missouri State University's website.
Gore clerked for Judge John R. Gibson in the U.S. Court of Appeals Eighth Circuit and then worked starting in 1995 as a federal prosecutor under his current law partner and then U.S. Attorney Ed Dowd.
Dowd and Gore were tapped in 1999 by former U.S. Sen. John Danforth, a Republican, to work on the federal investigation into the 1993 government raid on the Branch Davidian compound near Waco, Texas.
Gore became a partner at the high-powered Bryan Cave law firm in 2005. In 2008, he was rumored to be on the list of people to succeed outgoing U.S. Attorney Catherine Hanaway.
Gore joined Dowd at his Dowd Bennett firm in 2010 and handled multiple high-profile cases, including a case in which he successfully defended Anheuser-Busch against claims from a female former executive that she was paid less than her male counterparts.
He was also part of a team of attorneys that represented former Republican Gov. Eric Greitens during a lawsuit claiming the governor violated the state's open records law by using an app that deleted text messages.
Dowd said in an interview that Gore is "a great lawyer in every respect."
"He's very intelligent and a quick study, and he's got common sense," Dowd said. "He knows how to put the law together with the facts and come up with a very persuasive argument — whether it's to a judge or jury."
In 2014, Gore served on the Ferguson Commission in the wake of uprisings over the police killing of Brown. He said at the time his hope was that the outcome of the unrest "will be that we grow stronger and more connected as a community." Gore was also a founding board member of KIPP charter schools and has served on Missouri State University's board.
Parson, a Republican, selected Gore on Thursday out of 18 applicants.
"He brings an abundance of legal experience, experience as a prosecutor, managerial leadership, and common sense beliefs in law and order that would be critical in the effective restructure of this office," Parson said Friday.
Parson said he did not care about Gore's political affiliation and was impressed that he was willing to leave his lucrative role at Dowd Bennett to become circuit attorney.
"To give up that and to be able to do this says a lot for the character of somebody," Parson said. "He's putting the city of St. Louis before a high-profile law firm and money."
Parson added that Gore and his wife, Nicole Gore, also a lawyer, raised children in St. Louis and still live in the city today.
"Mr. Gore has a tall task ahead of him, but we are confident he is the right man at the right time to do right by the people of St. Louis," Parson said.
Erin Heffernan of the Post-Dispatch contributed to this report.
Circuit Attorney Kimberly M. Gardner announced Tuesday she would resign immediately — two weeks earlier than expected. 
The order would have given Wesley Bell the full powers of the Circuit Attorney's Office, but no judge had signed it when Kim Gardner resigned. 
It takes cops, social workers, prosecutors and medical pros working together to treat a public health crisis. In St. Louis, the homicide problem also will take working across city and county boundaries.
New faces swept in to help mop up St. Louis courts on Wednesday, the first day in six years Kim Gardner was not the top prosecutor in the city. But court proceedings remained largely the same.