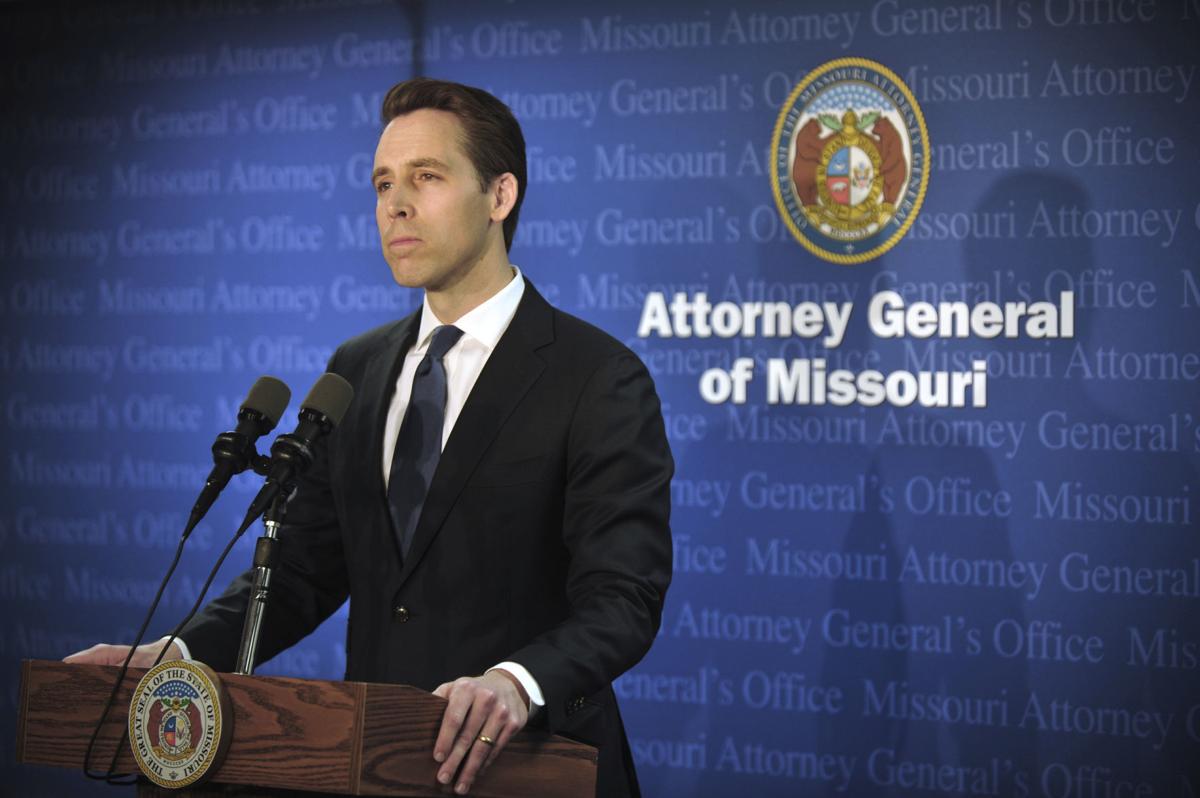 JEFFERSON CITY • Lawyers for two of Missouri's top Republicans sparred in Cole County court on Thursday, with an attorney for Gov. Eric Greitens asking a judge to bar Attorney General Josh Hawley from investigating the governor.
Greitens, a former Navy Seal, founded The Mission Continues in 2007. His alleged use of a fundraising list from the charity is under investigation.
The arguments came as Hawley continues to investigate Greitens, who has operated under a cloud since news of Greitens' extramarital affair and alleged threats to his lover first broke in January. Hawley is investigating Greitens' ties to his former charity, The Mission Continues.
James Bennett, one of Greitens' lawyers, told Circuit Judge Jon E. Beetem that Hawley's critical comments of Greitens and his run for U.S. Senate showed that Hawley is not a neutral actor.
He said Beetem should appoint a special prosecutor to handle Hawley's investigation. Beetem did not rule on Thursday.
"There should be a referral to a neutral person, a neutral body who doesn't have some of these same issues," Bennett said. "One of our main points here is to just take the politics out of it."
Solicitor General John Sauer, representing the attorney general's office, said Hawley had not himself brought charges against Greitens, thus disallowing the judge from taking action. He said Hawley's April 11 call for Greitens to resign was in response to the release of a Missouri House report detailing allegations of sexual misconduct against Greitens.
"He made no statement whatsoever about conduct that was the subject of The Mission Continues investigation," Sauer said.
Sauer also said Hawley's statements last week announcing he had discovered probable cause that Greitens had committed felony computer tampering did not damage his ability to investigate.
"That doesn't disqualify that lawyer from serving as a prosecutor," Sauer said, "it qualifies that lawyer." 
Sauer also argued there was a public interest in a "prompt" investigation into Greitens and that transferring the case would mean "literally months of delay."
Hawley announced an investigation of Greitens' ties to his former charity, The Mission Continues, after a Post-Dispatch report revealed that the charity may have coordinated with Greitens' 2016 run for governor, something the charity has denied. 
Last week, Hawley said he referred evidence that Greitens took a donor list from the charity to St. Louis Circuit Attorney Kim Gardner, a Democrat. Gardner subsequently charged Greitens with felony computer tampering.
Greitens' attorneys last week initiated the court battle between the two state leaders after Hawley called on Greitens to resign earlier this month. Greitens' attorneys had initially asked Hawley to recuse himself, something he declined to do.