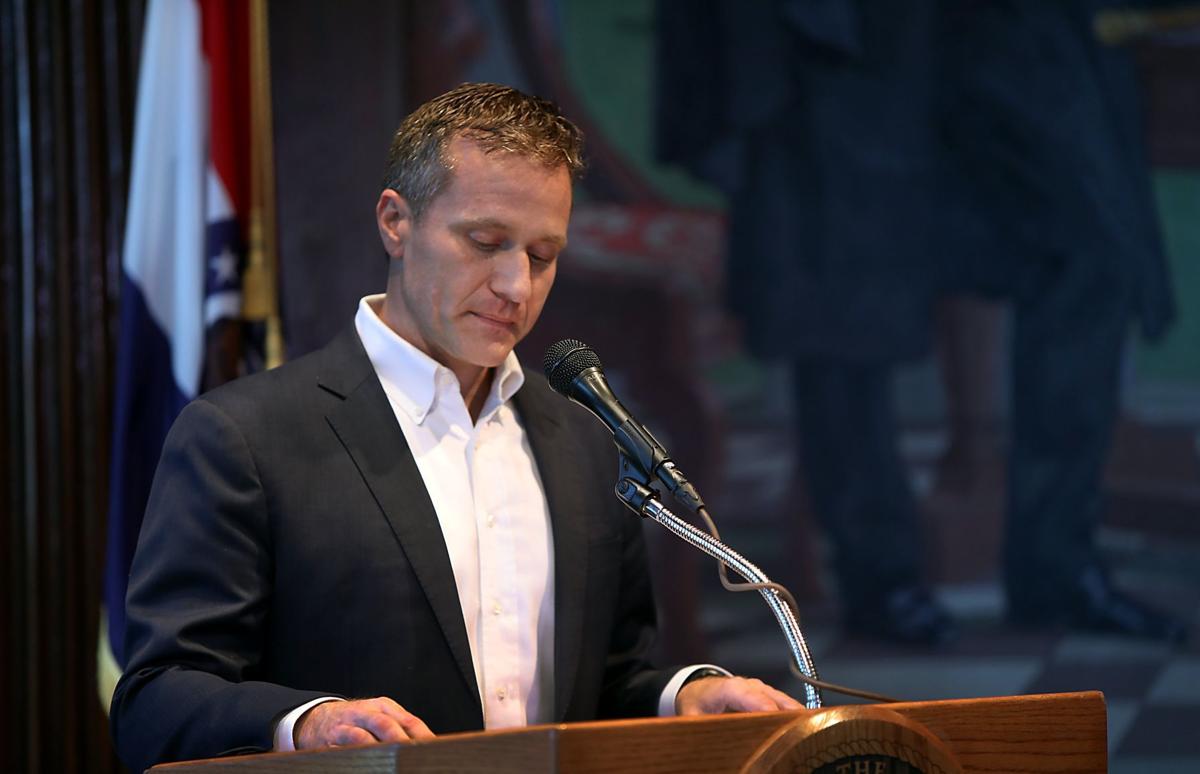 Updated at 6:15 p.m. with comment from Missouri attorney general's spokeswoman.
JEFFERSON CITY • The chairman of the Missouri House committee that investigated former Gov. Eric Greitens sent out a scathing letter Monday calling Greitens' dark-money group a "criminal enterprise" and saying that if Greitens had not resigned, the committee would have had the evidence to approve articles of impeachment.
Rep. Jay Barnes, R-Jefferson City, said in a letter to his fellow committee members that the panel possessed evidence that Greitens committed "multiple acts constituting crimes, misconduct, and acts of moral turpitude warranting the filing of articles of impeachment."
A June 25 letter sent to members of the Missouri House Special Investigative Committee on Oversight.
In sending the letter, Barnes essentially announced the end of his committee, which had been formed in February after Greitens was indicted on felony invasion-of-privacy charges in St. Louis.
After that and other scandals continued to circulate, Greitens announced on May 29 that he would resign. The announcement came hours after a Cole County judge ordered his campaign and allied nonprofit, A New Missouri, to turn over documents to the House committee.
Greitens left office June 1, and the committee suspended its push to obtain the documents.
Barnes said he did not believe the House had jurisdiction to investigate a former governor, but he offered three other entities that had the "potential" to further investigate Greitens: Attorney General Josh Hawley's office, the Missouri Ethics Commission and Cole County Prosecutor Mark Richardson.
Barnes said he was preparing a complaint to the ethics commission alleging campaign violations against Greitens' campaign and A New Missouri.
"Make no mistake," Barnes wrote. "Missourians deserve a full accounting of A New Missouri, Inc., which I have come to believe was a criminal enterprise from its inception — designed to illegally skirt donation limits and conceal the identities of major donors to Eric Greitens and ballot initiatives relating to right-to-work that were supported by the former governor."
Greitens entered office with multiple dark-money issues already swirling around his campaign. He left office having avoided publicly addressin…
Barnes called several allegations against the governor credible, including that he took a charity donor list for personal gain and misused grant funds to promote his political career.
Barnes also repeated earlier allegations that Greitens and his administration used the secret messaging app Confide for official business in violation of open-records laws. The letter also claims that a senior member of his transition team "attempted to (and may have) profited from her role on the transition." Barnes did not name the person.
Greitens' allies denied Barnes' "literary fraud" allegations on Monday.
Catherine Hanaway, who defended Greitens' campaign and A New Missouri in court previously, said in a written statement Monday, "I am really not sure what Rep. Barnes hopes to accomplish.
"He acknowledges that, since the Governor resigned, he has no more authority to investigate," she wrote. "Yet, he is still going to complain — to the MEC, prosecuting attorneys, the Missouri Attorney General and federal authorities, all of whom have known about these events for a long time and have ample investigatory powers and experienced agents. Yet none of them have filed any criminal charges against the campaign or A New Missouri."
The committee released in April explosive testimony from Greitens' former hairdresser claiming that, in 2015, before he was elected governor, Greitens took a partly nude photo of her without her consent and threatened to use it against her if she revealed their affair.
The woman also alleged that Greitens coerced her into sexual activity several times, insisting in one encounter that she give him oral sex while she was crying; and that he struck or shoved her violently on other occasions.
Barnes' letter references public comments made by Greitens' defense team during the committee's investigation, and argues that they misrepresented the woman's story to the public. Greitens' attorneys claimed at one point that the woman said she dreamed the allegations against him, and at another point that she had made "exonerating" statements to an investigator.
"Both statements ... were slanderous and, as the Committee unanimously found in an addendum to Report 1, wholly untrue," Barnes wrote.
Barnes' letter also says the committee had gathered "sufficient documentary evidence" to believe that Greitens and his campaign improperly obtained a donor list from The Mission Continues, a charity Greitens founded, "and then lied about it on a report submitted to the Missouri Ethics Commission."
"Based on the documents in our possession, I believe Eric Greitens faced a near-certain criminal conviction in the now-dismissed case on tampering with computer evidence," Barnes wrote.
Barnes claims in the letter that the committee also had evidence that Greitens engaged in criminal fraud by obtaining a grant from the John Templeton Foundation and Washington University that was used in part "for political purposes not authorized by the grant."
Monday evening, a spokeswoman for Hawley said in a statement that his office would "review any evidence" Barnes gave him.
"We will carefully review any evidence to determine whether the AGO possesses jurisdiction and if we do not, will refer that evidence to the appropriate agency," said the spokeswoman, Mary Compton.
Hawley has previously investigated Greitens' use of a text-destroying app called Confide, whether Greitens improperly used taxpayer resources for personal social media posts, and whether Greitens violated the state's charitable giving laws by illegally using charity resources for personal gain.
Both Greitens' former charity, The Mission Continues, and A New Missouri are registered by the state as public benefit corporations. Hawley previously said he had the jurisdiction to investigate The Mission Continues.