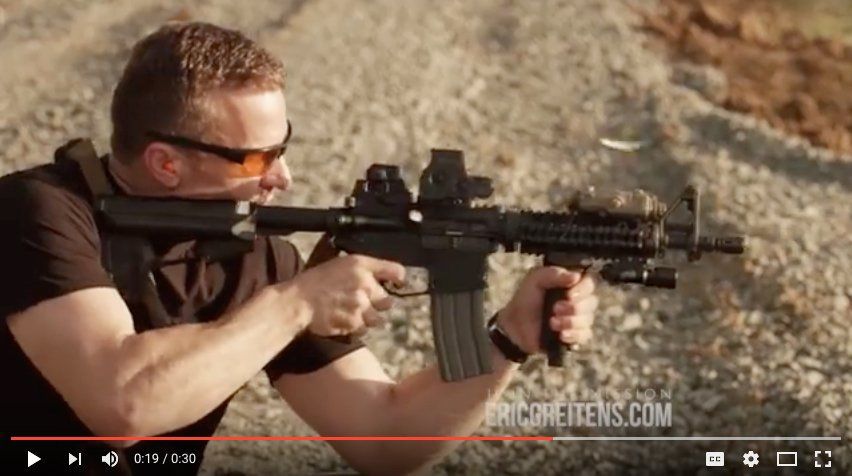 In February 2015, former Navy SEAL Eric Greitens signed a four-year commitment to return to active reserve status. Two months later, he told the Navy he was backing out of it.
What happened in between, the record now shows, is that Greitens began the extramarital affair that's currently at the center of one criminal case against him — an affair that could theoretically have tarnished his military career had he carried out his original plans and returned to active status in the reserves.
"(I) had hoped to continue to serve, but just found that I couldn't be a great Navy officer in the reserves again and a great Dad at the same time," Greitens would later explain in an email to a reporter.
He cited in particular how weekend reserve drills would cut into family time: "Weekends were incredibly precious."
Greitens went on trial Thursday in St. Louis on a felony charge of invasion of privacy. Prosecutors allege he snapped a nonconsensual photo of his extramarital lover while she was bound, blindfolded and partly undressed during their first sexual encounter, on March 21, 2015 — a Saturday.
Records show it was less than a month later, as the tumultuous affair continued, that Greitens backed out of his Navy reserve agreement, with a significant loss in pay and benefits.
Prosecutors in a second pending criminal case against Greitens allege that, around that same time, he ordered that data illegally taken from a veterans' nonprofit organization he had founded be used to raise money for his campaign for Missouri governor.
A Post-Dispatch review of records indicates that the web of legal charges, investigations and scandals Greitens faces today began with a convergence of decisions during those few months in spring 2015, as he simultaneously shelved his Navy career, launched his political career and instigated his affair.
Greitens acknowledged this year that he had engaged in the monthslong extramarital affair with his hair stylist beginning in March 2015, even as he was starting his initial political campaign. He has denied her related allegations, made in Missouri House committee hearings, that he struck, shoved, threatened and belittled her during several sexual encounters that year. He hasn't denied taking a photo that is at the center of the criminal case, but he has said everything that happened between the two of them was consensual.
Committee testimony by Greitens' former lover indicates that there was some discussion of his military career during their encounters. She alleged that he struck her across the face during one encounter (he has categorically denied any violence), and that afterward, she told him: "I think you're screwed up from being in the Navy."
Military records sought
Greitens originally joined the Navy in 2001 and rose to the rank of lieutenant commander. Over the next few years he was deployed to Afghanistan, the Horn of Africa, Southeast Asia and Iraq. He was wounded in Iraq in 2007, inhaling chlorine from an explosion by a suicide bomber. His military awards include a Purple Heart and Bronze Star.
Prosecutors have sought access to Greitens' military records as part of the current criminal case against him. What they're looking for isn't clear, as the court motion on the issue is sealed.
Greitens' defense team opposes that request, and has filed a motion to bar any layperson testimony that Greitens "suffers from any medical condition, including PTSD or other impact from military service."
Requests for comment for this story weren't returned last week from several spokespeople on Greitens' governmental, political and legal staffs.
It was during Greitens' 2016 gubernatorial campaign that The Associated Press reviewed his military records, spurred by claims of his detractors that he had embellished his service. There was ultimately no evidence of such embellishment.
What AP reported instead, based on records Greitens provided, was his oddly sudden reversal of plans in early 2015: from agreeing to four years as an active Navy Selected Reservist, with pay, weekend drills and other regular duties; to asking, just two months later, to instead rejoin the nonactive Individual Ready Reserve. IRR personnel don't drill, don't receive pay and don't have any military duties unless they are activated, which is rare.
"I cannot meet the administrative and operational demands of the Selected Reserve given my current personal and professional obligations," Greitens explained in a handwritten note to officials, AP reported.
It wasn't a cost-free decision for Greitens. The AP reported that backing out of the active reserves meant his kids would lose future access to his military education benefits, and that he might have had to repay thousands of dollars in signing bonus money.
His only explanation, to the military and to the media, was the oldest and vaguest one in politics: spending more time with family.
"Weekends were incredibly precious, vacation time limited, and doing a great job in the reserves meant too much time away" from his wife and son, Greitens wrote in an email to the AP in 2016, in response to the questions about that decision.
'Adultery is a crime'
What the news service and most others didn't know at the time was that, during the two months between signing the reserve agreement and backing out of it, Greitens embarked on his extramarital affair.
In theory, that could have put him at risk of a court-martial, had he gone ahead with plans to return to active status. Under Article 134 of the Uniform Code of Military Justice, members of the military can face court martial for personal conduct that brings "discredit upon the armed forces."
In reality, says a top military law expert, it's unlikely that a reservist would face court-martial over an affair with someone from outside the military. "Adultery is a crime in the military. The question is whether there is jurisdiction," because reservists aren't on active duty most of the time, said Eugene Fidell, an attorney and top military law expert who lectures at Yale.
But Greitens could have risked his military career by returning to active status while having an affair. Fidell said exposure of an extramarital affair by a reserve officer could prompt punishment short of court-martial, including revocation of commission and administrative discharge.
One category of administrative discharge is called "Other Than Honorable," and specifically encompasses the crime of adultery. Given that Greitens' military service was the key theme of his gubernatorial campaign, such a mark on that record could have been politically fatal.