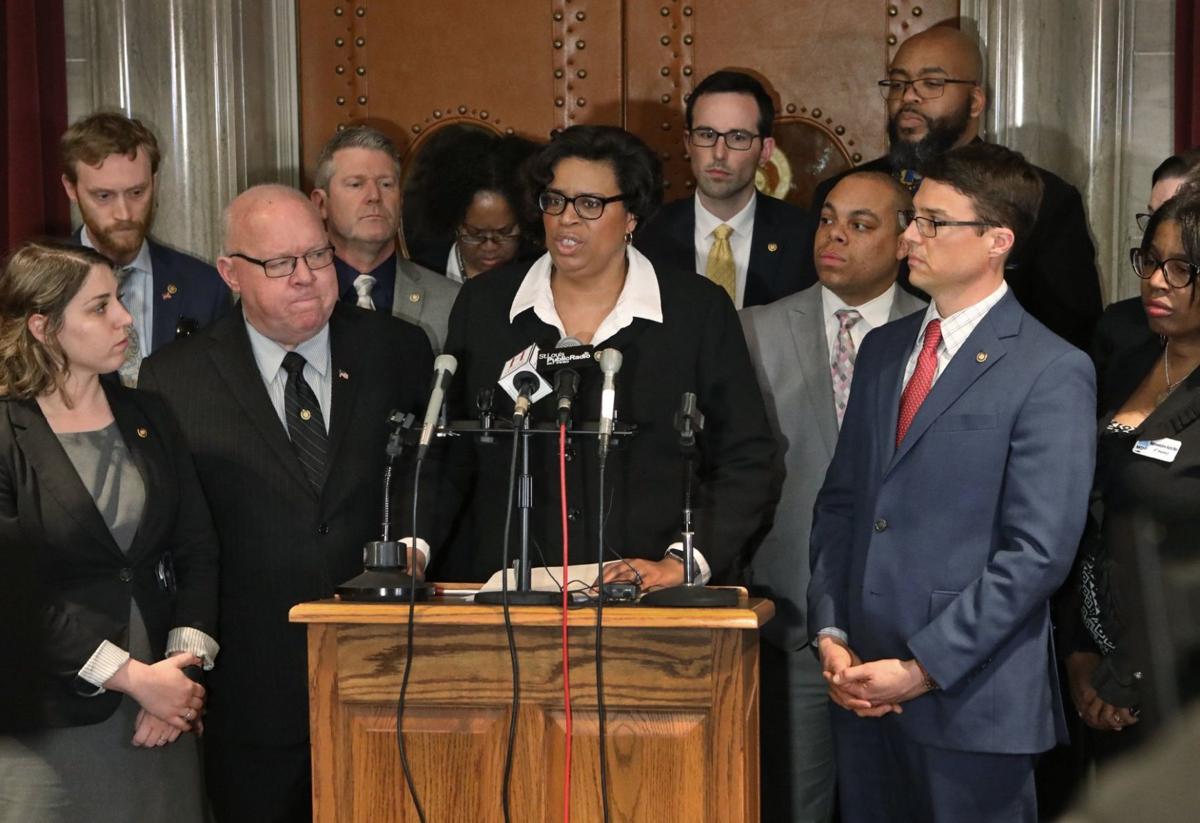 JEFFERSON CITY • Gov. Eric Greitens' problems are threatening to derail action in the House and the Senate in the final weeks of the legislative session.
The roster of proposals hanging in the balance include some legislative initiatives he supports, including business-friendly changes to the state's legal system and an anti-union measure called "paycheck protection."
A day after a House report found that Greitens struck, groped and coerced sexual behavior out of a woman he admitted to having an affair with in 2015, Democratic senators said they were considering stopping all votes on House bills until the House pushes forward with Greitens' impeachment.
That scenario has placed the fate of at least 35 House bills in limbo.
Among those calling for a blockade on sending bills to the governor's desk is Sen. Scott Sifton, D-south St. Louis County, who said the only work that should be done by the Legislature until the issue of Greitens was resolved was approving the state's $28 billion budget.
Sen. Jamilah Nasheed, D-St. Louis, also weighed in, questioning whether the Senate should be sending any legislation to the governor, whom she called "a sexual predator."
Anything "short of the call for impeachment is not good enough," she said. "This is a point of no return."
Republicans hold a 24-9 majority in the Senate, but Democrats can hold up the legislative process through the use of the filibuster.
Sen. Maria Chappelle-Nadal, D-University City, has already threatened to filibuster GOP bills during the final weeks of the spring session after she was stripped of her committee assignments when she posted on Facebook last year that President Donald Trump should be assassinated. The possibility that others will join her in the filibuster because of Greitens brings even more instability to the process.
Senate Minority Leader Gina Walsh, D-Bellefontaine Neighbors, told reporters her caucus would meet next week to decide how to proceed. She then pointed to Attorney General Josh Hawley, a Republican, who said Greitens' actions were impeachable offenses.
"I don't think we need to wait for a special session. I don't think we need to spend the taxpayers' dollars on a special session," Walsh said. "The top law enforcement agent in this state has said that there is cause for impeachment proceedings to begin, and I think we should listen to him."
Democrats in the House also want quick action on Greitens.
"During the five weeks remaining in the legislative session, the House must dedicate itself and its resources to pursuing the impeachment process to its conclusion. Aside from passing the state budget — the General Assembly's only constitutionally required duty — all other matters can wait," said House Minority Leader Gail McCann Beatty, D-Kansas City.
The base cost of a special session would be at least $24,000 per day to cover lawmakers' daily expenses. Other costs include mileage and extra personnel in both chambers.
The list of legislation in limbo includes controversial bills that Democrats would normally attempt to block regardless of the fight over Greitens.
For example, a long-running GOP effort to repeal the state's prevailing wage law, which sets pay rates on public construction projects, is awaiting action in the Senate.
Business-friendly changes to the state's civil litigation system also are pending in the Senate. Rep. Bruce DeGroot, R-Chesterfield, is the sponsor of House Bill 1645, which would modify provisions relating to damages due to exposure to asbestos.
House Bill 1413 would require unions to annually obtain consent from members and nonmembers for paycheck withholdings. Sen. Bob Onder, R-Lake Saint Louis, is sponsoring the bill in the Senate.
Rep. Shamed Dogan, R-Ballwin, has been pushing House Bill 1500 for four years. It would reduce regulations on hair braiders.
Dogan said the potential for business to grind to a halt in the Senate was a concern.
"I've been working on the hair-braiding issue for four years. We're at a point that we have 90 percent agreement on the bill. I'm confident that as soon as we get that bill on the Senate floor, we'll be able to pass it. But we have to get to that," Dogan said.
Rep. Jean Evans, R-Manchester, is sponsoring House Bill 1630, which would raise the legal age for marriage. She said that so far this year, the two chambers had cooperated well and "I'm hopeful that that will continue."
If lawmakers delivered her measure to the governor, Greitens could either sign her measure into law or leave it in legislative limbo — not vetoing it or signing it — at which point it would become law.
Evans has said that Greitens' weighing in on matters involving sexual consent presented a conflict of interest. Under her bill, if a person is younger than 17, a judge would have to determine the person that is not being coerced or abused before issuing a marriage license.
"No comment," Evans said when asked if she would like Greitens' signature on her bill.
Rep. Phil Christofanelli, R-St. Peters, is sponsoring House Bill 1858, a plan to require the state to produce maps of all special taxing districts on its website.
Christofanelli said impeachment talk should wait until the governor goes to trial.
"I will not be bullied by Senate Democrats into moving impeachment before our duly elected governor has had his day in court," he said. "The difference between a politician and a statesman is the willingness to sacrifice one's own priorities when the character of our state or country is at stake."
Rep. Paul Curtman, R-Pacific, is sponsoring House Bill 2034, which would allow for the production of industrial hemp in Missouri.
Greitens' push for a ban on lobbyist gifts also would be caught up in the bottleneck.
House Bill 1303, a measure that would place limits on how much lawmakers can receive from lobbyists, has been sitting in the chamber since January.