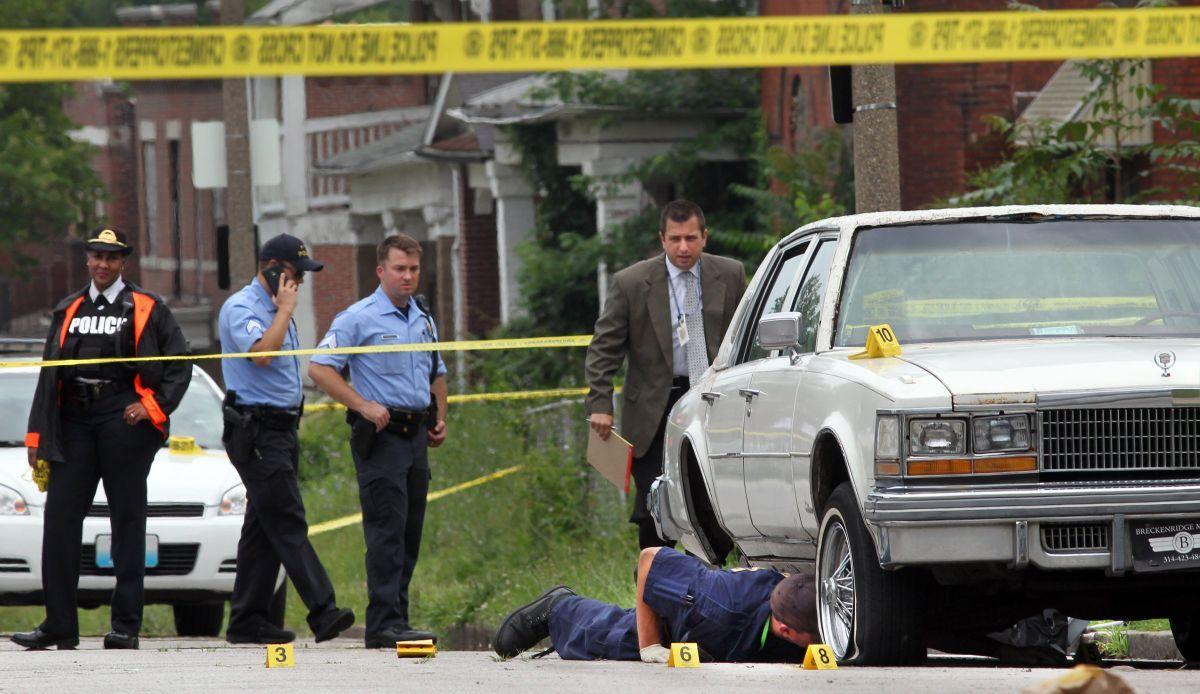 ST. LOUIS • The bodies are found on downtown streets and neighborhood alleys. Near O'Fallon Park in the north, and Gravois Park in the south.
Their number is tallied nearly every morning. Two, three, four — sometimes more.
With the homicide rate on target to reach its highest level in 20 years, St. Louis police are coming under increasing pressure. So is the man who two years ago won control of the department to hold it more accountable.
"I wouldn't want to be in Mayor Slay's shoes," said Todd Swanstrom, a professor who specializes in urban politics at the University of Missouri-St. Louis.
Mayor Francis Slay wrested oversight of city police from the state in 2013, the first time since the Civil War. With the change has come more power over police strategy, but also more political responsibility for it.
Previously, the department was overseen by a five-member board: the mayor and four board members appointed by the governor.
"It's not an easy task," Swanstrom said. "A lot of it is managing perceptions. The headlines are very damaging to the city — and frightening."
After a particularly violent weekend last week, the number of murders soared above 100 already this year. That's 60 percent higher than the number of homicides at the same time last year, which itself had seen a 30 percent increase from the prior year.
The situation has put Slay in unfamiliar territory.
The city's longest-serving mayor, Slay saw a sharp decrease in homicides after he first took office in 2001. By 2003, under former Chief Joe Mokwa, the annual number of murders dropped to 74, the lowest in generations.
Throughout Slay's tenure, it stood relatively even, in the 110-130 range. But last year, it spiked to 159. This year it is on pace to reach 190, the highest since 1995, but still lower than peaks in the late 1970s and '80s. A recent tally showed that most other crime categories are up too.
"This type of crime wave offers a focusing event," said Swanstrom. "You need a combination of the iron fist and the velvet glove."
Politically, Swanstrom said mayors must appear forceful and tough, but also understanding of the city's social needs.
"That's why he's pushing hiring more police, but also talking about summer jobs for teens and raising minimum wage," Swanstrom suggested.
Slay, in an interview with the Post-Dispatch, said, "We've got a handle on it." He added, "We are going to get results. We are absolutely committed to that. We don't give up."
It remains unclear whether the homicide spike will politically hurt Slay, who doesn't seek re-election until 2017. Homicide numbers have risen before, particularly in 2008, and Slay was re-elected the following year. "This is not about re-election to me," Slay said. "This is about protecting the people I represent, the neighborhoods that I represent, and of course my family who live in the city as well. So it's much more personal. This is not political."
Ken Warren, a political scientist at St. Louis University, said it is too early to tell if the current increase will cause any damage.
"It definitely is a problem for him," Warren said. "How much of a problem is debatable. He is a very strong mayor. Slay has managed to avoid controversy. That's part of the reason why he has been successful."
Warren said any challenger may have to run to the ideological right of Slay to defeat him with the issue, because voters tend to gravitate to law-and-order candidates during times of high crime.
"A candidate who made law-and-order the cornerstone and has credentials as a law enforcement person could make some headway," Warren said.
That happened most notably in New York in 1993, when a former top federal prosecutor, Rudolph Giuliani, defeated then-Mayor David Dinkins. The city had seen a rise in racial unrest and crime. Giuliani zeroed in on New Yorkers' fears and assailed Dinkins on being weak on quality-of-life issues such as homelessness, panhandling and street disorder.
Giuliani's rhetoric, which came on the heels of the 1991 Crown Heights riots, grew so aggressive that he vowed a crackdown even on the city's squeegee men.
But that type of response might be more difficult in the post-Ferguson era, where elected officials have preached a softer approach focused on social issues.
Slay cultivated a tough-on-crime image during his years in office, often invoking the word "thug" to describe criminals using guns against innocent victims. But he has dropped use of that word, saying some people were offended by it.
"It's about being educated," Slay said.
Slay added: "We've had a more sensitive approach."
"We forgave the warrants," Slay noted. "We didn't forgive the crimes."
Most of the pressure to fix the homicide problem is on Police Chief Sam Dotson.On Monday, Dotson stood with Slay and other regional leaders to unveil a crime-fighting partnership that's been underway since late last year. They said 50 police officers from St. Louis and St. Louis County, and federal agents from the FBI and Drug Enforcement Administration, have been working to reduce the carnage, focusing on violent offenders and drug traffickers. They've made arrests and taken guns, drugs and illicit cash off the streets, they said.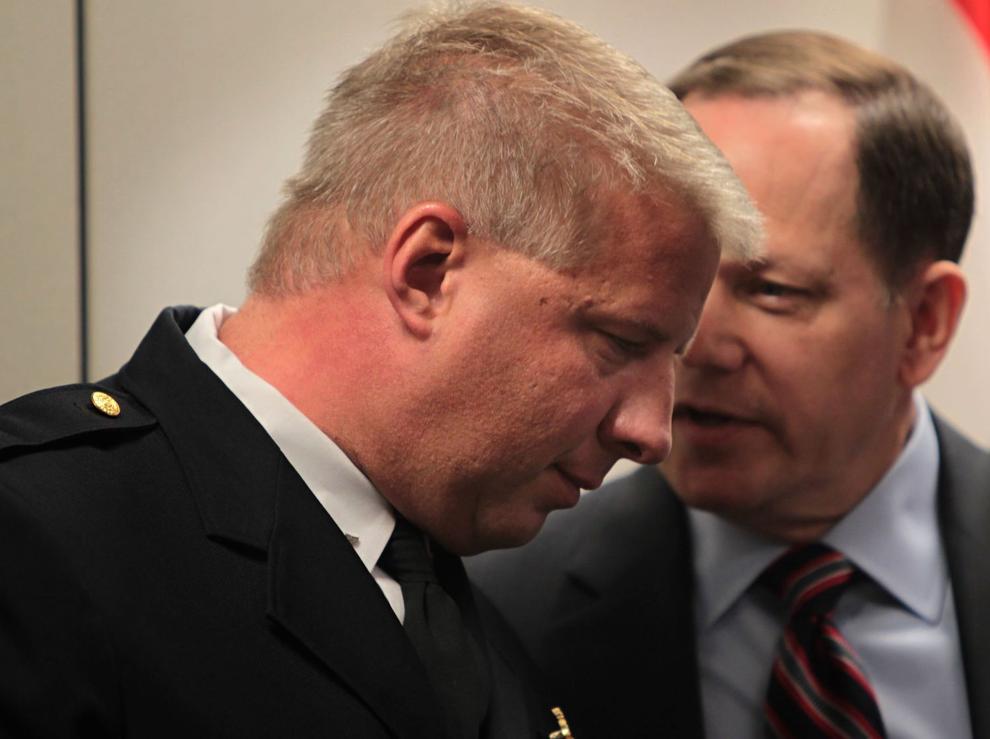 Dotson, who was named chief in 2012 after taking a hiatus from the department to serve as city operations director, said the region's "fracturedness is what holds us back." He said working across jurisdictions on issues such as guns, drugs and homelessness will help.
He also notes that homicides have spiked throughout the nation in cities such as Chicago and Milwaukee, the latter of which has seen a 100 percent rise in murders this year.
"You have to take a snapshot about what's going on around the country," Dotson said. "Two dozen other cities are experiencing these crime increases."
Chicago has seen a spike in murders, and is on pace to surpass the 433 homicides it had in 2014. But, unlike St. Louis, those homicides have stayed away from its downtown area.
Some other cities have not seen dramatic increases. In 2014, Kansas City had its lowest murder count in nearly 50 years. As of July 1, it had just one more homicide than in the same period last year.
St. Louis has studied Kansas City's approach, and is looking at strategies across the nation to figure out the best response.
Dotson said local control has helped police cut through the bureaucracy and made it easier to change policy. He also said it has produced little operational change, but has helped focus a department that once had to please five police board members. Now, it answers to just one: the mayor.
"It's streamlined so the mayor's priorities are the police department priorities," Dotson explained. "Crime, education and jobs are his top three priorities."
Dotson and Slay championed a proposal to hire 160 more police officers through a ballot initiative. That plan stalled at the Board of Aldermen, which turned its focus to issues such as the minimum wage.
"That bill is sitting over there, and it's not moving anywhere," Slay said. "We have a collective responsibility here. I'm accountable. I'm the mayor. The buck stops here. But let's be real clear about it. Leadership doesn't come from one location. We have a lot of people who represent the people of St. Louis who we need some help with."
In the near-term, Slay is pushing a $180 million bond issue that could give the police more tools.
"There is a lot to this stuff," Slay said. "It's not simple. Although some will try to make it simple."
| | Crime |
| --- | --- |
| | Shooting |
| | Unspecified Homicide |
| | Police Shooting |
| | Child Abuse |
| | Vehicular Homicide |
| | Suspicious Death |
| | Stabbing |
| | Arson |
| | Asphyxiation |
Related: