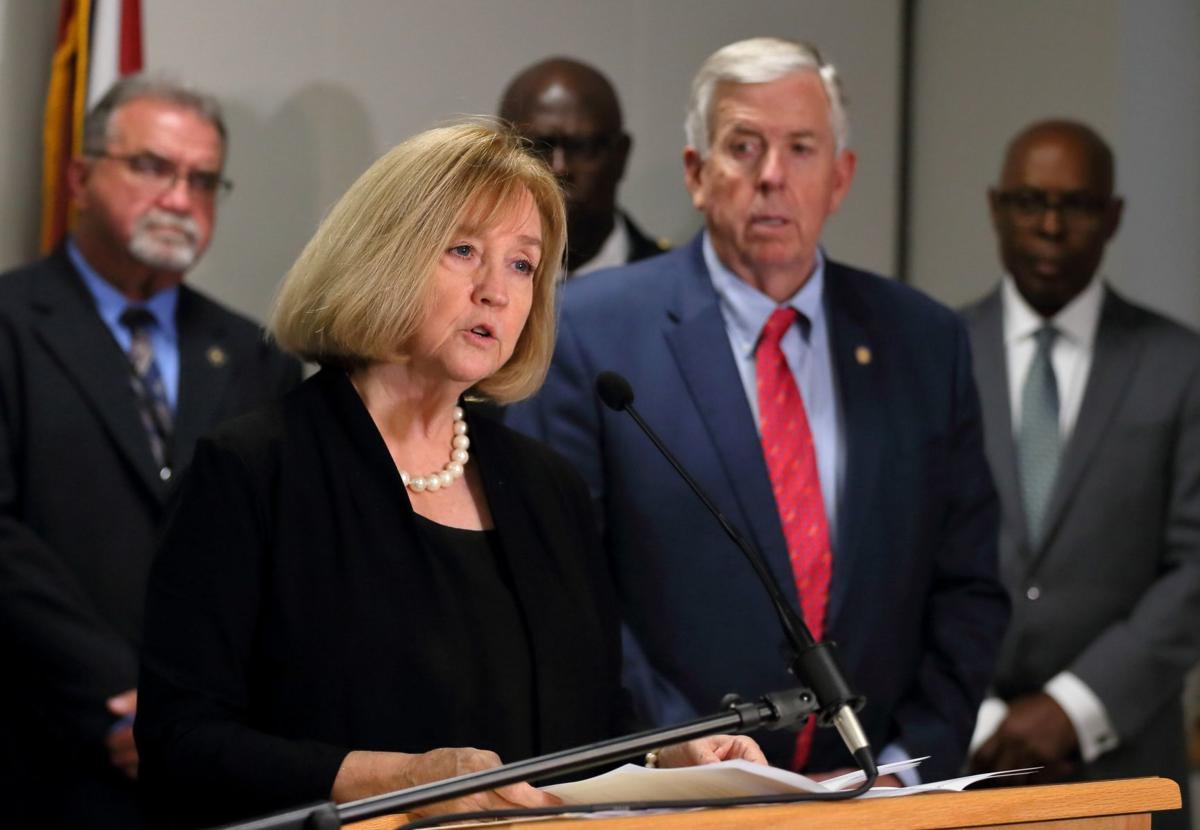 JEFFERSON CITY — An attempt by Gov. Mike Parson and the mayors of Missouri's larger cities to address gun violence is off to a rocky start even before lawmakers return to the Capitol.
The chairman of the House committee most likely charged with vetting the plan says no one from the governor's office contacted him before the broad outlines of an anti-violence proposal were announced last month.
And, said Rep. Kenneth Wilson, R-Smithville, no one has contacted him about the blueprint since.
"No one has said a word about it to me. I'm not disgruntled, but I am disappointed," said Wilson, who oversees the House Crime Prevention and Public Safety Committee.
In late November, Parson met with the mayors of St. Louis, Kansas City, Springfield and Columbia and announced his support of stricter gun possession laws focused on juveniles, domestic abusers and prior offenders.
Parson, a Republican who is running for a full term in 2020, acknowledged the potential legislative package was a limited fix and said any additional gun-related legislation would be part of a longer-term discussion.
But, as Wilson said, the proposal was announced with little or no input from members of the Republican-led Legislature, who have voted in recent years to make it easier to own and carry firearms.
"I wasn't advised and I wasn't invited," Wilson said of the meeting.
He also noted the absence of House Speaker Elijah Haahr, R-Springfield, from the meeting.
"That might have been an important person to have sitting at the negotiating table," Wilson said.
On Wednesday, Parson hosted a closed-door breakfast at the Governor's Mansion for Senate Republican leaders.
Even after that, Parson spokeswoman Kelli Jones said the governor had not gauged support for the plan with any members of the House or Senate. She also said he had not sought out any potential sponsors of the legislation in either chamber.
The lack of outreach by Parson's office comes at a time of transition in his administration. Former Rep. Justin Alferman, R-Hermann, who served as the governor's liaison with the Legislature recently left for a position in the private sector. His former communications director, Steele Shippy, left the state payroll earlier this year to serve as his campaign manager.
Parson, a former sheriff of Polk County who served in both the House and the Senate, has pledged his support of the Second Amendment, but also is facing a challenge from Democratic State Auditor Nicole Galloway, who could run strong in the state's crime-plagued urban areas.
At the same time, rural Missouri lawmakers such as Rep. Jered Taylor, R-Republic, have pushed to ease laws on guns. Taylor, for example, introduced legislation earlier this month to allow people to carry concealed weapons in churches and bars.
Wilson, a 30-year veteran of law enforcement in Platte County, said he's unsure whether there is a need for any significant changes in gun laws.
"We've got enough on our plate. Some of that stuff we don't need to be dealing with," Wilson said.
He said federal law already applies to some of the provisions backed by Parson and the mayors.
State and federal statutes already make it illegal for a felon to be in possession of a firearm. The legislation backed by the mayors and Parson would give prosecutors more power to make deals with violent offenders to voluntarily surrender their Second Amendment rights in exchange for a lesser sentence.
Federal law also makes it illegal for some domestic violence suspects and convicts to own a weapon. But, there are no state-level laws to remove guns from the hands of domestic abusers.
Federal law also requires anyone purchasing a handgun to be at least 21, with the age limit set at 18 for long guns.
"I'm not at all sure where all of this is going," Wilson said.