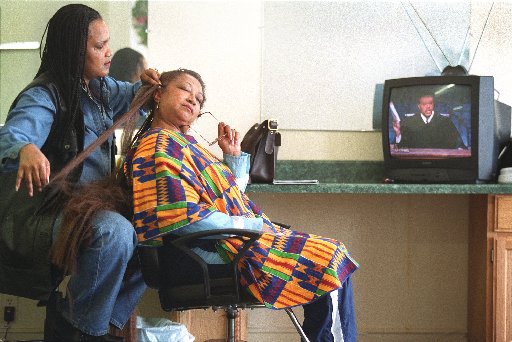 ST. LOUIS • Training for a Missouri cosmetology license, which takes 1,500 hours and can cost $16,000, includes no instruction on African hair braiding.
But a hair braider who does it without the license — even using no dyes, chemicals, flat irons or other equipment — risks misdemeanor charges and fines, according to a lawsuit filed in federal court here Monday to challenge the law.
It is the latest cause for the Institute for Justice, whose suits across the country have argued against regulation of occupations from filing horses' teeth to embalming, tooth whitening, tour guiding, street vending and alternative taxi services such as Uber and Lyft.
The organization plans a formal announcement of the suit this morning.
When it's easier to become an emergency medical technician than a cosmetologist, "there's something wrong here," institute lawyer Greg Reed said in a telephone interview Monday. "We believe the Constitution protects the right of an individual to engage in the occupation of their choice, free from unreasonable government regulations."
The institute counts "economic liberty" among the four pillars of its cause, along with "private property," "school choice" and "First Amendment."
A Wall Street Journal profile in 2012 called the group "the most influential legal shop that most people have never heard of."
The institute was founded more than 20 years ago with seed money from libertarian and anti-regulation billionaire brothers Charles and David Koch, and receives much of its funding from conservative foundations.
It styles its work as a fight for small businesses against regulators who restrict competition and create a "barrier for entry" to people of modest means.
Reed said that Missouri inspectors have taken action against hair braiders for the "unlawful practice of cosmetology." One case was recently dismissed, he said, and another is "percolating through the courts."
Monday's suit was filed on behalf of Tameka Stigers, of Locs of Glory in St. Louis, and Ndioba "Joba" Niang, who runs Joba Hair Braiding in Florissant. Both have performed the hours-long braiding process for years without licenses and say they fear prosecution.
The complaint claims Missouri regulations are "arbitrary, excessive, and anachronistic," depriving Niang and Stigers of work and the community of their services, in violation of the U.S. Constitution's 14th Amendment.
Reed said that Niang went through 1,000 hours of Missouri's apprenticeship program but dropped out because the licensed mentor couldn't teach her anything about African hair braiding.
Niang did not return a call seeking comment. Stigers said Monday she did not have time to talk.
A spokesman for the Missouri Department of Insurance, Financial Institutions and Professional Regulation referred a reporter to state regulations governing cosmetology. He did not respond to questions about whether or how often the regulations were being enforced against hair braiders.
Wayne Kindle, who is president of the Board of Cosmetology and Barber Examiners and also runs his own training center, did not return a call seeking comment.
Betty Leake, the board vice president, declined to comment as a board member. She also is former head of the National Interstate Council of State Boards of Cosmetology.
"As a past president of NIC, the only thing that I can tell you is that each state is different. Some states regulate ... and some states do not."
She explained, "It's not the style that anyone wants to regulate, it's the sanitation and disinfection." She said braiders must learn about certain scalp and skin diseases to help prevent contagion.
Illinois requires 300 hours of training for new hair braiders. Others are grandfathered in, with a requirement that they complete at least 65 hours of health, safety, hygiene and business management training to renew their licenses.
Reed claimed, "We have won every hair braiding case that we have brought in one form or another." An institute spokeswoman provided a list of eight states where the institute counts two court victories, five legislative wins and one administrative victory — when Washington state decided that "natural hair braiding" did not require licensing.
Reed said a Utah lawsuit filed on behalf of Jestina Sunkarie Bangura-Clayton is the most similar to Monday's suit.
In 2012, U.S. District Court Judge David Sam ruled that Utah's licensing "is so disconnected from the practice of African hair braiding, much less from whatever minimal threats to public health and safety are connected to braiding, that to premise Jestina's right to earn a living by braiding hair on that scheme is wholly irrational and a violation of her constitutionally protected rights."
He quoted a 1915 Supreme Court decision in saying that a right to work in common occupations "is of the very essence of the personal freedom and opportunity that the Constitution was designed to protect."
Sam found that Utah never investigated whether African hair braiding was a public health threat.