ST. LOUIS • After numerous drug overdoses, police calls and complaints from the Clifton Heights neighborhood, city officials are pressuring the owner of Hampton Courtyard Apartments to close and clean up the problem property.
"I need it to be empty, completely empty, and started again," Associate City Counselor Richard Sykora told the owner, Cuong Tran, during a meeting Monday that included police and neighbors.
"The problem is," Sykora added, "your building is a haven for criminal activity."
In addition to better tenant screening, Sykora said the 37-unit complex in the 2500 block of Hampton Avenue needs numerous repairs to address building code violations. He told Tran that he faced the possibility of having a hearing in 20 days to close the complex for a year.
"There are some very, very good tenants," Tran told him.
The Post-Dispatch was soon told to leave the meeting, which police said was not open to the public.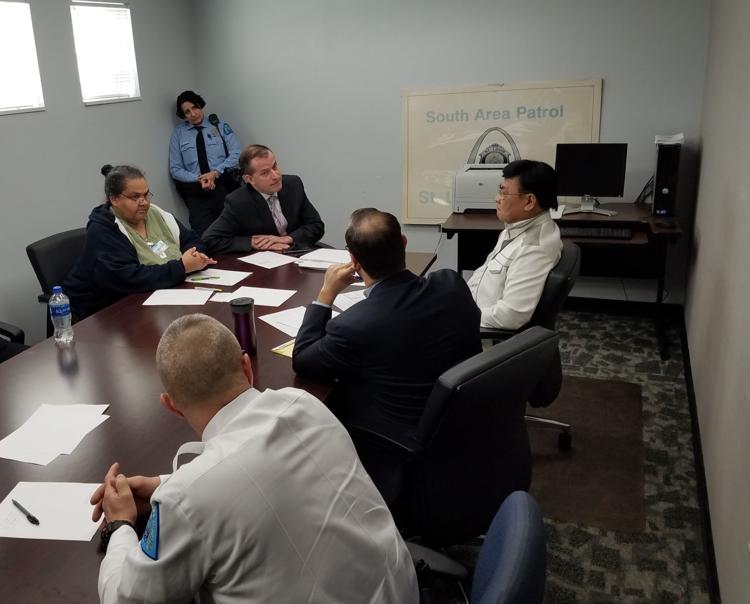 On Tuesday, Tran, of south St. Louis County, didn't return a call for comment. Sykora said in a prepared statement: "We are in discussions with Mr. Tran and his attorney, and exploring all remedies under the city's Public Nuisance ordinance, building code and Trash Task Force enforcement."
In October 2018, the director of public safety determined that Hampton Courtyard Apartments was a nuisance for incidents that included flourishing of weapons, domestic disturbances, shots fired, drug use and sales, assaults and other unruly behavior.
According to a copy of the notice obtained through a public records request, a meeting was to be held in November with Tran, who was also supposed to "immediately initiate reasonable abatement measures."
Given the tone of Monday's meeting, those measures apparently haven't been met.
George Bell, 64, who attended the Monday meeting and owns property nearby, said he didn't see any other option than closing the complex until the buildings were cleaned out and improved.
"I don't think Mr. Tran is in a position to do it unless he's forced to do it," he said.
Tran also faces public nuisance notices for apartment complexes at 4200 Meramec Street, 4515 Gravois Avenue and 3923 Chippewa Street, officials said.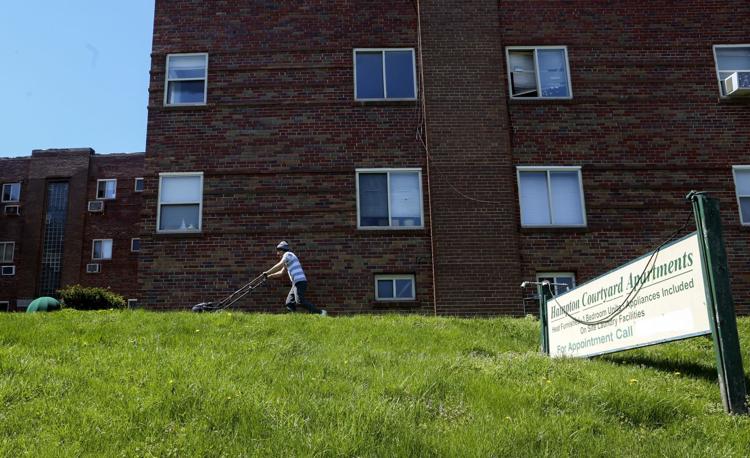 On Tuesday afternoon, a man was mowing grass at Hampton Courtyard. Inside, Jeffrey Garrison, 27, sat in a littered stairwell, smoking cigarettes. He said he and his fiancée were temporarily staying there until their tax refund arrived.
As he scratched his arms, he said there are bedbugs.
"It keeps us up all night," he said.
Tina Wampler, 52, a cashier and home health care provider, said she pays $500 a month for a one-bedroom apartment there. She wasn't aware that the complex faced being shut down, but she agreed it was time.
"It's gotten beyond ridiculous," she said.
Wampler said Tran gets a lot of tenants from re-entry and drug rehab programs, which may explain why the phone number on the sign in front of the complex has been covered up.
"He'll go to these rehab places and get people because it's guaranteed money," she said.