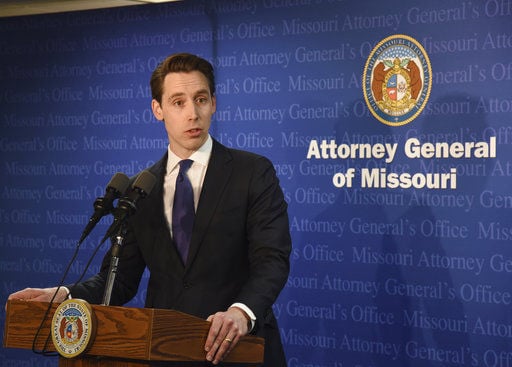 JEFFERSON CITY • Attorney General Josh Hawley's office has deposed Danny Laub, who served as Gov. Eric Greitens' campaign manager in his 2016 campaign's early days, the Post-Dispatch has learned.
"I can confirm that a representative from the attorney general's office deposed Danny Laub," said Loree Anne Paradise, deputy chief of staff for Hawley.
She said the deposition took place in Washington, D.C., between April 14 and April 18. She would not say who questioned Laub, what type of questions were asked, or whether his deposition was shared with any other investigators.
Sandy Boxerman, a Clayton-based attorney representing Laub, told the Post-Dispatch the deposition occurred last Wednesday after Hawley's office issued Laub a civil investigative demand, which is similar to a subpoena.
"Danny did sit for that deposition, was completely truthful and forthcoming and cooperative," Boxerman said. "What happens beyond this point is in the hands of other people."
Boxerman would not get into the specifics of the "multi-hour" deposition, but said questions generally revolved around the campaign's use of a donor list from The Mission Continues charity. He said the deposition occurred in Washington because Laub lives in Virginia.
On April 17, Hawley, a Republican, announced that his office had uncovered evidence that Greitens committed felony computer tampering when he used the charity donor list to raise campaign money during the 2016 election.
Laub is a central character in the ongoing controversy surrounding Greitens' use of the donor list. Greitens founded The Mission Continues in 2007 and left in 2014.
In an October 2016 Associated Press report, Greitens denied using the list to raise funds during the campaign.
But Democrats filed a complaint with the Missouri Ethics Commission after the AP broke news of the list's apparent use. Democrats said Greitens' campaign received an in-kind donation without reporting it on campaign disclosure forms.
In an April 2017 settlement with the ethics commission, Greitens admitted the campaign did use the list and didn't report its receipt. In amended campaign filings, the campaign said it received the list, which it valued at $600, from Laub on March 1, 2015.
It was unclear for almost a year how Laub obtained the list.
The Post-Dispatch reported in February that Krystal Taylor, a former employee of The Mission Continues, sent the list to Laub and another Greitens staffer, Michael Hafner, on Jan. 6, 2015 — nearly two months before the campaign had said. When she sent the list, Taylor worked for The Greitens Group, a company which manages Greitens' books sales.
The revelation raised questions about whether Greitens' campaign team purposefully filed a false campaign form, which is a Class A misdemeanor under Missouri law.
After the Post-Dispatch report, other instances of Greitens using assets from his former charity came to light, including his use of a charity email address to arrange a political meeting and apparent use of a charity email list for campaign purposes.
Charity insiders are forbidden under federal law from using charity assets for personal benefit. Such use can also jeopardize a charity's tax-exempt status.
Hawley launched an investigation into The Mission Continues charity in late February. His office subsequently announced it had issued 15 civil investigative demands, similar to subpoenas, in the case. He also issued a subpoena to Greitens himself, through his company The Greitens Group.
Hawley announced last week he was turning over the evidence of felony computer tampering to St. Louis Circuit Attorney Kim Gardner, a Democrat.
Gardner charged Greitens last week.
On Friday, the Kansas City Star reported, citing an unnamed source, that Hawley's office had also turned over evidence to Cole County prosecutor Mark Richardson indicating that Greitens purposefully filed a false campaign document. 
Richardson has not announced any charges, and has not responded to multiple inquiries.
Meanwhile, attorneys for Greitens have tried to put the brakes on Hawley's investigation. In Cole County Circuit Court this week, they argued that Hawley could not conduct a credible investigation.
They said he had a personal stake in the outcome of the investigation because of his U.S. Senate campaign, and said Hawley's public statements condemning Greitens had violated court rules.
Circuit Judge Jon E. Beetem sided with the attorney general's office in a ruling announced Friday, saying a rule precluding "extrajudicial comments" from prosecutors only applied to criminal cases. He said Hawley had not charged Greitens with a crime.