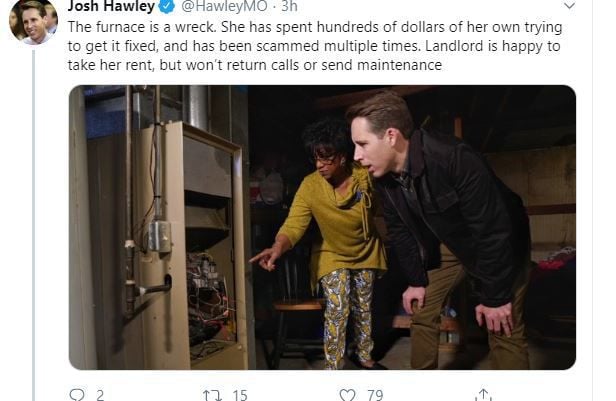 BRIDGETON — Sen. Josh Hawley on Saturday visited an apartment complex whose owners are under fire for letting thousands of units fall into disrepair, leaving rooms moldy, ceilings collapsed and heaters and air conditioners broken.
Hawley, R-Mo., said he found the conditions "shocking," and called for the landlord, T.E.H. Realty, to be held accountable.
He spoke with several tenants at the Bridgeport Crossing Apartments on Saturday afternoon and toured some apartments, Hawley said on Twitter. Tenants told him of black mold, broken windows, run-down furnaces and busted-down doors.
"We know of over 20 apartments without heat," Hawley wrote.
I've spent this afternoon at Bridgeport Crossing Apartments in St. Louis County. This is the neighborhood owned by TEH Realty, which this week I asked US Attorney & HUD to investigate. After seeing myself I can say conditions are shocking & landlord must be held accountable pic.twitter.com/nUKiIgVWR1

— Josh Hawley (@HawleyMO) November 23, 2019
T.E.H. Realty has properties in St. Louis and Kansas City — at least 2,400 units here, as of March — and has been under fire for more than a year. Recent complaints include their failure to pay employees and fix more than $900,000 in "life safety" repairs.
Last week, state Sen. Jamilah Nasheed, D-St. Louis, called on Missouri Attorney General Eric Schmitt to investigate T.E.H. Realty over improper evictions, poor living conditions and unpaid bills.