CLAYTON • A former Hazelwood dispatcher who helped organize fundraisers for a police officer who was paralyzed in the line of duty was charged Tuesday with stealing some of the money to gamble.
April Briscuso, 40, was arrested in November amid an investigation into whether she pocketed some of the money she helped raise for former Officer Craig Tudor. He was paralyzed from the chest down in a car crash more than a year ago while he was on his way to a call.
Briscuso was charged Tuesday. Her bail has been set at $75,000.
St. Louis County police say between June and September, Briscuso organized several fundraisers for Tudor, and admitted to stealing at least $9,500, according to court documents.
She told investigators she took cash donations to gamble at casinos.
The documents also show that Tudor and his wife, Christine, told investigators they had not received the proceeds from several events hosted in their name, with the exception of checks made payable to officer Tudor or his wife.
Investigators concluded that Briscuso told donors to make checks payable to her even after Tudor told her to stop doing so. She told Christine Tudor that she had been depositing donations into her personal account, according to the documents.
She does not have an attorney listed. She has not returned messages seeking comment since charges were issued.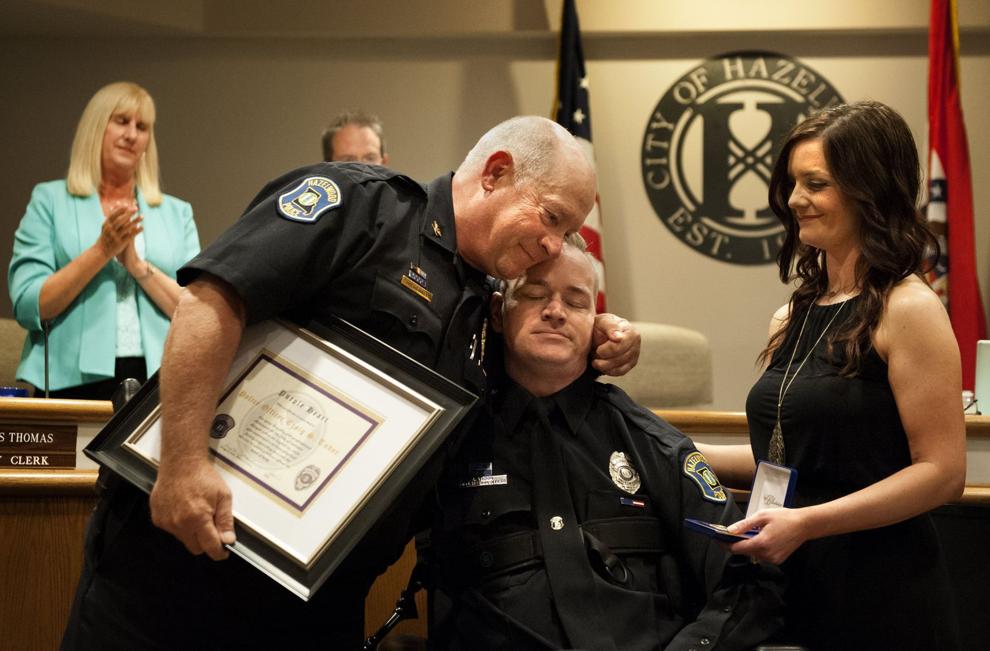 Some of the fundraisers Briscuso organized included a Cardinals game, a dine-out event and a painting night. Following her arrest, Briscuso told the Post-Dispatch in a series of messages on Facebook that she raised more than $75,000 for Tudor and intended to pay him all of the money she owed him.
The Tudors have said they received "nowhere near that amount." They declined to comment about the charges.
Hazelwood police asked St. Louis County police to investigate the case after allegations surfaced during the summer, while it conducted an internal affairs investigation.
Hazelwood Police Chief Gregg Hall allowed Briscuso to resign Nov. 30. She made $47,756 a year there and received more than $2,800 for unused days off and sick days when she resigned. Hall did not immediately respond to messages, so it's unclear whether Briscuso resigned while still being investigated or if the internal affairs investigation was completed.
Her resignation means she will be entitled to her pension. She worked as a dispatcher for the city for 11 years.
The Tudors said a GoFundMe account that was set up shortly after the crash is the only donation site that directly benefits them. It has raised about $34,000. Donations can also be made at any U.S. Bank.