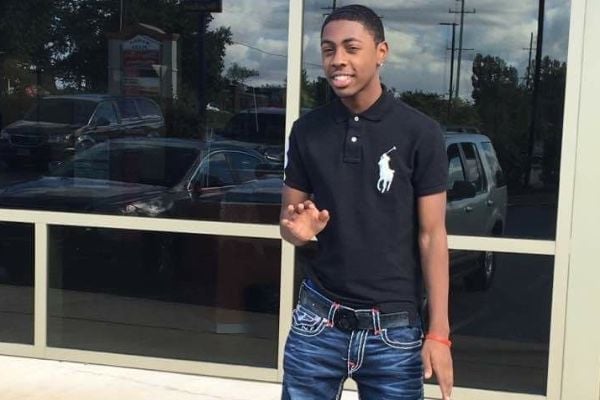 MOLINE ACRES • Family and friends are mourning the loss of a 17-year-old who died after a fiery car crash last weekend in Moline Acres.
Darion Trust was a junior at Hazelwood West High School, with big plans of going to college to be an engineer, his family says.
Darion was a front-seat passenger in a car driven by his cousin when they were struck head-on by a car in the southbound lanes of Lewis and Clark Boulevard on Sunday afternoon, according to his uncle, Carlos Smith.
The crash happened just before 5 p.m. near the intersection of Marquis Court in Moline Acres. Police did not respond to a reporter's messages seeking information about the crash, and the family is still waiting for the official police report, according to Smith, who is a police officer for St. Louis County.
Smith said the people in the car that hit the one Darion was in appeared to have been fighting before the crash.
The aftermath of the crash was captured in two dramatic Facebook Live videos.
The videos show a man pull Darion out of the passenger-side window and carry him yards away from the car, which was partly in flames. Others helped pull his cousin out through the same window. Passersby also rescued a third male — a friend of Darion's and his cousin.
Darion died Sunday night from internal injuries at a hospital, Smith said. His cousin, the driver, is still in critical condition with internal injuries, damage to his spine, a punctured lung and a broken leg.
The family is devastated, Smith said. "(Darion) was just a loving child. He felt like he could learn or do anything — and he could."
Smith said Darion used to run track at Hazelwood West and loved football.
"He meant the world to us," Darion's cousin Denise Irvin-Spencer said. "He was just full of life. The typical teenager with a big outlook."
A GoFundMe page set up by Irvin-Spencer for funeral costs had brought in $4,300 by Friday evening.
Irvin-Spencer described Darion as determined and a dedicated student, with his sights set on becoming an engineer. She said the family recently talked about going on a college tour focused on historically black colleges and universities.
A moment of silence in Darion's honor was held Monday at his high school. A Hazelwood School District spokeswoman said grief counselors and a crisis support team were in the school all week for support.
"Darion was a nice young man," Hazelwood West Principal Dennis Newell said in a statement. "He was extremely quiet but he had a number of friends. We were all devastated and shocked when we received the news of his passing. In fact, we are still going through the grieving process of this terrible loss."
A wake is scheduled for 10 a.m. March 24 at Second Missionary Baptist Church in Kinloch. A ceremonial balloon release organized by friends and family is set for 6 p.m. Tuesday at Hazelwood West High School.