CAPE GIRARDEAU, MO. • His ex-wife gave him $25 for gas. She didn't need to. But she did. Somehow he had to get to court tomorrow. His borrowed Jeep was out of gas. And as was often the case these days, Scott Moyers was out of money and long ago out of options. So his ex-wife agreed to help. She didn't want any more missed hearings. No more arrests. No more excuses. He was going to go before that judge and take some measure of responsibility for all that he'd done.
That was the plan, at least. But tomorrow was still far away.
So Scott got a ride from his neighbor Don up to his ex-wife's house, where his family lived, what used to be his home, in a nicer part of town, up on the hill there, a place where he could sit on the back deck and breathe. Just breathe. But the house wasn't his anymore. The understanding wife — a doctor — was now his ex. The kids — two boys and a girl — were distant. The job covering crime and courts for the Southeast Missourian newspaper was gone. And so was the money, at least $250,000. He lost it all. In less than a year.
Still, he held that $25 in cash and thought about taking it down to score some meth, speed, a little go fast. Hard to shake those thoughts. Even now. Maybe even more so now.
But he held. He fought the pull. He put $3 into the gas can and gave Don $5 for the ride and drove his Jeep to a gas station, where he bought a pack of smokes and sunk the rest into the tank. He was broke again. His day in court was coming.
Scott said he hadn't used in days. He was not sure he believed it himself.
"For right now, I want to quit more than I want to use. It's …" he said, slowing to hunt for the word, "… tenuous."
It was dark out. Scott was driving around the town they call Cape. Not The Cape. Just Cape. A small city of 50,000 along the Mississippi River. Home of the Limbaughs. The Gateway to the Bootheel, as he liked to call it. He grew up here. Lived almost his entire life within a five-mile radius.
He's 41. He still looked a faint bit like he retained membership in that world of upper-middle-class ease. But he no longer owned a single pair of khakis or a white collared shirt. He wore stained jeans, a T-shirt, thin beige fleece. His rectangular eyeglasses hung askew on his scruffy face. He had a scratch mark above one eye. His brown hair was uncombed.
"I don't feel like I deserve a second chance. I just want one," he said now, like he'd been ruminating on it all along. "And I feel like if I can manage to just hold on to a few more days …"
So much has been said about the meth epidemic and its labs, junkies, tweakers, its Breaking Bad. Passing judgment is easy, the distance is safe. But meth holds the power to take you down through there. Scott knew that, too. He was a reporter covering crime, which meant he really covered meth. He knew the cops. He knew the judges. He wrote about addicts getting in trouble. He covered the desperate towns limiting sales of sinus cold pills. He was part of an in-depth project for the newspaper called "Life or Meth."
He knew from his own family. His two brothers were meth addicts. The youngest was in prison right now on a drug charge. The other brother, Pat Moyers, was three years clean. It was Scott who dragged Pat to rehab that first time almost 20 years earlier. Scott was always the good brother, Pat said. A bit nerdy.
"I just don't get it," Pat said. "He was writing about the things he's doing."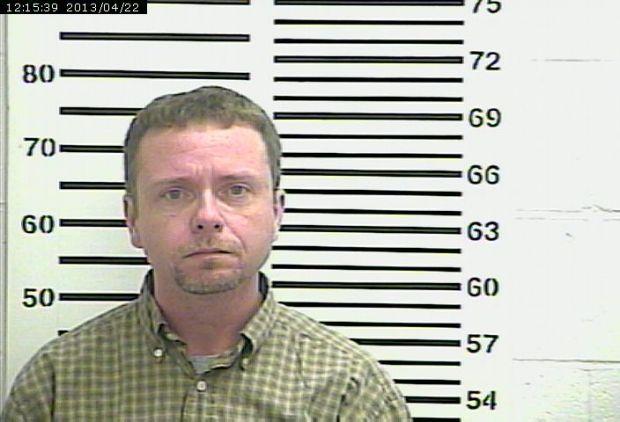 Scott pointed out the newspaper building downtown. He stopped to run up to a ground-floor window and stare at his old desk, careful to not be seen by a former co-worker to whom he owed money. The empty lot across from the new casino — that's where he grew up, the house long gone. He pointed out the places he discovered chasing his fix.
"I've learned so much more about crime since I've left than I did watching it from the wooden benches in the courthouse," he said.
He loved the crime beat. "I always felt a connection to that," he said, giving a knowing laugh. "I love talking to people who had tragically fallen and somehow picked themselves up. I just liked that — those flawed people who would tell you just anything."
He didn't touch drugs until he was 30. A little coke. Then a lot. Then crack. That was a mistake. He was always chasing.
He switched to pills — opiates, then benzos. Followed briefly by heroin. Followed by methadone. Followed by cold turkey. Four stints in rehab. In and out. But through it all, he kept it largely together. Held on to the wife and the kids, the job and the life where he was, if not respected, then at least tolerated. He was somebody in Cape.
Until about two years ago.
He tried meth. Snorted it at first, then loaded it in a syringe. Heightened awareness, that's what it felt like. Amped. The buzz lasted, too. He'd disappear for hours, using his job as a reporter as an excuse, telling his wife he needed to go check out something he'd heard on the police scanner. Meth also brought on mood swings and paranoia. Things got tense at home. His work suffered. But meth was a forgetting drug. A drug to blot out all the hurt he caused. It happened so fast it was hard to sort it out.
He divorced his wife last March. She tried to help, but he wanted to be free. He got a lump settlement of $250,000. That same month, he wrote his final story for the paper. He was fired. He didn't care. He focused on getting high. He bought a house. He partied a lot. He dated a girl half his age. Her name was Angel.
"I thought life was good," he said.
He was in the house just three weeks before the regional drug task force kicked down the door. Scott was charged with felony possession of meth. That didn't slow him. He sold the house and moved into an apartment. Kept using. In October, he skipped a court hearing. He was a wanted man. The next day, police stopped Scott with more than 2 grams of crystal in his pocket. He had caught his second felony drug charge in six months. He faced 14 years in prison.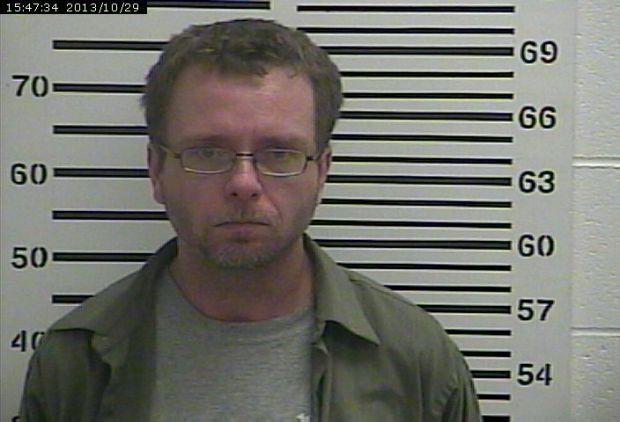 The night before court, after having gotten $25 from his ex-wife, Scott fought for sleep.
It felt like the nights he was gorked out of his mind back at the house on the hill, when he'd pretend to be asleep next to his wife. He'd always felt like he was faking it. Like he was "Nicolas Cage, the worst actor in the world." When the drugs made him droopy, he'd give himself pep talks, "You can do this! You can do this!" But people knew. Darin Hickey, a Cape police officer, visited Scott in jail after the first arrest and warned him he was not cut out for that life.
Scott didn't fit in with the junkies, either. He looked like a snitch. He was seen as he was in the beginning, before the fall, a man with a nice truck and nice clothes and the doctor wife, a man who hung out with cops and was always writing things down. Nothing good came from writing things down, not in that world. When he first started buying on the street, he had to raise his shirt to prove he wasn't wearing a wire.
But he was desperate to fit in, like he was a teen back at Central High. He made jokes that no one got, drew blank stares with references to Faulkner and Twain. "Things that people know," he explained, "but not out here." He tried to learn the lingo, writing down the expressions he heard in a notebook. He felt like Jane Goodall. He learned "That's what's up" meant figuring something out. "I ain't got no 'plex" meant you didn't have a problem. And "Get up in your feelings" meant you were letting something bother you.
That morning, with court coming, Scott was up in his feelings.
He was thinking about rehab. He should've gone by now. The judge would've liked that. Seen that he was serious about change. But Scott hated rehab. Didn't like listening to the soft-spoken counselors telling him, "Fake it till you make it," and the group talks about triggers and real vs. imagined fears.
"I just want to outthink this thing," he said. "And I know if I sit and contemplate on it and reflect on it long enough, I can figure out how I (messed) up and not do that anymore."
He smiled at the notion. "And that hasn't worked," he said. "At all."
Scott sat on a mattress in his one-room apartment. The place rented for $130 a week. His ex-wife footed the bill. The white walls were blank except for a strand of Christmas lights and a large clock. Pictures of his kids rested on top of a bureau. Dirty dishes sat in the sink. The tiny microwave didn't work. The black futon was stained with pink gum. A small lamp, its cord cut, sat on a table across from an incomplete set of encyclopedia volumes.
At 8 a.m., Scott heard a knock on the metal door.
"It's Don, man," said a gravel-filled voice.
Scott opened the door for his neighbor.
"Get my note?" Don asked.
"Yeah. My brother wants to go to court. I don't have his number."
"I'd seen him, said he was worried about you, wants to know that you're all right."
"Because I told him I didn't think you have enough gas to get over there," Don said.
"Figure out how to get ahold of him," Don told him. "He's worried about you."
"I will. Talk to you later, Don."
Scott jumped in the shower. He shaved a weeks-old beard into a goatee. He put on jeans and a T-shirt. He couldn't find any socks. He tucked his bare feet into black tennis shoes.
Court was at 1 p.m. He had hours to kill. He decided he needed to find his girl, Angel. He wondered where she was.
He drove to a mobile home park, idled outside, hoping to see her. The gas gauge glowed with an orange "E." He stared out the window. Minutes passed. It didn't look like Angel would be coming out. He drove back to his apartment, then to find a friend on the other side of town and then to his brother Pat's place. He needed socks.
His brother's house was empty. Scott stood in the front yard.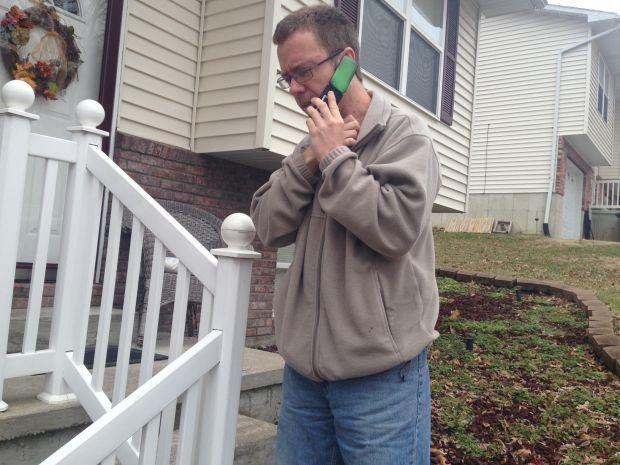 "Everything is off," he said.
"No socks, no Angel," he said. He took a drag. "I sound like Rain Man."
He jumped back in the Jeep.
"I just don't know how to do ordinary things anymore," he said.
A few blocks away, the Jeep sputtered. He pulled into a parking lot. He stared at the steering wheel. Scott was getting up in his feelings again.
He called a friend, one of the few he had left, to ask for help. The friend said he'd come with a gas can on his lunch break.
"Well," Scott told him, "that'll give me time to reflect."
He looked at the blue digital clock on the dash. It was 11:45 a.m. Missing court again would almost certainly mean jail time.
The idea of rehab terrified Scott. He bartered with himself. Did it make sense to go if he was going to prison anyhow? That'd be three weeks in rehab for no reason. Maybe he should spend that time doing something else.
The minutes flashed by on the Jeep's clock.
"Now I'm getting apprehensive about court," he said.
At 12:20 p.m., his friend's car pulled up. And Scott was off.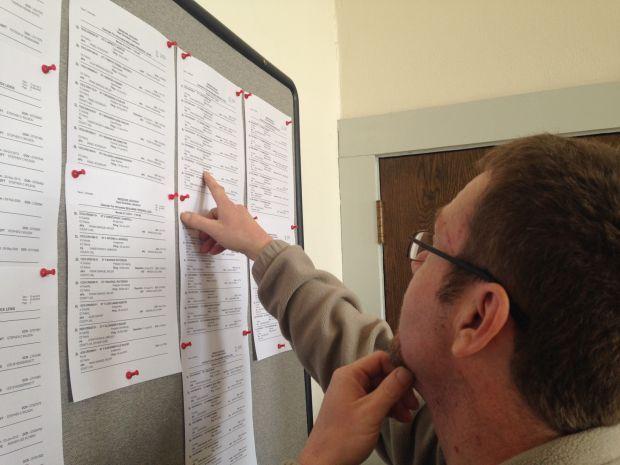 Heading to court, Scott pulled out his phone. He dialed the local rehab center and asked for the first available bed. He got it. Four days away. He'd start a 21-day stint in rehab in four days.
Scott thought the judge would approve. He pulled into the courthouse square with 15 minutes to spare. He knew exactly where to go. He'd been here hundreds of times as a reporter. He scanned the day's docket sheet pinned outside a courtroom. He found his name.
His attorney, Gordon Glaus, pulled Scott aside to go over the plea paperwork. "You've seen it before. You've seen it a million times," Glaus told him. Scott faced up to seven years in prison on each count. But the prosecutor — who Scott had known for years — agreed to recommend five years of probation, a common sentence for a first-time drug offender.
Scott told his attorney about landing a rehab bed. "Is it still pretty necessary?" Scott asked.
"It could be the one thing that pushes the judge to take the SIS," said Glaus, referring to a suspended imposition of sentence.
They walked into the courtroom, past a chain gang of inmates in orange jumpsuits. Scott sat in the second row. A woman in a trench coat walked past, pad and pen in hand. Scott recognized her as the newspaper's new court reporter. Scott sat on his hands, his legs bounced.
"I'm still not sure about this rehab thing," he said quietly. "I know I can be different."
He looked down at his feet. "I wish I were wearing socks." He tugged at the cuff of his jeans. "It's so disrespectful. What kind of person comes to court without socks?"
It was time for State vs. Moyers. He stood in front of the judge. Scott knew him a bit. The plea deal was hammered out. The judge set sentencing for late February, several weeks away. Then the judge made sure the old reporter understood what was happening.
Scott nodded. He was done.
He was free. The day was young. He walked into the sunshine and bitter chill. His brother never showed. His wife never came. His Angel wasn't waiting for him on the courthouse steps. Scott stood alone.
Soon, he would return to his apartment and he would talk to Angel, who would be all happy and giggling, and she would say, "We can do this. We can stay sober." And he would be so relieved, believing her. Then four days later, Scott would let his bed at the rehab center slip away unclaimed. He would say he was too busy, that he could do this himself, plus he had a line on a job down in Mississippi. A second chance. He just had to hold on.