CAPE GIRARDEAU, Mo. • It was sentencing day. Finally. Weeks of waiting for this Monday to arrive seemed to have blotted out any other concerns. Scott Moyers couldn't think beyond it. He didn't know what the judge would do. Give him probation? Send him to jail? Would that be for weeks or years?
And those were just the judicial consequences. His meth addiction already had cost him his job as a newspaper reporter covering courts, his marriage to a doctor and the three children who no longer seemed to want him around. He'd blown through $250,000 chasing a speedy high. His upper-middle-class life in this small city was lost. All of that, in just the last year, gone.
Now, Scott had a 1 p.m. appointment at the courthouse to learn this one more thing.
"If I was covering it, I'd think it was probation," Scott said of his chances. "But it feels different coming from over here, seeing it like this."
This was his first trip back to court since pleading guilty last month to two felony drug possession charges. He found a ride. This time, his Angel joined him. Angel Reid, his girlfriend of nearly a year, was 22. He was 41. But she was the steady one, the planner, the one pushing for him to think about the days to come.
"I hope it's probation," Scott said.
"And then what?" Angel said.
"And then ..." Scott replied. He didn't know. "We're just as low as we've ever been, really."
They wore all the clothes they owned. A backpack stuffed with their extra clothes, toothbrushes and IDs — plus letters Scott had written to each of his children in case he went to prison — had disappeared Sunday, along with the driver of the car they'd caught a ride with. Scott had to borrow a button-down shirt for court from a former neighbor, who also lent him a razor for shaving. He had on a brown barn coat given to him by his ex-wife. Angel wore a tie-dyed sweatshirt and jeans. She shivered when she went outside.
They had been on the move almost every night for weeks. They were always hustling for a place to stay. Scott had given up his steady by-the-week apartment, paid for by his ex-wife, days after his guilty plea in early January. He thought he'd landed a reporting job in Mississippi. He'd been eager to move on, just as he was now.
"I'd like to get away from the reputation I have," Scott said. "I hope that Angel wants to come with me."
But the job fell through. So he sold the Jeep that was going to take them south. That bought them a few nights in a motel. Friends paid for a few more. Other people offered up mattresses and couches. But Scott and Angel were always just stitching it together. They didn't know where they would sleep this night — or even if they would be leaving together.
Scott said he was clean, hadn't used for several weeks. It wasn't easy. Angel helped him. But he discovered not using drugs didn't pay the bills. It wasn't a job.
"Being sober only solves one problem," he said.
So, at times, he thought jail wouldn't be a bad idea.
"There's something consolable, something that feels OK about going to jail from this position," he said. "At least I'll have room and board."
They arrived early at the county courthouse, the same one that Scott had covered for years as a reporter. Scott shook hands with three friends who showed up to support him. Scott and Angel took seats in the courtroom's first row. His attorney, Gordon Glaus, walked in and handed him a pre-sentencing report. Scott noted his two arrests for possession, one in April 2013 and then, when police went looking for him after he missed a court date, another in October. The report included a risk assessment score — an educated guess at what kind of candidate he was for successfully completing probation. Scott came out with a 3, a good number.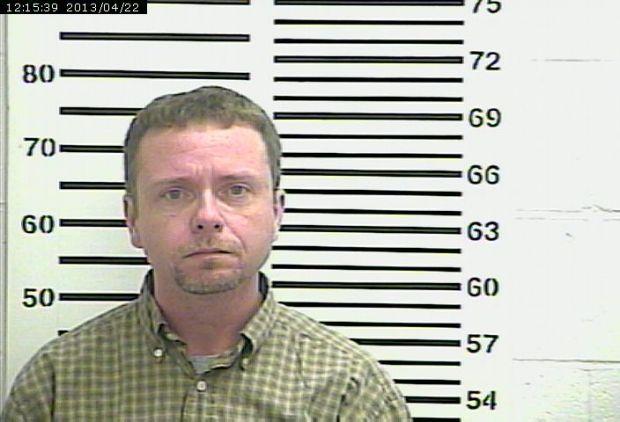 "Still a chance he could lock me up?" Scott asked.
"I have some concerns," his attorney replied.
His case was called. Scott faced the remote possibility of 14 years in prison. The prosecutor recommended probation as part of the plea deal. Scott's attorney asked for suspended imposition of sentence, meaning that the conviction would be expunged if Scott successfully completed probation. Judge Ben Lewis studied some papers in front of him and then asked Scott if he had anything to say. Scott admitted he had a drug problem.
"This is something that I don't want to be part of my life," he told the judge. "It's cost me a great deal."
Judge Lewis agreed to the suggestion of Scott's attorney. Scott needed to make it through five years of probation before his record would be cleared. The judge ordered Scott to submit to drug testing and to find a full-time job — and possibly attend rehab if his parole officer thought it was necessary.
Lewis said he believed Scott was a smart man, and that smart people often struggle more with addiction.
He warned Scott that he couldn't go back to using drugs, because it would kill him.
"And if you don't die," the judge said, "I'm going to send you to prison."
Scott didn't smile as he left the courtroom. But he hugged Angel and shook the hands of his friends and his attorney. The day was past. He'd made it through. He wasn't going to jail, at least not today. He and Angel walked outside. Angel, standing a few steps in front of him, turned around and looked at him.
"OK, so, no jail time," she said. "So, what now?"